Thursday Super Lotto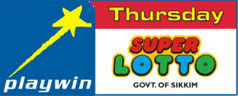 Site URL:

www.myplaywin.com

Days Played:

Thursday
Thursday Super Lotto Review
The Pan India Network Ltd. under the lottery and gaming brand Playwin, runs the Thursday Super Lotto, Saturday Super Lotto as well as other lottery games. Administratively, the Pan India Network Ltd. is part of the Essel Group and its business revolves around data communication, infrastructure, marketing support, and facilitation of secure online lottery networks.
With a jackpot starting at Rs. 2 crores which rolls over should there be no top prize winner in a particular draw, the Thursday Super Lotto is an important lottery to Playwin. In May 25th, 2006, a resident of Kolkata won a whopping Rs. 179.2 million, which is the largest Playwin jackpot won so far.
Within a span of just 13 years, Playwin has successfully created over 4,500 lakhpatis and 93 crorepatis. This is quite significant in a country like India, which is still embracing lottery as an acceptable social game.
The game is automated, legal, and assures each player a fairly level playing field. Playing Thursday Super Lotto is hassle free and transparent, thanks to the mechanisms put in place by Playwin. Players also have the option of participating via retail outlets, internet, as well as through short message service (SMS).
How to Play Thursday Super Lotto?
The pool of numbers from which the winning numbers are picked in the Thursday Super Lotto drawing, range from 1 to 49. You can either manually select your numbers or use the Lucky Pick facility. For each play, you should pick 6 numbers for which you are entered into the drawing.
The Lucky Pick facility is simply a computer system that generates random numbers for you. It is important to note that these numbers are not necessarily the winning numbers because the system just does the picking randomly. There is no advantage you get by playing through Lucky Pick.
Winning the jackpot requires that you match all the 6 drawn numbers. However, you can also win other prizes as long as you match at least three of the numbers. If more than one player wins the jackpot, it would be shared equally between or among the prize winners.
Purchasing Thursday Super Lotto Tickets
You can purchase your tickets online or through a retailer.
For online purchase, first buy the Playwin lotto card from authorized lottery retailers. These cards are usually preloaded with values ranging from Rs. 200 all the way to Rs. 5,000. They are the only acceptable payment method for online ticket purchases. Then, visit the official Playwin lotto website and buy your tickets. To do this, simply select six of your lucky numbers on the playslip or mark the Lucky pick box so that your numbers can be randomly generated for you. You should also choose the number of draws you want to play in the event you want to be entered for more than one draw.
Thursday Super Lotto allows you to play any number of draws up to a maximum of 7 in advance. There are lots of benefits that come with online ticket purchases. Some of the benefits include:
Safe online storage – Tickets tend to get lost when physically stored hence the online storage option is advantageous.
Advance draws – You can purchase tickets for which you can be entered up to 7 draws in advance. This gives you the convenience of not having to visit the online portal now and again to purchase tickets or visiting your retailer. Chances of forgetting are high and this may cost you a win.
Direct payment of winnings – Any winnings are usually credited to your online Playwin account which you can then redeem or use it to purchase more lottery tickets.
You can also buy your tickets from authorized retail stores. The retailers through their agents will give you a Thursday Super Lotto playslip which you fill the numbers you want to be entered in the draw for. Thereafter, hand over the slip to the retailer who will process it and give you a ticket as evidence of your purchase.
The ticket must reflect the numbers you have chosen and if not, you should notify the retailer immediately before leaving the premises. Tickets are the only documents accepted during prize claims and therefore ensure this is correctly printed and no anomalies are present on it. Ensure you sign your ticket at the back so as to keep it safe because you will require it when it comes to claiming prizes.
Tickets are considered bearer documents and whoever has it can claim the prize as long as his signature appears at the back. Signing it therefore makes it truly yours and as such no one else can present it for payment.
The Odds of Winning Thursday Super Lotto
Thursday Super Lotto has 4 winning combinations in which players are guaranteed prizes. Matching all the 6 drawn numbers guarantees you a prize of 2 crores which is equivalent to about $428,862.72. The odds of winning this are 1:13,983,816.
If you match 5 of the 6 numbers drawn, you get Rs. 50,000 at odds of 1:54,201.
The third prize goes to the player or players who match 4 out of the 6 numbers. The prize for this is Rs. 500 and the probability of winning is 1:1,032.
The last prize category in Thursday Super Lotto is Rs. 50. For you to win this you have to match 3 out of the 6 drawn numbers and the odds are 1:57.
The overall probability of winning any prize in Thursday Super Lotto is 1:54. This means the chances are higher that you will walk away with a prize when you participate in this game.
The draw for this lottery game is held every Thursday night anytime between 10.00 and 10.30 p.m. Indian Standard Time. If you are playing from outside India, the timing for the draws in GMT is 0300 and 0330 hrs. The entire drawing session is televised live on channel Zee Zing.
| | |
| --- | --- |
| Match | Odds |
| 6 | 1 in 13,983,816 |
| 5 | 1 in 54,201 |
| 4 | 1 in 1,032 |
| 3 | 1 in 57 |
Thursday Super Lotto Prize Breakdown
Small claims amounting to Rs. 10,000 can be redeemed for cash at Playwin retail outlets. If you play via the online portal, your winnings will be credited directly to your online account. If your winnings are greater than Rs. 10,000, you need to fill a claim form. The prize processing time may take anything up to 90 days following your claim submission. Winners are issued with checks denominated in Indian Rupees.
Remember, you don't have to be in India or an Indian to take part in Thursday Super Lotto. You can access the game anywhere through the online portal. However, payment cannot be remitted e-wallet or credit card, but rather through a prepaid MyPlaywin.com card which you can easily obtain.
| | |
| --- | --- |
| Match | Prize (Rs) |
| 6 | 2 Crore |
| 5 | 50,000 |
| 4 | 500 |
| 3 | 50 |
Thursday Super Lotto Number Generator