Saturday Super Lotto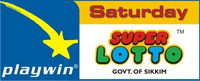 Site URL:

www.myplaywin.com

Days Played:

Saturday
Saturday Super Lotto Review
India is gradually opening up to lottery and Pan India Network Ltd. is taking the game a notch higher with lots of games and prizes. Saturday Super Lotto as well as Thursday Super Lotto is a lottery game offered by Pan India Network Ltd. through the gaming brand name Playwin. The reason this game is popular is because of its generous jackpots which start at Rs. 2 crores. This jackpot is rolled over until the top prize winners are found.
Just as its name suggests, the Saturday Super Lotto has draws held every Saturday night starting from 22.00 to 22.30 Indian Standard Time. In order for one to participate in this lottery game, he or she must be aged 18 years and above.
Are there age restrictions at Gosloto 749? Find out in our review
Playing Saturday Super Lotto
In this game, players select 6 numbers from a pool of 1 to 49 numbers. There are two modes of playing; online and retail.
Online Playing Option
The official Playwin site is the platform through which players can participate in Saturday Super Lotto online. In order to take part, you must first buy a Playwin card. These cards come in distinctly set values of 200, 500, 1000, and 5000 rupees. They can be purchased via SMS or from official lottery retailers.
If you want the cards to be delivered to your physical residence, you need to call +91 (22) 24721144. For SMS, you just have to text the word MPHONE to 57575 and the officials will contact you at the earliest possible time. If you would love it to be delivered via email, all you need to do is email Playwin at help@myplaywin.com and provide your telephone number and address. This card is very important because without it you cannot make online payments for your ticket purchases.
When playing online, you have two options to pick your numbers. The first option is to do a manual picking where you choose the numbers you believe will give you a chance to win a prize. Alternatively, you can use the Lucky Pick option where a computer randomly generates your numbers. You can also enter future games in advance so that you do not have to buy other tickets. You can enter up to seven consecutive draws at one go.
Playing Saturday Super Lotto online is a preferred method because it secures your tickets and the risk of losing them is completely eliminated as they are stored safely online. In addition, if you win any prizes, they are automatically credited to your Playwin card, thus enabling you to either redeem them for hard cash or use the virtual money to buy future lottery tickets.
Playing through the Retail Option
Playwin does not lock you out but opens another avenue where you can play Saturday Super Lotto through the retail option. The process here is also very simple because all you need is to visit your designated retailer who will then give you a play slip.
The play slip will have numbers ranging from 1 to 49 from which you are to choose 6 and mark them carefully. If you prefer the computer terminal to pick the numbers for you then you mark the Lucky Pick option. If you would love to be entered for advance draws, ensure you indicate the number of draws before handing the play slip over to the retailer.
The retailer will then process the play slip and give you a ticket bearing the numbers you have chosen for your draw and the number of draws you have been entered for and their respective dates. The ticket is your only proof of purchase and the instrument by which you can claim your prize. It is therefore important that you confirm its accuracy and ensure it has no other markings that can jeopardize your prize claim process.
Being a bearer document, you should sign the ticket at the back so that you can personalize it. In this way, no one can pick it up and present it for payment. Store your ticket carefully and wait for the draw.
The Saturday Super Lotto Drawing
As pointed out earlier, the Saturday Super Lotto drawing is held every Saturday night starting from 22.00 to 22.30 Indian Standard Time. The drawing is done in a clean, transparent, and clear manner before the eyes of the players. You can catch the live broadcast drawing process on the Zee Zing television channel.
The entire software and hardware for the drawing process are provided by the International Lottery and Totalizator Systems and are highly transparent and high-tech. Playwin has also appointed Earnest & Young, an independent auditing firm to validate every result of the draw. To make it even more transparent, the draws are conducted right in front of government officials in each of the participating states.
The Odds of Winning Saturday Super Lotto
Saturday Super Lotto has four prize categories within which you can win prizes. By matching all the 6 numbers, you win the jackpot, which is 2 crores and the probability for this is usually 1:13,983,816.
When you match 5 out of the 6 drawn numbers, you win Rs. 50,000 at odds of 1:54,201.
The probability of matching 4 numbers from the 6 drawn is 1:1032 and this guarantees you a prize of Rs. 500.
The last prize band is Rs. 50 and goes to the player who matches 3 out of the 6 drawn numbers. The probability of winning this prize is 1:57.
The overall odds of winning which also refer to the chances a player wins any prize in the Saturday Super Lotto is 1:54. This means chances are high you will walk away with a prize.
| | |
| --- | --- |
| Match | Odds |
| 6 | 1 in 13,983,816 |
| 5 | 1 in 54,201 |
| 4 | 1 in 1,032 |
| 3 | 1 in 57 |
Saturday Super Lotto Prize Breakdown
After establishing that you have won a prize, you need to immediately start the claim process. In a nutshell, Playwin gives you a unique benefit of claiming all prizes up to Rs. 10,000 in cash and no tax is deducted. These claims can be paid out at any authorized Playwin outlet as long as they have enough float.
All prizes above Rs. 10,000 won on a single ticket, are payable by check and tax is deducted. For this claim, you need to fill an official Playwin claim form which can be downloaded from the official Playwin website. You can then submit the claim form to the claims department at any Playwin office or do so via regional distributors.
The documents you need for your claim to be honored are:
A duly filled claim form
If you played online, you will have to indicate the original Playwin card and the password number. For retail plays, you should attach the original ticket and claim receipt.
A notarized affidavit on stamp paper. This is mandatory and should be in English.
Photographs verified and attested by the bank, notary, or any gazette officer. The photos must be stamped.
Proof of identity which can be a passport copy, driver's license copy, voters ID copy, or proof of residence.
Online players will have their winnings credited directly into their cards unless such winnings exceed the threshold of Rs. 10,000. You should note that it takes up to 90 working days from the date you submit your claim to the final processing and handing over of the check.
| | |
| --- | --- |
| Match | Prize (Rs) |
| 6 | 2 Crore |
| 5 | 50,000 |
| 4 | 500 |
| 3 | 50 |
Saturday Super Lotto Number Generator