Philippines UltraLotto 6/58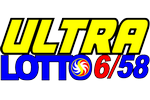 📅
Days Played:
Tuesday, Friday, Sunday
🗓️
Latest Results:
21-03-2023 9:00pm PHT
Philippines UltraLotto 6/58 Winning Numbers
Philippines UltraLotto 6/58 is a 6 number lottery game. To win Philippines UltraLotto 6/58 jackpot, you have to match 6 main numbers.
Philippines UltraLotto 6/58 Past Results and Winning Numbers
The Philippines UltraLotto 6/58 result archive contains the results from 08-02-2015 9:00pm PHT up to the last ones. You only need to select the right date from the list.
DRAW DATE
:
WINNING NUMBERS:
Tuesday 21st March 2023, 9:00pm

07

14

48

51

52

53

Sunday 19th March 2023, 9:00pm

14

26

48

50

55

56

Friday 17th March 2023, 9:00pm

17

20

31

42

52

53

Tuesday 14th March 2023, 9:00pm

17

27

41

48

52

58

Sunday 12th March 2023, 9:00pm

02

10

13

15

22

30

Friday 10th March 2023, 9:00pm

05

25

29

43

45

48

Tuesday 7th March 2023, 9:00pm

11

41

48

54

56

58

Sunday 5th March 2023, 9:00pm

09

22

40

50

53

55

Friday 3rd March 2023, 9:00pm

10

13

20

28

41

55

Tuesday 28th February 2023, 9:00pm

15

19

36

40

48

49
Philippines UltraLotto 6/58 Hot and Cold Numbers
Philippines UltraLotto 6/58 hot numbers are the lottery numbers that appear the most in drawings. Philippines UltraLotto 6/58 cold numbers are the numbers that appear infrequently. Some lotto players choose them specifically because of the frequency, believing that their reappearance in Philippines UltraLotto 6/58 results is only a matter of time, while others stay clear.
Choose the range of years for checking Hot and Cold numbers:
Philippines UltraLotto 6/58 Jackpot History
The jackpot history tool will enable you to see the changes in the biggest Philippines UltraLotto 6/58 jackpots over time. Use the data to carry out analysis, comparisons and predictions for the next Philippines UltraLotto 6/58 jackpot.
Philippines UltraLotto 6/58 Review
In 2015, the Philippine Charity Sweepstakes Office (PCSO) opened the year with a new lotto game that offered the highest minimal jackpot prizes compared to all its other games. The UltraLotto 6/58 started officially on February 8, 2015, although its concept had been approved in 2013. The pool of numbers from which the players are to choose in this game is 1 to 58 and the cost per play is 20 Philippine pesos. The minimum jackpot is set at 50 million pesos.
The draw mechanics are similar to the other lotto games offered by PCSO. The drawings for the UltraLotto 6/58 are held on Tuesdays, Fridays, and Sundays. With overall odds of winning at 1:40,475,358, this game is arguably the most exciting among Philippine lotto.
Can I play OZ Powerball from any part of the world?
How to Play UltraLotto 6/58
As pointed out above, players who wish to be entered the UltraLotto 6/58 draw must first purchase a ticket at a cost of 20 Philippine pesos per combination. From appointed retailers, players can get play slips from which they fill in the numbers they want to be entered into the draw and thereafter submit the slip to the clerk. This is purely a game of chance and there is no external or third-party software that can guarantee you a win if you use it to select your numbers.
In a single entry, you should select 6 lucky numbers from a pool of 1 to 58 and then hand over the slip to the clerk who then generates your ticket. Once you get the ticket, quickly confirm that the games indicated, the dates and the numbers printed on it reflect what you have chosen through your playslip. In case of any discrepancy, notify the clerk immediately for corrections.
Your ticket is the gateway to the draws and as such you need to keep it safe so that it doesn't get lost or damaged. A damaged ticket can take longer during the verification process and this can either deny you a prize that would have been obviously yours or delay the claim process much to your inconvenience. It is also important that you sign the ticket at the back so that even if it gets lost, nobody can pick it up and present it for a prize claim.
If you want to be entered for advance draws, simply tick the box indicating the advance draws. You can be entered up to a maximum of 6 consecutive draws.
System Plays
Apart from the Standard Play, you can also go for the system plays. Below is a breakdown of the game type and cost per system play.
System 5R or 5 roll goes for 1,060 pesos per play
System 7 which consists of 7 combinations and is priced at 140 pesos
System 8 consists of 28 combinations and is available at 560 pesos per play
System 9 play consists of 84 combinations and is priced at 1,680 pesos
System 10 with 210 combinations is available at 4,200 pesos
System 11 consists of 462 combinations and is priced at 9,240 pesos
The last combination you can play in UltraLotto 6/58 is system 12 which comprises 924 combinations at a cost of 18,480 pesos.
For you to be eligible to participate in this game, the PCSO regulations demand that you should be 18 years of age and above. Any entry by minors will be automatically disqualified.
UltraLotto 6/58 Drawing
The PCSO Lottery Draw is usually a televised program aired live on the People's Television Network as part of a tradition that started way back on March 8, 1995. The reason for the live broadcast is to foster transparency in the whole process so that people can have faith in the objectivity of the process and outcome.
Before any draw begins, the balls to be used are first inspected to ensure fairness and transparency both in the balls and the machines. The inspection is done by a panel of judges drawn from a neutral set and who are in no way connected with PCSO. Also, representatives from the Commission on Audit are involved as overseers of the process to ensure everything goes according to protocol.
The Odds of Winning Philippines UltraLotto 6/58
There is a jackpot to the player who matches all the 6 numbers drawn. There are also other prizes depending on how many numbers you have matched. The moment the draws are conducted and the results published, it is your responsibility to ensure you confirm with your retailer or on the official PCSO site so that you are not left out when it comes to prize claiming.
The minimum jackpot prize is 50 million Philippine pesos and to get this, the 6 numbers drawn should match those on your ticket. Being a pari-mutuel game where the prize is divided equally among the winners, depending on how many players match the 6 numbers, the jackpot will be divided. If no winner is established, the jackpot is rolled over to the next draw thus adding up the amount.
If you match any 5 numbers drawn, you can win a prize of up to 280,000 Philippine pesos.
Matching 4 numbers can win you up to 3,800 Philippine pesos
Lastly, matching any three numbers from the drawn wins you 20 Philippine pesos
The system plays have their own payout table which can be obtained from PCSO.
Philippines UltraLotto 6/58 Prize Breakdown
Once you have established that your ticket has won a prize, the next step is to make arrangements for claiming your prize. The first step is to ensure your name and signature are affixed at the back of your winning ticket. There are 3 places where you can make your claim depending on the amount you have won. You can make your claim at an authorized lotto outlet, PCSO branch offices which are located in almost every area and the PCSO head office, which is in 605 Conservatory Building, Shaw Boulevard, Corner Princeton Street, Mandaluyong City.
Any prizes up to 5,000 Philippine pesos can be claimed either from an authorized lotto outlet or any PCSO branch offices.
Prizes above 5,000 pesos up to a ceiling of 20,000 pesos can be claimed either from the PCSO branch offices or the head office.
Jackpot prizes can only be validated and claimed from the head office.
| | |
| --- | --- |
| Match | Prize (Peso) |
| 6 | Minimum Jackpot Prize of Php 50 Million |
| 5 | Up to Php 280,000.00 |
| 4 | Up to Php 3,800.00 |
| 3 | Php 20.00 |