Philippines Megalotto 6/45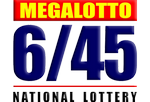 📅
Days Played:
Monday, Wednesday, Friday
🗓️
Latest Results:
02-12-2022 9:00pm PHT
Philippines Megalotto 6/45 Winning Numbers
Philippines Megalotto 6/45 is a 6 number lottery game. To win Philippines Megalotto 6/45 jackpot, you have to match 6 main numbers.
Philippines Megalotto 6/45 Past Results and Winning Numbers
The Philippines Megalotto 6/45 result archive contains the results from 03-01-2007 9:00pm PHT up to the last ones. You only need to select the right date from the list.
DRAW DATE
:
WINNING NUMBERS:
Yesterday, Friday 2nd December 2022, 9:00pm

07

14

31

33

40

43

Wednesday 30th November 2022, 9:00pm

04

11

26

39

40

42

Monday 28th November 2022, 9:00pm

06

19

21

25

38

42

Friday 25th November 2022, 9:00pm

04

08

12

14

22

33

Wednesday 23rd November 2022, 9:00pm

03

10

17

19

32

41

Monday 21st November 2022, 9:00pm

04

08

22

30

39

42

Friday 18th November 2022, 9:00pm

01

03

23

26

29

33

Wednesday 16th November 2022, 9:00pm

09

13

19

22

38

41

Monday 14th November 2022, 9:00pm

05

09

37

40

41

44

Friday 11th November 2022, 9:00pm

01

02

08

21

26

41
Philippines Megalotto 6/45 Hot and Cold Numbers
Philippines Megalotto 6/45 hot numbers are the lottery numbers that appear the most in drawings. Philippines Megalotto 6/45 cold numbers are the numbers that appear infrequently. Some lotto players choose them specifically because of the frequency, believing that their reappearance in Philippines Megalotto 6/45 results is only a matter of time, while others stay clear.
Choose the range of years for checking Hot and Cold numbers:
Philippines Megalotto 6/45 Jackpot History
The jackpot history tool will enable you to see the changes in the biggest Philippines Megalotto 6/45 jackpots over time. Use the data to carry out analysis, comparisons and predictions for the next Philippines Megalotto 6/45 jackpot.
Philippines Megalotto 6/45 Review
With a minimum jackpot prize of 9 million Philippine pesos (Php), Megalotto 6/45 is one of the revolutionary lotto games offered by the Philippines Charity Sweepstakes office. The game was introduced on May 17, 1997 and initially played at a cost of Php 10 per play or combination which has since changed to Php 20 per combination. Currently, Megalotto 6/45 takes place 3 times a week on Mondays, Wednesdays, and Fridays.
How to Play Megalotto 6/45
There are two main ways you can play this lotto game; through standard play or system plays.
The standard play or combination costs Php 20 and gives you an opportunity to participate in the lotto draw.
The system plays gives you 7 options through which you can participate in Megalotto 6/45. Each of the system plays has its own number of combinations and certainly pricing.
The first system play is System 5R or 5 Roll which costs Php 800
System 7 is another system play that gives you 7 combinations at a total of Php 140.
System 8 has 28 different combinations, each valued at Php 20 thus costing Php 560.
The fourth system play is called System 9 and gives you 84 combinations at a total cost of Php 1680.
System 10 is the third last system play and comprises 210 combinations at a bundle cost of Php 4200.
The penultimate system play is System 11 with 462 combinations. This will cost you Php 9240 to purchase.
The last system play is System 12 which comes with 924 combinations at a cost of Php 18480.
Megalotto 6/45 therefore gives you the financial flexibility by allowing you to either participate in a single combination that cost just 20 pesos or pick any of the other combination bundles based on your financial muscle and risk appetite.
Just like the other lotto games, Megalotto 6/45 also gives you an opportunity to participate in advance plays. You can take part in up to 6 consecutive draws by marking the appropriate box on your playslip.
Getting Your Ticket
It is much simpler to get your Megalotto 6/45 ticket. All you need to do is to visit an accredited retailer who will then issue you with a playslip. The rule is to choose 6 numbers from a pool of 45 numbers for every combination you want to be entered for. Thereafter, hand over the playslip to the clerk who will then process it and give you your ticket with the number selections you made on the playslip.
If you want an advance play, you can either mention it to the clerk or tick the box at the bottom of the playslip to register your interest. You should then mark the consecutive draws you want to be entered for up to a maximum of 6.
The numbers can be picked either manually or through a quick pick system where a computer terminal generates the numbers for you based on an algorithm. None of the two number picking systems has an advantage over the other when it comes to winning.
What to Confirm
When you get your ticket, it is important you confirm that the numbers printed are the same as those you chose through the manual picking system. This is crucial because machines or the clerk may make an error which is best rectified on the spot.
You should also confirm your details as captured on the ticket. When claiming your prize, your ticket details should match your identification documents or else you risk being nullified.
The other important confirmation you have to make before leaving the retailers' premises is the dates of the draws particularly in the case of advance draws.
The Safety of Your Ticket
It is important that you take care of your ticket and the best way to do this is to sign it at the back. Doing so will authentic the Megalotto 6/45 ticket and make it truly yours. Unsigned tickets can expose you to unnecessary losses when someone picks the ticket, signs it, and presents it to claim prizes.
Ensure your ticket is carefully handled because defaced tickets may take long to be processed during prize claiming and for those that cannot be reliably determined, they will be nullified.
The Odds of Winning Philippines Megalotto 6/45
For you to win Megalotto 6/45, you have to match the numbers picked during the drawing that you are entered for. As pointed out earlier, the drawings are done 3 times a week, which means 3 opportunities for you to win prizes.
If you match all the 6 numbers drawn, you win the jackpot irrespective of the order. The jackpot is pari-mutuel and this means if more than 1 person wins the jackpot; it is divided equally amongst the winners. In the event no winner is registered, the jackpot is rolled over to the next draw and added to the other monies thus growing it.
Matching 5 numbers out of the 6 drawn, you win an amount up to 50,000 pesos.
If on the other hand, only 4 of your numbers resemble those picked on the drawing, you can win up to 1500 pesos.
The last combination that guarantees you prize is matching 3 winning numbers. This will give you 20 pesos or simply a compensation for the amount you have spent to enter into the draw.
It should be noted that the drawing process is highly automated and as such no chance for bias. Also, every part of the drawing process is televised on PTV4 at 9.00 p.m. you cannot buy tickets during the drawing and this is why the ticket selling process is halted during the drawing and resumes immediately after.
Philippines Megalotto 6/45 Prize Breakdown
Once you have established that your ticket has won a prize, you should quickly sign it at the back if you have not done so by writing your name and appending your signature.
Prizes between 20 and 5000 pesos are claimable either at a PCSO lotto outlet or at the branch offices within your area.
If you have won prizes over 5,000 pesos up to 200,000, you can lodge your claim at the PCSO main office which is located on the second floor of Conservatory Building in Mandaluyong City. The jackpot prize is also validated and claimed at the same place.
| | |
| --- | --- |
| Match | Prize (Peso) |
| 6 | Minimum Jackpot Prize of Php 9 Million |
| 5 | Up to Php 50,000.00 |
| 4 | Up to Php 1,500.00 |
| 3 | Php 20.00 |