Philippines GrandLotto 6/55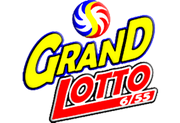 📅
Days Played:
Monday, Wednesday, Saturday
🗓️
Latest Results:
22-03-2023 9:00pm PHT
Philippines GrandLotto 6/55 Winning Numbers
Philippines GrandLotto 6/55 is a 6 number lottery game. To win Philippines GrandLotto 6/55 jackpot, you have to match 6 main numbers.
Philippines GrandLotto 6/55 Past Results and Winning Numbers
The Philippines GrandLotto 6/55 result archive contains the results from 19-04-2010 9:00pm PHT up to the last ones. You only need to select the right date from the list.
DRAW DATE
:
WINNING NUMBERS:
Wednesday 22nd March 2023, 9:00pm

19

21

25

38

49

50

Monday 20th March 2023, 9:00pm

07

22

34

38

50

51

Saturday 18th March 2023, 9:00pm

03

10

14

26

43

54

Wednesday 15th March 2023, 9:00pm

01

06

24

39

40

53

Monday 13th March 2023, 9:00pm

06

15

16

21

25

29

Saturday 11th March 2023, 9:00pm

03

12

26

29

45

51

Wednesday 8th March 2023, 9:00pm

11

22

36

42

48

55

Monday 6th March 2023, 9:00pm

06

09

14

15

29

38

Saturday 4th March 2023, 9:00pm

02

23

24

40

48

53

Wednesday 1st March 2023, 9:00pm

08

17

26

37

41

49
Philippines GrandLotto 6/55 Hot and Cold Numbers
Philippines GrandLotto 6/55 hot numbers are the lottery numbers that appear the most in drawings. Philippines GrandLotto 6/55 cold numbers are the numbers that appear infrequently. Some lotto players choose them specifically because of the frequency, believing that their reappearance in Philippines GrandLotto 6/55 results is only a matter of time, while others stay clear.
Choose the range of years for checking Hot and Cold numbers:
Philippines GrandLotto 6/55 Jackpot History
The jackpot history tool will enable you to see the changes in the biggest Philippines GrandLotto 6/55 jackpots over time. Use the data to carry out analysis, comparisons and predictions for the next Philippines GrandLotto 6/55 jackpot.
Philippines GrandLotto 6/55 Review
Philippines have experienced tremendous growth in lotto games over the years and this is evidenced by the games that have been introduced in the country within the past decade. Before the introduction of Philippines GrandLotto 6/55 on April 19, 2010, there was another lotto game known as The Power Lotto which was effectively replaced by the GrandLotto 6/55.
To give you an overview, Philippines GrandLotto 6/55 just like any other lotto game, is a game of chance and there is no single strategy that guarantees you results. Players have a pool of 1 to 55 numbers from which they should choose 6 numbers that are entered in a draw which takes place thrice a week on Monday, Wednesday and Saturday. The cost per play in this game is 20 Philippine pesos and the minimum jackpot is 30 million pesos.
Playing GrandLotto 6/55
As pointed above, playing this game only costs 20 pesos and the procedure is very simple. First of all, you visit an authorized retail outlet from where you will be given a playslip. You have the option of using computer generated numbers through the Lucky Pick system or manually choose the numbers yourself. The total numbers you should pick are 6 from a collection of 1 to 55 numbers.
Once you pick your numbers through whichever way that pleases you, you should mark those numbers on the Philippines GrandLotto 6/55 playslip and hand in the slip to the clerk who will proceed to generate a ticket for you.
System Plays
In addition to the standard 6 number play, this game also gives you the opportunity for system plays. There are different types of system plays categorized according to the game type and cost as follows:
The first system play is system 5R also known as 5 roll, which costs 100 pesos.
The second is system 7 which has 7 combinations and costs 140 pesos per system play
The third system play is system 8. This comprises 28 combinations and comes at a cost of 560 pesos.
System 9 with 84 combinations costs 1,680 pesos.
The other system plays are system 10, 11 and 12 with 210, 462, and 924 combinations respectively. The costs for these system plays are 4,200, 9,240 and 18,480 pesos in that order.
As a beginner, you may want to go for the standard play first before you graduate into system plays. However, no one stops you from venturing to system plays straight away.
If you want to participate in advance draws, Philippines GrandLotto 6/55 gives you a chance to play up to a maximum of 6 consecutive draws. Should you decide to take part in this, you should indicate the same on the playslip before handing it in for the ticket generation.
Ticket Accuracy and Handling
It is important that you confirm the accuracy of your ticket immediately, it is handed over to you because mistakes do occur which can be costly. Some of the things to look out for when the ticket is handed over to you include:
The name of the game you have been entered for
The number of plays and their respective dates in case of advance draws
The amount captured
The ticket generation date
The number selections
Once you ascertain that all the above details are correct as per your choice, you should then proceed to sign up your ticket at the back as a sign of authentication and ownership. If you do not do this, you expose yourself to unnecessary losses and someone claiming your prize if the ticket is lost and picked by the said bearer.
Philippines GrandLotto 6/55 Drawing
The draws for this game are held 3 times in a week on Mondays, Wednesdays and Saturdays. For transparency and integrity purposes, the drawing is broadcast live on PTV4 as from 9.00 p.m. when the process kicks off. It is important to note that this game is not open to players who are yet to attain the legal age of 18.
Immediately after drawing is concluded, you need to confirm whether your ticket has won a prize or not. You can do this online on the official website, call the lotto offices, or visit your nearest authorized retailer.
The Odds of Winning Philippines GrandLotto 6/55
The odds of winning the jackpot in the Philippines GrandLotto 6/55 are 1:28,989,675. This game has the largest number format (6/55) and as such it is built as the toughest pick-6 Filipino game to win.
In order to win the jackpot, which starts at 30 million Philippine pesos you have to match all the 6 numbers drawn. Since the GrandLotto 6/55 is a pari-mutuel game, the prize is divided equally among the winning players should there be more than one winner for the jackpot prize. In case a winner is not identified, the jackpot prize is rolled over to the next draw which means it keeps on growing.
The second prize of up to 200, 000 pesos is won by matching 5 out of the 6 winning numbers.
The third prize is 3,000 pesos and is won by the player or players who match 4 out of the 6 winning numbers in any order.
The last prize, which is more of a consolation prize is 20 pesos and you can win this if you match 3 out of the 6 numbers.
Philippines GrandLotto 6/55 Prize Breakdown
Once you have had your ticket verified and indeed you are a winner, you should immediately make arrangements for claiming the prize. There are different options depending on the size of your winning.
If your prize is anything up to 5,000 pesos, you can easily claim it from an authorized Lotto outlet or preferably at any PCSO branch offices near you.
If your prize is above 5,000 pesos all the way to 20,000, you can claim this at either the PCSO branch offices within your area or at the PCSO head office located in Conservatory Building second floor along 605 Shaw Boulevard, Corner Princeton Street in Mandaluyong City.
The jackpot prize should be claimed at the PCSO head office after being validated. It is important to remember to write your name and append your signature at the back of the winning ticket before you start the prize claiming process.
Once again, Philippines GrandLotto 6/55 is a game of chance and as such should not be played out of desperation. You should be positive and expect any outcome, a win or a loss. In case you win, you should consult with the authorities with regards to tax regulations and any other obligations you are supposed to meet.
| | |
| --- | --- |
| Match | Prize (Peso) |
| 6 | Minimum Jackpot Prize of Php 30 Million |
| 5 | Up to Php 200,000.00 |
| 4 | Up to Php 3,000.00 |
| 3 | Php 20.00 |