Jaldi 5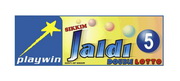 Site URL:

www.myplaywin.com

Days Played:

Friday
Jaldi 5 Review
Jaldi 5 is a rewarding lottery game whose jackpot is fixed at Rs. 5 lacs. Most lotteries would have a roll over where the jackpot amount increases until it is won. In Jaldi 5, the case is different because instead of a jackpot rollover, the funds from the top prize keep on rolling down to the lower tiers. Whenever roll downs happen, every match 4 winner gets Rs. 10,000 and any funds remaining after that are shared equally among the match 3 winners.
If you have already bought your physical tickets from an authorized Jaldi 5 retailer, you may be due for fantastic prizes offered under this fun lottery game.
Jaldi 5 is managed by Playwin which is the gaming brand of Pan India Network Ltd. because of the core business of Pan India Network Ltd. in providing data communication, infrastructure, and marketing support to facilitate a safe and secure online lottery network, you can be assured that your participation in Jaldi 5 meets all the regulations and your information is safe.
Playing Jaldi 5
Thanks to Playwin automation of its lottery games, each player stands a fair ground in as far as winning prizes is concerned. The systems are hassle-free and transparent, which is a significant feature distinguishing games managed by Playwin compared to others.
Before playing Jaldi 5, you must first purchase myplaywin.com card. These cards come in denominations of 200, 500, 1000, 3000, and 5000. They are the main instrument through which you can pay for your lottery tickets. The cards are valid for a period of 12 months, after which they expire. At the back of each card is a scratch unit under which is a 12 digit account number and a four digit password. These are the unique numbers that help identify the card on the system and credit its value in your account.
There are two ways in which you can play Jaldi 5; through online and retail.
This game gives you an opportunity to select 5 numbers from a pool of 1 to 36 through which you will be entered into the draw and possibly win the jackpot.
Online Mode
Armed with your myplaywin.com card, you can play Jaldi 5 online. The procedure is simple, all you need is to either select the numbers you wish to play or alternatively choose the Lucky Pick option where random numbers are generated by the computer terminal based on its algorithm. You can also choose to enter for advance draws. Jaldi 5 gives you a chance to enter up to a maximum of 6 consecutive draws.
The beauty with buying your Jaldi 5 ticket online is the safety and security of the process as well as the fact that you don't have to queue for your ticket.
Your ticket is stored online automatically and as such you do not have to worry about issues of loss. Also, any prizes you win are credited automatically to your Playwin card which you can either use for buying future lottery tickets or redeem for hard cash.
Retail Platform
If you prefer playing through retail locations or you have no access to the online platform, all you need is to visit an official and accredited lottery retailer. The clerk will hand over to you a Playslip which you fill with the numbers that you want to play. The slip also gives you the option of a Lucky Pick if you don't wish to select your own numbers.
It is important you know that Jaldi 5 is a lottery game and as such chances of winning whether through the manual pick or Lucky Pick are probabilistic in nature. If you want to be entered for advance draws, you can also choose the number of draws on the slip and hand it over for processing.
When you are given your ticket which is the proof of purchase, go through the numbers printed, the dates and the number of the draws to ensure all the details are captured correctly before leaving the premises.
Also, ensure you sign the ticket at the back so as to make it truly yours. Tickets with no signatures are vulnerable because anyone picking them can sign them and present them for payment.
The Odds of Winning Jaldi 5
Every Friday from 8.00 to 8.30 p.m. Indian Standard Time, Jaldi 5 draws are held. For transparency purposes, these draws are usually aired live on TV channel 24 Taas. There are 4 prize categories that this game comes with meaning opportunities abound on how to cash in.
Matching all the 5 drawn numbers, you win 5 lacs which is the jackpot and the odds for this are 1:376,992.
The second category has a prize of Rs. 5,000. To win in this category, you have to match 4 out of the 5 drawn numbers and the chances for this are 1:2,432.
The third prize category has odds of 1:81 and to win here, you have to match 3 out of the 5 drawn numbers. The prize at stake is Rs. 100.
The last prize of Rs. 10 goes to the player or players who correctly match any two numbers out of the 5 drawn. The odds of winning this prize are 1:8.
Overly, the odds of winning any prize in the Jaldi 5 lottery game are 1:8. This means chances are high that you will walk away with a prize when you play this game.
| | |
| --- | --- |
| Match | Odds |
| 5 | 1 in 376,992 |
| 4 | 1 in 2,432 |
| 3 | 1 in 81 |
| 2 | 1 in 8 |
Jaldi 5 Prize Breakdown
To confirm whether your ticket has won a prize or not, the best and recommended way is to take your ticket to a retailer at any Playwin outlet who will then check and confirm if indeed you have won. The official Playwin website usually displays the winning numbers and you can easily pull off information from there.
All winnings on a single ticket that are below Rs. 10,000 are redeemed and enchased immediately from any authorized retail outlet. Winnings above Rs. 10,000 have to be claimed through a formal process where you fill in a claim form and attach the following documents:
The original ticket
Photographs attested by the bank, notary or any gazette officer
Pan card copy
Proof of identity which can either be a driving license copy, passport copy, or voters ID copy
Proof of residence
If you play through the online platform, your winnings will be credited directly to your card unless they are above Rs. 10,000 where you have to claim them by way of filling the form.
All in all, Jaldi 5 is an exciting game that any person can play as long as they are above the legal age to do so.
| | |
| --- | --- |
| Match | Prize (Rs) |
| 5 | 5 Lacs |
| 4 | 5,000 |
| 3 | 100 |
| 2 | 10 |
Jaldi 5 Number Generator