Jaldi 5 Double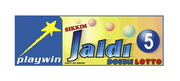 Site URL:

www.myplaywin.com

Days Played:

Wednesday
Jaldi 5 Double Review
Jaldi 5 Double is a lottery game that resembles Jaldi 5 only that the value of the prizes differs. This lottery has roll down features where if no player wins the jackpot, the funds roll down to the lower prize categories instead of going to increase the jackpot.
Because of the high overall probability of winning prizes in Jaldi 5 Double, if you have taken part and haven't checked your tickets as yet, chances are you are due for a cash windfall. The prizes in this lottery game range from Rs. 30 for matching two main numbers all the way to 10 Lacs when you match all the 5 main balls.
How to Play Jaldi 5 Double
In order to take part in this lucrative lottery game, you must be 18 years or older. Also, not all states in India allow gaming; the only states that participate in lottery activities are Goa, Maharashtra, and Sikkim.
Myplaywin.com Card
To play Jaldi 5 Double, you must first buy the Playwin card. This is the card through which you can pay for your games and is available in various denominations including 200, 500, 1000, 3000 and 5000 rupees. From the first usage, the validity of these cards is 12 months.
Each Playwin card has a scratch unit on the back under which is a 12 digit account number and a password consisting of 4 digits. The 12 digit account number and password are what unlocks the value.
There are various ways you can have your card delivered. For home delivery, you can call +91 (22) 24721144. Ensure you provide your telephone number alongside with your detailed address. For SMS delivery, you should SMS the word MPHONE to 57575 and a representative will contact you. You can also get your Playwin card through email. All you have to do is email help@myplaywin.com and provide your detail address together with your telephone number.
You can play Jaldi 5 Double either through a retailer or online.
Online Play
To play online, log on to the official Myplaywin website available at https://www.myplaywin.com and select Jaldi 5 Double. Thereafter, enter the numbers you want to play or if you prefer the computer terminal to randomly choose the numbers for you, select the Lucky Pick option. Remember Jaldi 5 Double allows you to select 5 numbers per play from a pool of 1 to 36 numbers.
After you choose your numbers, enter the 12 digit account number at the back of your Playwin card, followed by the 4 digit password then click on the Submit to PLAY button. To confirm that you have been entered into the drawing, you can start by checking your card balance as well as the transactions that have gone through your card.
The online account has MY Account page where you can also view your card details. If you want to play through mobile, Playwin has an app which you should first download and follow the instructions to play.
Through online, you can also participate in advance draws. This is the number of weeks you wish to play in advance and Jaldi 5 Double allows you a maximum of 6 consecutive weeks. Ensure you indicate this clearly at the time of filling in the details.
The advantage of playing online is that your tickets are stored on a virtual storage which is safe and secure. Also, you do not have to queue for your ticket as the case is when buying through a retailer. Any prizes you win are added to your Playwin card which you can either redeem or use to buy future lottery tickets.
Playing at Retail
Jaldi 5 Double gives you another platform other than the internet to play and that is through authorized official lottery retailers. When you visit the retailer, you will be handed a Playslip which you fill with the lottery numbers that you wish to be entered for in the drawing. If you want, you can also go for the Lucky Pick option where the computer terminal generates the numbers for you at random.
After the number selection process, you should then hand in the Playslip to the cashier who will in turn process your ticket and hand it back to you as your proof of purchase. On receiving your ticket, confirm that the numbers printed on it are the ones you have chosen in the case of a manual pick and the dates for the consecutive drawings are captured correctly in the case of advance draws.
To personalize your ticket, ensure you sign it on the back. Failure to do this can expose you to unnecessary prize losses because whoever picks the unsigned ticket can easily sign it and use it to claim any prize it wins.
Jaldi 5 Double Drawing
The drawings for Jaldi 5 Double are held once per week on Wednesdays as from 8.30 to 9.00 p.m. Indian Standard Time. In order to enhance the transparency and clarity of these draws, Playwin airs them live on television channel 24 Taas. The drawings are also conducted before government officials in the respective states. To know if you have won a prize, take your ticket to any authorized Playwin retail outlet where it will be confirmed.
The Odds of Winning Jaldi 5 Double
Jaldi 5 Double has 4 prize categories. The first category is the jackpot, which you win if you match all the 5 drawn numbers. The jackpot is 10 Lacs and the probability of winning it is 1:376,992.
The second category has a prize of Rs. 7,500. In order to win here, you have to match 4 of the 5 drawn numbers and the probability is 1:2432.
The third prize category comprises a prize of Rs. 200. To win, you have to match 3 out of the 5 drawn numbers at probabilities of 1:81.
The last prize category consists of Rs. 30 as the prize, which goes to the player or players who successfully match 2 out of the 5 drawn numbers. The probability is 1:8.
| | |
| --- | --- |
| Match | Odds |
| 5 | 1 in 376,992 |
| 4 | 1 in 2,432 |
| 3 | 1 in 81 |
| 2 | 1 in 8 |
Jaldi 5 Double Prize Breakdown
Generally, Playwin offers you tax free prize benefits as long as the prize you have won is Rs.10,000 and below. If you play online and win 10,000 rupees and below on a single ticket; all your winnings, will be directly credited to your card.
Any winnings above Rs. 10,000 on a single ticket should be claimed by filing a claim form which is then submitted to the claims department at any Playwin offices or via Playwin regional distributors. The prizes are valid for 90 days from the date of the drawing hence must be claimed immediately.
| | |
| --- | --- |
| Match | Prize (Rs) |
| 5 | 10 Lacs |
| 4 | 7,500 |
| 3 | 200 |
| 2 | 30 |
Jaldi 5 Double Number Generator