Pournami Lottery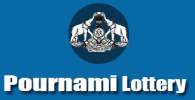 Latest Results:
&nbsp
29-03-2020 3:00pm IST
Pournami Lottery Results
Pournami Lottery Review
Pournami Lottery Review
The Sunday lottery in the Indian state of Kerala is called Pournami lotto. It is one of the beloved games in the portfolio of
Kerala State Lottery
– an entity that has been around since 1967. This was when the state of Kerala decided to get rid of privately-held lotteries and establish a local entity responsible for games, the sale of tickets and prize payouts.
Pournami Lottery isn't as big as Karunya – another member of the Kerala State Lottery family. Still, this game has its fans who opt for the purchase of tickets every single Sunday.
The lottery is fairly simple to play. There are no add-ons or bonus games that complicate the player experience. In this Pournami Lottery review, we will take a look at the rules, the prizes to anticipate, and how players can cash out their awards.
How to Play Kerala Pournami Lottery
Pournami Lottery is fairly simple to play. In its essence, the game is more like a sweepstake than a lottery. The players are free from having to choose digits or opt for gameplay options that potentially improve the odds of winning a prize. Tickets come with pre-printed numbers of them. All that a player has to do is select a ticket that they like.
A single Pournami ticket costs 30 rupees, which makes it more affordable than the tickets for the Saturday lottery called Karunya.
Since tickets are more affordable, however, players can also anticipate lower prizes.
Each of the tickets features pre-printed numbers on it.
To determine the winners, the Kerala State Lottery officials select a number for each of the prize tiers. Some of the categories have more than one winner, which means that multiple numbers will be drawn. Those who have a ticket for the respective drawing will need to check out the results and identify whether their number appears among any of the winning numbers drawn.
If this is the case, the Pournami player will win the respective amount.
Drawings take place each Sunday, at 3 p.m. The lucky numbers are selected during an official procedure in Thiruvananthapuram, the capital of Kerala.
Pournami Lottery tickets are made available through the authorized agents in Kerala. There are numerous licensed venues that lottery enthusiasts can rely on to acquire their tickets for the multiple Kerala State Lottery games. The agencies are also responsible for paying out some of the prizes, and they can provide information about the latest lucky numbers.
Tickets for Pournami lottery have to be acquired in person.
Currently, the Kerala State Lottery does not offer an online ticket buying option. This means that players from other Indian states and those who are not in the country at the time of the drawing will have no option for getting their Pournami Lotto tickets.
Pournami Lottery Results and Prize Breakdown
Just like the other weekly games in the portfolio of the Kerala State Lottery, Pournami has fixed prizes for some of the top tiers and lower prizes that are determined as a percentage of the sum collected through the sale of tickets.
There are eight individual prize tiers, as well as several consolation prizes drawn each week.
The top Pournami award is 6.5 million rupees. Only one lucky number is selected for the jackpot every week.
The second and third prize tiers are also fixed. For the second category, there will be 14 winning numbers drawn. Each one produces a prize of 100,000 rupees. The third prize tier can have up to 63 winners, and each one will acquire 10,000 rupees.
Lower prize tiers have awards dependent on the number of tickets sold for the respective drawing. The fourth prize tier, for example, can have up to 6,300 winners and each one will be awarded a sum of up to 5,000 rupees.
The lowest prize tier has up to 37,800 prizes. An individual amount of up to 100 rupees will be awarded to these players.
As already mentioned, Pournami has consolation prizes. Each drawing has six consolation prizes drawn. The individual amount each player would get is 10,000 rupees.
For every single drawing, the amount that will be distributed in the form of Pournami Kerala prizes is 81.670 billion rupees.
Players have 30 days from the date of the drawing to come forward and make a prize claim. Those who win the Pournami jackpot need to get in touch with the Director of State Lotteries to go through an identity verification process and determine how their award is going to be paid out.
Sums of up to 100,000 rupees can be claimed at district lottery offices or the Directorate of State Lotteries.
Local agencies throughout Kerala are authorized to pay out prizes of up to 5,000 rupees. The sum will be cashed out and handed to the winner immediately after their identity gets verified.
In Kerala, agencies have an incentive for getting a bigger number of tickets and helping more people win. Agents get a 10 percent commission for selling the jackpot ticket, and there are also lower payouts for other prize tiers.
In Kerala, lottery prizes exceeding 10,000 rupees are subjected to a 30 percent income tax. This is something to keep in mind when planning your financial wellbeing after claiming a lottery prize.
Pournami Kerala Lottery results can be checked out in several ways. For a start, Pournami lottery results are available via the official Kerala State Lottery website. There, you will find the Pournami lottery results today, as well as information about older drawings.
Mobile phone apps for result checking are also available. The Pournami lottery result today is available via the Kerala State Lottery official app, as well as through several other third party development.
Finally, we have an extensive archive of Pournami lottery results, as well as information about other Indian lotteries. Please check out our results archive section to find out if you've won anything. You can also go through the archive for reference purposes.
Pournami Lottery Past Results and Winning Numbers
The result archive contains the results from 23-10-2011 3:00pm IST up to the last ones. You only need to select the right date from the list.
DRAW DATE
:
WINNING NUMBERS:

Sunday, 29 March 2020 3:00pm

Show More

1st Prize - Rs. 8,000,000

2rd Prize - Rs. 1,000,000

Consolation Prize - Rs. 8,000

Sunday, 22 March 2020 3:00pm

Show More

1st Prize - Rs. 8,000,000

2rd Prize - Rs. 1,000,000

Consolation Prize - Rs. 8,000

Sunday, 15 March 2020 3:00pm

Show More

1st Prize - Rs. 8,000,000

2rd Prize - Rs. 1,000,000

Consolation Prize - Rs. 8,000

Sunday, 8 March 2020 3:00pm

Show More

1st Prize - Rs. 8,000,000

2rd Prize - Rs. 1,000,000

Consolation Prize - Rs. 8,000

Sunday, 1 March 2020 3:00pm

Show More

1st Prize - Rs. 8,000,000

2rd Prize - Rs. 1,000,000

Consolation Prize - Rs. 8,000

Sunday, 23 February 2020 3:00pm

Show More

1st Prize - Rs. 8,000,000

2rd Prize - Rs. 1,000,000

Consolation Prize - Rs. 8,000

Sunday, 16 February 2020 3:00pm

Show More

1st Prize - Rs. 8,000,000

2rd Prize - Rs. 1,000,000

Consolation Prize - Rs. 8,000

Sunday, 9 February 2020 3:00pm

Show More

1st Prize - Rs. 8,000,000

2rd Prize - Rs. 1,000,000

Consolation Prize - Rs. 8,000

Sunday, 2 February 2020 3:00pm

Show More

1st Prize - Rs. 8,000,000

2rd Prize - Rs. 1,000,000

Consolation Prize - Rs. 8,000

Sunday, 19 January 2020 3:00pm

Show More

1st Prize - Rs. 8,000,000

2rd Prize - Rs. 1,000,000

Consolation Prize - Rs. 8,000