Gosloto 536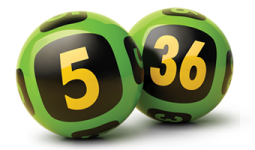 Site URL:

en.stoloto.ru

Days Played:

5 Times a Day
Gosloto 536 Review
What do you know about Russian lotteries? If the answer is "not a lot," the time has come to change that. Today, we'll talk about a relatively popular Russian game of luck by the name of Goslotto 536.
The Gosloto 5 of 36 follows a somewhat known format around for a reasonably long time. All of the Gosloto games are organized by Orglot – an enterprise set up for the purpose in 2005. However, keep in mind that state-run lotteries in Russia have been in existence ever since the 1760s.
You can rest assured that Goslotto 5/36 is a legitimate and safe opportunity to test out. When it comes to rewards, however, what does it bring to the table?
That's precisely what we're about to find out today, answering some of your most essential questions in the following Goslotto review.
How to Play Goslotto 536
If you've played a five out of 36 lottery in the past, you're already familiar with how the Russian Goslotto is meant to be played.
For a chance to claim the big prize, you have to choose five numbers from a pool of 36. You have to match all of the digits for the respective Goslotto drawing to claim the top prize.
Every entry into the game will cost you 40 Russian rubles, which is about 0.55 USD.
The most exciting aspect of this Russian lottery is that it provides players multiple daily opportunities to snatch a prize. There are five drawings per day – at midday, 3 p.m., 8 p.m., 9 p.m., and 11:59 p.m. Moscow time. Ticket sales for each of these drawings are discontinued approximately 20 minutes before the lucky numbers get chosen.
Players in Russia have a couple of opportunities to get their hands on a ticket.
For a start, the Stoloto online portal and mobile app provide effortless opportunities to acquire lottery tickets from the comfort of one's home. It's also possible to send a text message to the official lottery operator's number, after which you'll be provided with instructions about buying tickets this way.
Finally, Goslotto 5/36 tickets are available for purchase in retail venues throughout Russia. Goslotto and Orglot have a well-established point of sale network, making lottery participation fairly easy.
At the time being, there is no official opportunity for the acquisition of Goslotto tickets out of Russia. Some online lottery agencies do carry games from the country. However, it's up to you to check out whether Goslotto 5/36 is featured among these opportunities and whether the respective online portal is a reliable one.
Gosloto 536 Prizes and Payouts
Lotto five of 36 games feature much better odds than other popular formats like 6/49, for example. As a result, such games are characterized by smaller prizes to offset the better odds. The Gosloto 5/36 is not an exception.
At the time of this review creation, the game's jackpot is advertised at 10.6 million Russian rubles, which is approximately 145,200 US dollars. While the jackpot is not the most spectacular one out there, remember that your odds of winning are one in 376,992. This is a much better probability than the odds of winning multi-national games like EuroMillions, for example (the odds there are approximately one in 117 million).
Now, let's talk about a much more exciting topic, and that's the biggest jackpot that Goslotto 536 numbers have ever produced. Since the game has rolling jackpots in the event of no winner, some pretty impressive sums have managed to accumulate through the years.
The biggest winner in the history of Gosloto 5/36 is Pavel L, who snatched a spectacular prize of slightly over 50 million rubles. The second-biggest winner in the game's history is Margarita S., and her top prize added up to 22.919 million rubles.
Apart from the jackpot, there are several additional smaller prize tiers. For each of the daily drawings, about 50 percent of the money generated through ticket sales goes back in the form of player rewards.
Usually, the size of the lower prize tiers is determined on a pari-mutuel basis. This means that your prize amount will depend on the number of people who bought a ticket for that specific drawing and the number of winners in the prize tier.
All of the Gosloto winners have 180 days from the drawing date to come forward and make a prize claim. Keep in mind that all lottery prizes in Russia are subjected to a 13 percent income tax.
The Gosloto 536 jackpot is always paid out in the form of a single lump sum. For smaller prize payouts, players will need to visit one of the authorized retail venues and make an official claim.
Checking the Latest Goslotto 536 Results
You have a couple of reliable opportunities for checking the Goslotto 536 results.
As a first option, you can watch the lucky numbers being drawn live. A video broadcast is available through the lottery's official website. If you miss the daily drawing you're interested in; you can check out the website for published results later. The official Gosloto online portal also features an extensive archive of past drawings.
Visiting one of the numerous retail venues in Russia also allows you to check out the latest winning numbers. That is a practical choice since you can make an immediate prize claim in winning something.
You can also count on LotteryPros, your one-stop-shop for international lottery information, to discover the latest Gosloto 5/36 results.
Not only do we publish the latest numbers after the drawing takes place, but we also maintain a pretty extensive results archive. You can use it to check Goslotto 536 hot numbers (as well as cold and overdue digits) to improve your strategy.
Gosloto 536 Number Generator