SuperEnaLotto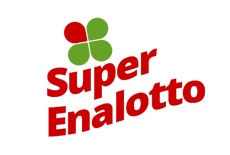 📅
Days Played:
Tuesday, Thursday and Saturday
🗓️
Latest Results:
03-10-2023 8:00pm CET
SuperEnaLotto Winning Numbers
SuperEnaLotto is a 6 + 1 number lottery game. To win €176 Million SuperEnaLotto jackpot, you have to match 6 main numbers.
SuperEnaLotto Past Results and Winning Numbers
The SuperEnaLotto result archive contains the results from 03-12-1997 8:00pm CET up to the last ones. You only need to select the right date from the list.
DRAW DATE
:
WINNING NUMBERS:
Today, Tuesday 3rd October 2023, 8:00pm

12

13

20

54

67

84

66

Friday 29th September 2023, 8:00pm

06

35

48

53

81

86

47

Thursday 28th September 2023, 8:00pm

09

25

40

58

85

86

11

Tuesday 26th September 2023, 8:00pm

41

43

45

60

66

78

30

Saturday 23rd September 2023, 8:00pm

22

27

38

51

80

82

24

Friday 22nd September 2023, 8:00pm

03

58

67

69

70

84

05

Thursday 21st September 2023, 8:00pm

04

21

29

31

45

59

42

Tuesday 19th September 2023, 8:00pm

09

11

41

52

86

89

36

Saturday 16th September 2023, 8:00pm

23

27

53

55

74

86

79

Friday 15th September 2023, 8:00pm

05

12

42

51

55

80

35
SuperEnaLotto Prizes
The SuperEnaLotto features 6 prize divisions. To win any prize in SuperEnaLotto, you have to match 2 numbers. Chances to hit the SuperEnaLotto jackpot are 1: 622,614,630. To see all the SuperEnaLotto odds, go to the REVIEW tab.
| Divisions | Match | Payout per Winner |
| --- | --- | --- |
| 1 Prize | 6 | €0.00 |
| 2 Prize | 5 + Jolly | €0.00 |
| 3 Prize | 5 | €32,976.66 |
| 4 Prize | 4 | €328.15 |
| 5 Prize | 3 | €23.60 |
| 6 Prize | 2 | €5.00 |
SuperEnaLotto Hot and Cold Numbers
SuperEnaLotto hot numbers are the lottery numbers that appear the most in drawings. SuperEnaLotto cold numbers are the numbers that appear infrequently. Some lotto players choose them specifically because of the frequency, believing that their reappearance in SuperEnaLotto results is only a matter of time, while others stay clear.
Choose the range of years for checking Hot and Cold numbers:
SuperEnaLotto Jackpot History
The jackpot history tool will enable you to see the changes in the biggest SuperEnaLotto jackpots over time. Use the data to carry out analysis, comparisons and predictions for the next SuperEnaLotto jackpot.
Play SuperEnaLotto Now
SuperEnaLotto Review
SuperEnaLotto is one of the leading lotteries in the world, offering players the chance to win millions. This is probably one of the main reasons why people like George Clooney, Paris Hilton, and even Madonna like to buy SuperEna tickets. In fact, Madonna ended up winning 120,000 euros and donating the money to a charity.
SuperEnaLotto was established in Italy on December 3, 1997. Draws are held on Tuesdays, Thursdays, and Saturdays at 8:00 pm Central European Time (CET).  Both the jackpots and the odds of winning are some of the most impressive in the world.
Check out the latest OZ Powerball results
SuperEnaLotto offers a huge jackpot. At the same time, the national lottery of Italy has relatively affordable tickets that cost solely €2.
Initially, this lottery was available only to players residing in Italy, but the huge jackpots have increased its popularity across the globe. Today, enthusiasts can buy SuperEnaLotto tickets online, regardless of the country that they currently live in (as long as local regulations allow online lottery ticket purchases).
Since the time this game was initially introduced in 1950, it has undergone certain minor changes in rules. The introduction of  Jolly Number and Superstar Number are two of the most prominent changes. A special price is announced for the superstar number.
There's one more feature of SuperEnaLotto that makes it so desirable. In combination with other massive lotteries like Powerball, SuperEnaLotto has much more favorable odds of winning.
Many impressive SuperEnaLotto jackpots have been won over the years. One participant in Bagnone won a whopping amount of €147,807,299 on 22 August 2009. Before that impressive win, someone from Catania won the jackpot of €100,756,197 in October 2008.
The relatively affordable ticket prices and the great odds make SuperEnaLotto such a wonderful lottery to try. This may be your opportunity to win big bucks and the rules of participation are relatively simple.
SuperEnaLotto Rules
The rules of playing SuperEnaLotto are simple.
A single ticket (two tries) costs one euro. You have to choose six numbers from a pool of 90. Players that match these six numbers for the respective drawing will win the jackpot.
There's also a Jolly number that players can choose to activate. The Jolly number applies to second prize tier earnings. People that have five correct numbers can increase the amount significantly. Here's a simple example – the average second prize tier without the Jolly number is 40,000 euro. When the Jolly number is activated, this average is expected to go up to 750,000 euro.
Players have one more option to try – the Super Star number. It costs 0.50 euro more and it's once again a number in the range from 1 to 90. The Super Star number applies to all non-jackpot prize tiers and maximizes the earnings. People that have five correct numbers, the Jolly number and the Super Star will end up winning 750,000 euro + 1 million euro in the form of an additional prize.
Having four correct numbers will produce a prize of 320 euro. Four correct numbers and Super Star will activate an average prize of 32,000 euro. For an additional expenditure of solely 0.50 euro, Super Star is an option definitely worth considering.
The Odds of Winning SuperEnaLotto
The probability of getting all the 6 numbers right in SuperEnaLotto and winning the jackpot is 1 in 622,614,630. The odds of getting 5 numbers correct with the Jolly number are 1 in 103,769,105.
There are five prize tiers. The lowest prize is provided for matching three numbers. The odds of getting three numbers correct are 1 in 327. The overall odds of winning any SuperEnaLotto prize are 1 in 20. Once again, this is quite impressive in comparison to what other international lotteries have to offer.
| | | |
| --- | --- | --- |
| Numbers Matched | Odds of Winning | Estimated Prize Fund |
| 6 Numbers (Jackpot) | 1 in 622,614,630 | 20% |
| 5 Numbers + Jolly Ball | 1 in 103,769,105 | 20% |
| 5 Numbers | 1 in 1,250,230 | 15% |
| 4 Numbers | 1 in 11,907 | 15% |
| 3 Numbers | 1 in 327 | 30% |
SuperEnaLotto Prize Breakdown
A full breakdown of the SuperEnaLotto prize tiers plus a breakdown of the SuperEnalotto with Superstar can be found in the table below:
The biggest SuperEnaLotto jackpot ever was won by a syndicate of players. They ended up snatching the unbelievable 177.729 million Euro in the end of 2010. This is the third biggest jackpot ever handled by a European lottery.
All of the winners have 90 days from the date of the drawing to pick their prizes. International players that win a smaller amount through the online purchase of a ticket will have the sum credit to their account. Larger prize and jackpot winners will have to collect the money in person.
One other cool thing to keep in mind is that lottery prizes in Italy are provided in the form of a tax-free lump sum.
| | | | |
| --- | --- | --- | --- |
| Numbers Matched | Estimated Prize Fund | Superstar | Percentage Prize Fund |
| 6 Numbers (Jackpot) | 20% | 5 + Superstar | 25 x the winnings obtained by matching 5 numbers |
| 5 Numbers + Jolly Ball | 20% | 4 + Superstar | 100 x the winnings obtained by matching 4 numbers |
| 5 Numbers | 15% | 3 + Superstar | 100 x the winnings obtained by matching 3 numbers |
| 4 Numbers | 15% | 2 + Superstar | €100.00 |
| 3 Numbers | 30% | 1 +Superstar | €10.00 |
| | | 0 +Superstar | €5.00 |