Derby Lotto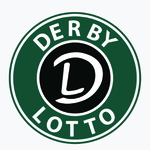 🗓️
Latest Results:
07-12-2023 6:00pm WAT
Derby Lotto Winning Numbers
Derby Lotto is a 5 number lottery game. To win Derby Lotto jackpot, you have to match 5 main numbers.
Derby Lotto Past Results and Winning Numbers
The Derby Lotto result archive contains the results from 01-01-2020 9:15am WAT up to the last ones. You only need to select the right date from the list.
DRAW DATE
:
WINNING NUMBERS:
Today, Thursday 7th December 2023, 6:00pm

21

52

57

85

87

Machine Numbers:

Today, Thursday 7th December 2023, 3:00pm

01

06

40

55

66

Machine Numbers:

Today, Thursday 7th December 2023, 12:00pm

04

17

22

37

63

Machine Numbers:

Today, Thursday 7th December 2023, 9:30am

25

26

54

58

63

Machine Numbers:

Yesterday, Wednesday 6th December 2023, 12:00pm

06

14

31

55

76

Machine Numbers:

Yesterday, Wednesday 6th December 2023, 9:30am

07

24

60

86

89

Machine Numbers:

Monday 4th December 2023, 6:00pm

09

24

54

61

82

Machine Numbers:

Monday 4th December 2023, 3:00pm

11

19

26

57

83

Machine Numbers:

Monday 4th December 2023, 12:00pm

18

21

45

76

88

Machine Numbers:

Monday 4th December 2023, 9:30am

01

07

33

44

89

Machine Numbers:
Derby Lotto Hot and Cold Numbers
Hot numbers are the lottery numbers that appear the most in drawings. Cold numbers are the numbers that appear infrequently. Some lotto players choose them specifically because of the frequency, believing that their reappearance in Derby Lotto results is only a matter of time, while others stay clear.
Choose the range of years for checking Hot and Cold numbers:
Derby Lotto Number Generator
The Derby Lotto generator provides FREE lucky numbers for Derby Lotto draws. All you need to do is to enter your name, your birth date, and the day of the draw you plan to participate in.
Derby Lotto Review
Are you looking for cool lotteries to play in Nigeria? If so, you may give the Derby Lotto offerings a try.
Derby Lotto Nigeria organizes three lotteries, each one suitable for a certain kind of player. There are offerings for those interested in big prizes and offerings for those who want to stay safe and choose manageable odds. What kind of player are you? The answer doesn't matter since Derby Lotto will probably have an opportunity that caters to your needs.
So, how safe and exciting are Derby Lotto games? Should you be giving them a try? We can offer you some very brief answers to these questions, but such responses wouldn't be in our style. So, let's dig into the essential details that reveal everything you need to know about Derby Lotto.
This review has all you need to know about Greece Lotto
What Is Derby Lotto?
Derby Lotto is an offering by Derby Group. The company was set up a long time ago – back in 1977. Yes, that's a pretty long history in the lottery world, and you can breathe a sigh of relief because Derby Lotto is entirely legitimate.
The company has a federal license from the National Lottery Regulatory Commission. This license allows Derby Group to organize games of luck, sell tickets and distribute prizes among the lucky winners.
Right now, Derby lotto games are available in 15 states. The company is expanding its presence across Nigeria and making its lotteries available to a broader audience. Speaking of lotteries, what can you try out by choosing Derby Lotto over other service providers in Nigeria?
Derby Lotto Games
If you want to learn how to play Derby Lotto, you'd be surprised to find out that Derby Group doesn't offer such a game. There are three other possibilities instead of a flagship opportunity. Let's check out the lotteries under the company's belt.
Naija Millions
Probably the most popular and the giant lottery offered by Derby Lotto. Naija Millions allows players to choose six lucky numbers from a range of 52. The more numbers a player matches, the bigger the reward is going to be. Currently, the Naija Millions jackpot has reached two million nairas. This happens because, in no winner, the top prize for one of the drawings rolls over towards the next one.
5/90
The name of this lottery is relatively self-explanatory. For a chance to win a prize, you have to pick five numbers out of 90 possible. With such a large pool of digits to choose from, the odds aren't the most favorable ones. This Derby Lotto game, however, compensates with the prizes that players can win. There's a guaranteed top prize of 52,800 Naira for each drawing. Apart from the top reward, the game features four additional prize tiers. Matching as little as just one number will guarantee a player a reward from 5/90. While the amount is quite small, only 48 nairas, it's still a cool incentive to give the lottery a try.
Ghana Game
This is the final entry in the draw-style portfolio of Derby Lotto. Once again, this is a 5/90 game, and the name suggests where it's being offered. The rules are pretty similar to those of the other 5/90 offerings in the Derby Group portfolio. In this case, however, players are the ones in charge of the amount they're going to bet. This feature ensures a ton of flexibility, making the Ghana Game quite popular among lottery enthusiasts.
Apart from the draw-style games, Derby Lotto also offers scratch games. There is currently one such offering, and it ensures instant wins to the lucky ones.
How Can Derby Lotto Games Be Played?
Derby Lotto games are characterized by a lot of conveniences.
All of the lotteries and scratch card instant games are accessible online. If you're willing to participate, you have to create your player account. Keep in mind that apart from providing your details to sign up, you will also need to enter a valid phone number.
There's also a mobile app you can install and use the same way as the web-based portal.
To add funds to your account, you'll need to have a valid credit or debit card issued by a local bank. The same card will be used for the payment of prizes if you get lucky and win some. All payouts are guaranteed by Derby Lotto.
Checking Derby Lotto Results
Here's one more important aspect of playing Derby Lotto that we need to discuss. How do you check results and make sure you've won something? You can accomplish the goal in a couple of ways.
For a start, you don't have to worry about prize claims. Since the entire process occurs online, winners will have the respective sum credited to their account without needing to come forward and submit a claim.
The lottery results are also made available on the Derby Lotto official website as soon as a drawing occurs. You can also access the information by downloading the Derby Lotto smartphone app.