787 Lottery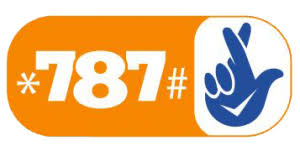 Site URL:

787lottery.com

Days Played:

Saturday
787 Lottery Review
Want to learn how the 787 Lottery is played in Ghana? You've come to the right place – we'll teach you the essentials, and we'll also give you some little-known information.
Introduced only in 2020, the game has quickly gained favorable positions in Ghana. It's a collaboration between the National Lottery Authority, a lottery entity called Wotiriye, MTN, and a couple of other private enterprises.
How often are Poland Lotto results updated?
787 Lottery is a 100 percent mobile game. To play, you need a smartphone, and that's as far as it goes in terms of requirements. The coolest aspect of 787 Lotto is that it's accessible anywhere and anytime. You can be on the go, you can dial the lottery number, and you'll be provided with a chance to play.
So, let's turn to some of the important questions now. What are the 787 Lottery terms and conditions? Is it legit? How much could you win? Check out the following guide to find the answers and then some more.
787 Lottery How to Play
Do you want to learn how to stake the 787 Lottery? Here's how it goes.
For participation, you need a Ghanaian phone, and you also have to be of legal age – over 18. To participate in one of the daily drawings, dial *787#, and you'll receive an SMS prompt that will provide information about the subsequent steps you'll have to undertake.
Every ticket that you buy through your smartphone will cost you five credits. It's up to you to decide if you're going to use a credit card or mobile credit to fund your purchases. Drawings take place each Saturday, at 8 p.m. local time.
Players do not get to select their numbers when playing the lottery. An automatic entry will be created on their behalf by the operator. Information about the entry will be received via phone, and this is also the way to check the results (more about that – later).
On top of the grand drawing on Saturday, there are two additional drawings – one on Tuesday and one on Thursday each week. These are known as "special" drawings, and they allow players to win six times an amount and qualify for the jackpot drawing on Saturday. This may sound a little bit confusing when you first come across the concept, but when you start playing, and you get the official instructions on your phone, everything will become clear.
Keep in mind that for you to play Lottery 787, you need to have a phone number registered in Ghana. This means that foreigners visiting the country for a certain period of time and using the phone number issued in their country of citizenship will have no opportunity to try out the 787 Lottery.
And here's one final thing you need to be aware of – once you start playing 787, the National Lottery Authority will send you notifications and additional information via text messages. If you want to learn how to stop lottery 787 messages, here's what you'll need to do. Go to messages on your phone and send a "Stop" message to 79007. That should discontinue all kinds of notifications from NLA.
787 Lottery Prizes and Payouts
Now that you know how the 787 Lottery is played let's check out the prizes.
According to the game's official website, there are six prize tiers. The jackpot or first prize class starts at GHS 50,000, and it can roll over towards an upcoming drawing in the event of no winner.
The second prize is GHS 20,000, and the third prize (having the last four digits of the ticket matching the ones drawn on that respective week) totals GHS 1,000.
The lowest prize tier is GHS 10, and a player can claim that amount by matching the last digit for the respective drawing.
All winners will receive a text message providing information about the 787 Lottery prizes and the procedure that has to be followed to make a claim. There is a 90-day deadline from the date of the drawing to come forward and request a prize.
Now, you may be wondering who makes sure that the drawings are fair and that payouts occur correctly. The game's official website states that the NLA periodically reviews the software used to select the winning numbers each week randomly. As per the presentation, the selection is completely random and fair, and there's no way for the results to be predetermined.
While researching Lotto 787 Ghana, we did come across a few comments by people who claim to have the correct set of digits and state they haven't been paid a prize. The NLA hasn't addressed such comments, and at the time being, we don't really know if such claims refer to mistakes that people have made or to actual issues with the game.
Media in Ghana have already published reports about some of the first winners. The biggest jackpot to date was won on March 28, 2020. Laud Kotey from Yeji claimed a nice sum of GHS 162,950. The second biggest jackpot of 2020 fell on May 9 when Amabe Valarius won GHS 157,500.
787 Lottery Results
There are several options for checking the Lotto 787 results.
Suppose you want to find out if your entry is a winning one, dial *787# and select option 3 – results. If you are the winner of one of the prizes, your code will appear in the results.
Numerous websites like Lottery Pros also provide information about the results of international lotteries. The benefits of using such services include the fact that you can access both the latest winning digits and a results archive. If you're trying to improve your strategy to win more often, such an archive can definitely come in handy.
787 Lottery Number Generator