Super 66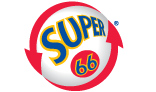 Site URL:

tatts.com

Days Played:

Saturday
Super 66 Review
Super 66 is a lottery game that is run by Tattersall's a publicly held and traded company headquartered in Queensland, Australia with interests in wagering, lotteries, and gaming solutions. Super 66 is played in every part of Australia with the exception of New South Wales. Participants in this lottery game buy tickets and wait for the draw which is held every Saturday immediately after the main lotto draw conducted at 7.30 p.m. AEST.
Here's how to check Poland Lotto results
How to Play Super 66
The cost per play of Super 66 is 1.10 Australian Dollars which is equivalent to 1 Australian Dollar in Western Australia. In order to take part in the play, the lottery players have the option of purchasing a separate ticket or ticking the Super 66 box on a ticket and waiting for Monday and Wednesday Gold Lotto, Saturday Gold Lotto, Oz Lotto, Powerball, or the Pools. The Super 66 is a computer-generated random 6-digit number compiled from a range of 0 to 9.
The Super 66 entry box allows for single entry as well as multiple entries. As a player, you can ask for up to twelve games by simply crossing the 'Multiple' box imprinted on your coupon. All you need to do is to inform your retailer of the number of Super 66 entries you wish to play and the lotto terminal will automatically print your entries onto the ticket.
The ticket prices for 1, 2, and 3 games are $1.10 Australian Dollars per game while the ticket prices for 4 to 10 games are priced at a discount of $0.05. When you enter 11 or 12 games you get a discount of $0.1.
How to Win Super 66
As opposed to the other types of lottery games, Super 66 allows only one prize per entry. In the event a Super 66 number has two sets of winning sequential numbers, it will win the higher division prize. Usually, the Division 1 prize for Super 66 jackpots is pushed to the following week in case it is not won. According to the Super 66 rules, where the Division 1 prize has not been won for 25 weeks consecutively, the prize pool is distributed to the immediate lower division where there are winners. This is usually Division 2. You have the opportunity to buy your tickets up to 10 weeks earlier for any draw. This is particularly advantageous for people who could be traveling and yet want to take part in the Super 66 lottery or those who may want to avoid the rush.
In order to win the Division 1 prize in Super 66, your ticket number must match the 6-digit Super 66 numbers as drawn. However, you can also win a prize where your Super 66 number matches the exact sequence of the first or last two, three, four, or five numbers are drawn. The prize payout table for Super 66 has 5 prize divisions. For Division 1, the prize is AU$16,666.00; Division 2 prize is AU$6,666.00; Division 3 is AU$666.00; Division 4 winner gets AU$66.00 and the last division winner takes home AU$6.60.
The Odds of Winning Super 66
The odds of winning in any lottery game is an important factor to be considered because it shows the probability you have as a player to walk away with a prize in any of the prize payout categories. For Super 66, each of the 5 prize tiers has its own winning odds. For Division 1, the odds of winning is 1 in a million; Division 2 is 1 in 55,556; Division 3 is 1 in 5,556; Division 4 is 1 in 556 while Division 5 which has the highest probability is 1 in 56. What this means is chances of any player walking away with a Division 4 or 5 Prize are very high.
In Super 66 draws, 55 percent of the total entry costs are usually allocated to the prize pool and any extra funds are added to the Division 1 prize after all the winners in each prize tier has been tallied. In the event the amount of cash available in the prize pool is not enough to pay the winners, the difference is drawn from the Prize Reserve Fund.
Divisions
Your Super 66 Number
Starts with OR Ends with
Odds Based
on 1 Game
Division 1
NNNNNN
1,000,000:1
Division 2
NNNNNn or nNNNNN
55,556:1
Division 3
NNNNnn or nnNNNN
5,556:1
Division 4
NNNnnn or nnnNNN
556:1
Division 5
NNnnnn or nnnnNN
56:1
Super 66 Prize Breakdown
After the toil of buying tickets and picking the random numbers, every lottery player looks forward to the draws. Winning a prize is not only exciting, but can also be a life changing event, particularly for those who win 1st or 2nd Division prizes. So as not to miss out on your prize as some do, you should be very keen when the draw results are announced. Ensure you reconfirm your ticket and check the results again either online or on newspapers. Below is the procedure as well as the regulations pertaining to claiming of prizes for Super 66.
Prizes less than AU$1, 500 can be claimed directly from the retail outlet by presenting your winning ticket and identification documents. Any prizes above the $1,500 threshold must be claimed in person at the Golden Casket Lottery Corporation headquarters located on 87 Ipswich Road, Woolloongabba, Brisbane, Queensland 4102. The mode of payment for prizes can either be a check or an electronic funds transfer. In order to successfully collect your prize from the head office, you must carry your original lotto ticket, an identification document which can either be a passport or driving license.
Winners of First Division prizes should collect their prizes 2 weeks after the draw on the first business day. On the other hand, lower division prizes are payable from the next business day as from 8.30 a.m. after the draw is held. If you lose your winning Super 66 lotto ticket, you must fill in a lost or damaged ticket search form. This will assist the authorities and management in locating the ticket in the lottery system. There is normally a search fee associated with this process. In the event the ticket is traced successfully, a 'Stop Payment' is then placed on the winning ticket as long as the prize has not as yet been claimed.
| | | |
| --- | --- | --- |
| Division | Division Prize | Division Prize Pool |
| Division 1 | Jackpotted | Jackpotted |
| Division 2 | $6,666.00 | $26,664.00 |
| Division 3 | $666.00 | $32,634.00 |
| Division 4 | $66.00 | $27,456.00 |
| Division 5 | $6.60 | $29,257.80 |
Super 66 Number Generator