Lucky Numbers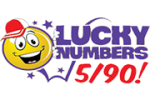 Site URL:

www.africalotto.co.zw

Days Played:

Daily
Lucky Numbers Review
Africa Lotto is a company that was registered in the month of November 2008 in the Republic of Zimbabwe and it is wholly owned by a Trust. The company developed a lotto system nationwide which gives people in the country an opportunity to play and win lots of prizes. It not only allows people to play from the various retailers, but also on their mobiles and this brings in a lot of convenience. There are four categories of games offered under the Africa Lotto and this include draw games, sports lottery, instant wins, and scratch cards.
One of the draw games that is loved by people here is Lucky Numbers 5/90. This game gives you an opportunity to make money daily simply by choosing 5 winning numbers from a tabulated group of numbers ranging from 1 to 90. The moment you make your choice and get your ticket, all you need to do is just sit back and relax as you wait for the draw. The draws are usually conducted through an electronic process once every 15 minutes.
How to Play Lucky Numbers
As pointed out above, playing Lucky Numbers is very simple. Even if you haven't played before, you will find the process very easy to understand and friendly. If you have gone through similar draw games, playing Lucky Numbers draws on part of your experience in the other games including your favorite lucky numbers.
The first step is to find a retailer. Africa Lotto has made it such that every state in the Republic of Zimbabwe has retailers. All you need to do is to go to the official Africa Lotto website and choose the state you are playing from. The states include Bulawayo, Harare, Manicaland, Mashonaland Central, Mashonaland East, Mashonaland West, Matabeleland North, Matabeleland South, Masvingo Province, and Midlands Province. Once in the province or region, you can choose the city you want to play from and you will get an interactive map that will show you where the retailers are. You may be shocked to learn that you have one right next to you.
Once you get to the retailer, you will be able to choose your draw game. The draw games are held after every 15 minutes and you basically choose the draw that matches with your timing preferences. There are two ways to make your choice. You may decide to play through the manual pick or the Quick Pick system.
The Manual Pick
Here, you physically choose your draw game. The draw games are numbered. For instance, Mhanza Mambure49, Mhanza Mambure50, and Mhanza Mambure51 are draw games held consecutively after 15 minutes starting from 1830 hrs. on August 10, 2017. Once you select the draw game, you can now choose the bet type. The bet types are organized based on permutations. There are Perm1, Perm2, and Perm3.
In Perm1, the 5 numbers you choose out of the 90 numbers. The cost per line is $0.10 and the minimum you can play is 10 lines which equal $1 on the minimum. The meaning of a line is when you select one number. Therefore, for 10 lines, you have to select 10 numbers. The dashboard shows you your bet amount which ranges from $0.10 to $1. This means if you choose your 10 lines and you set your bet amount to $1, you will pay $10 per ticket. However, if you leave the bet amount at its lowest which is $0.10, you will only pay $1 for the 10 lines.
In Perm2, you don't need to choose 10 numbers, you simply choose 5 and it multiplies for you into 10 lines. However, the maximum numbers the system allows you to choose under Perm2 is 20 numbers that give you 190 lines. Depending on your bet amount, you can pay anything from $1 to $190 per ticket.
In Perm3, you can choose a maximum of 20 numbers and a minimum of 5 numbers. The number of lines you get when you choose 5 numbers is 10 and when you choose the maximum (20) numbers is 1140. Depending on your bet amount, you can pay anything from $1 to $1140 per ticket.
Quick Pick Option
Here, you choose your draw game and the bet type. After that, you mark the Quick Pick box which will show you the minimum numbers to be picked. For instance, under Perm1, marking the Quick Pick box tells you that the minimum numbers to be picked is 10, but gives you the leeway to adjust your bet amount physically from the $0.10 per line to $1.
Under Perm2, it tells that the minimum numbers to be picked is 5, but gives you the opportunity to adjust these numbers to the maximum which is 20. You also adjust your bet amount accordingly. The same thing applies to Perm3. In short, the Quick Pick system generates the numbers for you, but gives you partial control on the numbers to be picked and the bet amount.
You can also play on mobile by downloading the Africa Lotto Mobile App which gives you the same Lucky Numbers interface, only that you will be able to play from the comfort of your home, office, or wherever you are. To get the download link to the App, simply enter your mobile number and it will be sent through via SMS. The Mobile App gives you the benefit of regular updates on deals and offers.
Lucky Numbers Prize Breakdown
The Lucky Numbers payouts are largely determined by the pool. The more the number of people participating in the game, the larger the payouts. Because of the low number of people participating in this game, Africa Lotto has gone a step further to give free promotional tickets which help to increase the size of the pool and the winning prospects for the jackpot.
During the draw, 5 lucky numbers are picked and depending on how well you match these numbers, you can win a prize or miss out altogether. However, Africa Lotto has made it more interesting to win by including 3 prize categories. Bearing in mind that the draw happens every 15 minutes, you can win so much by the end of the day depending on the number of times you participate. You can win anything up to $50,000 in prize money depending on your bet type and amount.
For you to receive your prize, you must have a winning ticket. If you play through mobile, you will have to provide proof of the ticket through the notification you get once you play. When you participate through a retailer, you will be printing a ticket which you must retain until the draw has taken place. To be on the safe side, you should sign your ticket at the back immediately you receive it. This is because a ticket is a bearer document and anyone picking it while unsigned will be able to sign it and present it to claim a prize in case it is a winning ticket. If your prize amount exceeds $100, you should visit the head office to receive your payment. The Africa Lotto branches or retail outlets can only pay amounts up to $100.
Note that, for you to play, you must be at least 18 years of age. Africa Lotto has a call for responsible play. Don't play any of the Africa Lotto games as a source of income, but rather do it for fun. Remember, you can always pay for your ticket using different payment gateways including Mastercard, EcoCash, VPay, and Visa.
Lucky Numbers Number Generator