Loto Bonheur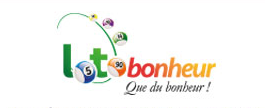 Site URL:

lonaci.net

Days Played:

Daily
Loto Bonheur
Loto Bonheur Cote d'Ivoire is the international lottery we're going to take a look at today. What do you know about Cote d'Ivoire? You're about to add a couple of interesting facts to your database of general knowledge right now.
Loterie Nationale De Cote d'Ivoire (LONACI) is the national entity responsible for operating lottery games and getting options on the territory of the country. Loto Bonheur (Happiness Lotto) is just one of the numerous entries in its portfolio.
Some of the other wholly legitimate and regulated games of luck in Cote d'Ivoire include Sportcash, racing bets, and the Virtual Lottery.
How easy is it to win prizes at Gosloto 749?
You may be surprised to find out that Cote d'Ivoire has a pretty extensive history of organizing lottery games. The first lottery law in the country was passed in 1970. This was when LONACI was also established. Cote d'Ivoire's national lottery is 80 percent state-owned, 15 percent under the ownership of the National Social Security Fund, and five percent owned by company staff.
Happiness Lotto is a classic draw-style numerical lottery. There are a few specifics, however, that you'll have to keep in mind if you'd like to give this lottery game a try.
How to Play Loto Bonheur
Loto Bonheur Lonaci involves the following steps for the purchase of a ticket.
To play Loto Bonheur, you have to choose one, two, three, four, or five numbers in the range from one to 90. During the respective drawing, five random digits will be chosen. These will determine precisely how much a player could win.
There are also several distinctive bet options players can select.
Pari PN is the first bet option. It consists of guessing solely the first number that will be drawn. Pari 2N involves guessing two of the numbers drawn. The order in which these are selected isn't going to play a role.
Pari 3N involves choosing and guessing three of the five numbers drawn, regardless of the order. A Pari 4N bet is the same thing, but the players have to match four numbers. Finally, a Pari 5N involves guessing all five of the numbers drawn. The order isn't going to play a role in this kind of bet.
Thus, a person who chooses a Pari 5N bet will have to enter five numbers on their play slip. They will not win if a Pari PN number is selected among the winning ones.
Loto Bonheur offers freedom in terms of the amount that players bet on a single ticket. The minimum possible bet is 25 FCFA per unit. The minimum bet for a ticket is 100 FCFA, and the maximum bet is 100,000 FCFA. The price that a player has to play in the end is calculated based on a simple formula – units x the number of combinations.
Points of sale for Loto Bonheur tickets are available across Cote d'Ivoire. You can find detailed information, locations, and contact options at the Loterie Nationale De Cote d'Ivoire official website.
What's even cooler to know is that the national lottery offers an online ticket-buying option. Parions Direct is the national online portal that allows for effortless online ticket purchases. Cote d'Ivoire's national lottery has also announced that it will launch soon a mobile app that will enable ticket buying on the go.
In Cote d'Ivoire, you have to be aged 18 or older to play the lottery. There are no restrictions when it comes to the nationality of people who can buy Loto Bonheur tickets.
Loto Bonheur Prize Breakdown
Prizes in Loto Bonheur are dependent on both the bet type and the amount that the player has decided to place on their number or numbers.
There's a coefficient that LONACI sets to determine how much a player is going to win.
For the PN bet, for example, the coefficient is x40 the bet amount. The Pari 2N bet comes with a coefficient of x240, the Pari 3N bet – x 2,000, Pari 4N – x 5,000, and finally, the coefficient for the Pari 5N is the most favorable one – x 40,000.
A deadline of 10 days from the date of the drawing applies to all of the Loto Bonheur prize tiers. Players have to follow a prize collection procedure that's dependent on the amount they've won.
Sums up to 100,000 FCFA can be cashed out at all of the LONACI retail outlets and distribution agencies. The payout is going to be immediate. For sums in the range from 100,001 to 999,999 FCFA, winners will have to visit a nearby LONACI agency.
Finally, more significant amounts will need to be cashed out at the LONACI headquarters. The winning ticket and a valid form of ID will have to be presented so that the payment is processed.
Those who play Loto Bonheur online will have their prize amount credited to their digital account. Once this happens, the sum can be withdrawn quickly.
Checking the Loto Bonheur results is essential because you have a short timeframe to cash out the prize. Also, a thorough analysis of the results can enable an accurate Loto Bonheur prediction.
Cote d'Ivoire's national lottery has a detailed website that provides information about the newest results. A Loto Bonheur results archive is also available. This is the tool you should be relying on to make your Loto Bonheur prediction.
Our website is also dedicated to being a one-stop shop for all of your international lottery needs.
We feature the latest Loto Bonheur results and a drawing archive for your reference. Use the information to fine-tune your strategy and also to determine if you've won anything on time. Remember – in Cote d'Ivoire you have only 10 days to cash out your prize (unless you're playing Loto Bonheur online).
Loto Bonheur Number Generator