Cash Five Texas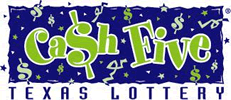 Site URL:

txlottery.org

Days Played:

Monday-Saturday
Cash Five Texas Review
Starting its history in July 2002, Cash 5 has quickly become one of Texas's most beloved daily lotteries. With good odds of winning and guaranteed prizes, this exciting little game will cost you just one dollar to test out. And if you're lucky enough, you could end up snatching the jackpot.
The Texas Lottery holds a Cash Five drawing almost every day of the week, Monday through Saturday. And since the odds are so good compared to those of national lotteries, it's almost a monthly occurrence for someone to get their hands on the jackpot.
Cash 5 is fairly easy to play, and today, we'll take a look at the rules, the odds, and the other important things you have to keep in mind if you want to conquer this lottery.
How Does Cash Five Work
Do you want to know how to play Cash Five? The good news is that if you've ever played a draw-style game before, you'll quickly master this one.
The Cash Five gameplay is based on a five out of 35 format. This means you have to choose five digits from a set of 35. For a chance to win the guaranteed daily jackpot, you need to match all five of the winning numbers.
Every entry into a Cash 5 drawing is going to cost you a single dollar. It's up to you to decide if you're going to use your own lucky numbers or if you'll opt for the quick pick feature at the time of ticket buying.
Speaking of ticket buying, there are two ways to complete the task. The first and most traditional one is visiting a nearby retail venue. Texas Lottery tickets are sold throughout the state. The chances are that a small store, gas station, or supermarket nearby has such an option for you.
Cash Five Texas tickets can also be bought via the official Texas Lottery App. Once you download the app, create a Cash Five play, and you're good to go.
To buy tickets for all Texas Lottery games, you have to be located in the state. Current regulations prohibit lottery tickets out of state (by mail or online, for example). Thus, even if you are using the official lotto app, you will still need a valid Texan address to participate.
Other than that, there are no ticket buying restrictions. You have to be of legal age, and you should also be residing in the US as a citizen or on a valid visa. Like the rest of the US, Texas doesn't impose limitations on lottery ticket buying by foreigners.
Cash Five TX Prizes and Odds
We're now getting to the most interesting aspect of TXLottery Cash Five, and boy, does the game deliver.
The overall odds of winning a prize from this lottery are one in seven. Obviously, the low prize tiers aren't going to have life-changing consequences (unless you use the money to buy a jackpot-winning lottery ticket), but it's still good to know that you have such high odds of getting a few bucks.
Each daily drawing comes with a guaranteed jackpot of 25,000 dollars. The odds of claiming that sum are one in 324,632. If you match four out of the five winning numbers, your prize will be 350 dollars. The odds of getting four numbers correct are one in 2,164.
If you match three of five numbers, you'll win 15 dollars. Finally, matching just two numbers will score you a prize of a free Cash 5 ticket.
As far as the jackpot is concerned, a few important rules apply to it being paid out. If there are two winners, each one will receive the guaranteed sum of 25,000 dollars. In the event of three winners or more, the jackpot will be split on a pari-mutuel basis among all of the lucky players.
All winners have 180 days from the drawing date to come forward and make a prize claim. Sums of up to 599 dollars can be claimed immediately at any Texas Lottery retailer. Local claim centers can also process such requests.
Larger sums that exceed 600 dollars are obtained either at a local claim center or at the Lottery Commission headquarters in Austin, Texas. Sending a prize claim form by mail is another possibility if you don't have a nearby prize claim center.
Regardless of the sum, a winner will have to present the signed ticket and a valid form of ID to receive their amount.
Texas Lottery Cash 5 Results
Checking Cash Five results is possible in several ways. The easiest and probably most exciting method is watching Cash Five numbers being drawn live each day of the week. The daily drawings are televised and broadcast for the most impatient players who need to verify immediately.
The information will also be published on the official Texas Lottery website. There, you can also check the results archives.
If you use the Texas Lottery app, you can check your ticket to determine if you have won anything. Alternatively, visit one of the retail venues or prize claim centers. There, the winning number information will be provided, and you'll also get to complete the prize claim procedure simultaneously.
Lottery Pros is another reliable source of information you can always count on. We do our best to update results as soon as a drawing takes place. All you have to do is visit the respective section of the website and identify the lottery you're interested in. Apart from featuring the latest drawings' results, we also have an extensive database of past numbers, which you can check out for reference purposes.
Cash Five Texas Number Generator