Texas Two Step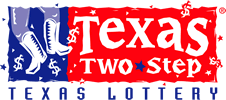 Site URL:

www.txlottery.org

Days Played:

Monday and Thursday
Texas Two Step Review
Launched in 2001, Texas Two Step is one of the flagship lotteries in the portfolio of Texas Lottery. Drawings take place two times per week, and the jackpot can quickly accumulate. Texas 2 Step may not be everybody's cup of tea, but it's certainly worth examining.
Playing the Texas Two Step lottery is far from challenging, but you can still be strategic to improve your odds of winning a prize. The odds of winning an award in Texas Two Step are especially good, which makes the lottery an excellent choice for those who may be interested in targeting lower prize tiers to ensure consistent winnings.
Is it possible to see the UK results history by region?
How to Play Texas Two Step
Texas Two Step is a bi-weekly game. Drawings take place every Monday and Thursday. The Texas Two Step winning numbers you will have to guess, include four main numbers from a pool of 35 and a bonus number in the range from one to 35.
It's interesting to point out that the gameplay format has remained unchanged since the very start. There have been a couple of suggestions in that direction, but for one reason or another, Texas Two Step has maintained its original gameplay mode since its launch in 2001.
To play the Texas Two Step lotto, choose your four main numbers and the bonus number. Each play costs one dollar. A player can choose to do advanced play. If you opt for this opportunity, you will get to buy tickets for the upcoming Texas 2 Step drawings. You can purchase tickets in advance for up to 10 consecutive coming drawings.
If you don't have your own set of lucky numbers you want to enter the play slip, go for a quick pick. The quick pick option has the lottery software generating a random set of numbers for you and printing those on the ticket.
You have to follow state laws when buying your Texas Two Step tickets. In Texas, the sale of lottery tickets is prohibited via mail, phone, or online means. Thus, you will have to visit one of the authorized Texas Lottery outlets to get tickets.
There are no restrictions when it comes to the nationality or the residential state of people buying Texas Two Step tickets, as long as they're in Texas at the time of the purchase.
Currently, it's not possible to buy Texas Lottery tickets online if you're not in the US. Both state and federal laws impose some restrictions that give solely local players access to these games of luck.
Drawings are televised and broadcast live every Monday and Thursday at 10:12 pm CT. A live webcast also takes place via the official Texas Lottery website, giving you a chance to see the latest Texas Two Step results.
Texas Two Step Price Breakdown
For a chance to win the Texas Two Step jackpot, you will have to match both the main and the bonus numbers. The odds of this happening are one in 1,832,600 – not great but also not bad.
There is a minimum guaranteed jackpot of 200,000 dollars per drawing. If nobody wins, the sum will roll over towards the next Texas Two Step edition. As a part of your strategy, you may want to see how the jackpot is growing and determine when the time is right to make your move.
Over the years, several big jackpots have been won.
The most significant sum fell back in 2006. By that time, the jackpot had rolled over so many times that it surpassed two million dollars, and the previous record of 1.8 million dollars was won on March 25, 2003.
The sum had reached 2.9 million dollars by the time it was eventually claimed on April 27, 2006.
One of the most recent Texas Two Step millionaires was named in August 2018. A Dallas resident claimed the 1.175-million-dollar jackpot. He chose anonymity, a right that lottery players are granted in Texas, which means that the world didn't get to learn an awful lot about that lucky person.
While these massive sums are outliers, statistics suggest that the average jackpot won in Texas Two Step is slightly over 418,000 dollars. It's still a pretty juicy sum that justifies spending one dollar on a ticket purchases.
Apart from the jackpot, Texas Two Step has six additional prize tiers. Those who guess the four main numbers without the bonus number will win slightly over 2,400 dollars (there could be some variations since the prize tier is pari-mutuel). Three main numbers and a bonus number will produce a prize of 25 dollars. Even if a player guesses only the bonus number, they will win a prize of five dollars. The odds of this happening are one in 58, and the overall odds of claiming any prize are one in 32.
All players who have won need to come forward and make a prize claim within 180 days from the date of the drawing. Prizes of up to 599 dollars can be cashed out at any Texas Lottery retail outlet.
Prizes of up to 2.5 million dollars are to be claimed at the Texas Lottery Claim Center. A completed lottery claim form will have to be provided alongside a valid ID and the signed lottery ticket.
For more massive prizes, players need to visit the Texas Lottery Commission headquarters in person.
The prize is paid out in the form of a cash lump sum. This is the only game in the portfolio of Texas Lottery that doesn't have players choosing whether they want to get the cash amount or annuity payments.
To find out if you've won anything, you will need to check out the Texas Two Step winning numbers. We feature the latest information, as well as the Texas Two Step past winning numbers for reference purposes. Go to the results section to see whether you've gotten lucky or to fine-tune your strategy.
Texas Two Step Number Generator