49s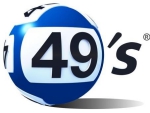 🗓️
Latest Results:
07-12-2023 5:49pm GMT
49s Winning Numbers
49s is a 6 + 1 number lottery game. To win 49s jackpot, you have to match 6 main numbers.
49s Past Results and Winning Numbers
The 49s result archive contains the results from 24-03-2012 5:49pm GMT up to the last ones. You only need to select the right date from the list.
DRAW DATE
:
WINNING NUMBERS:
Today, Thursday 7th December 2023, 5:49pm

08

10

27

31

36

47

15

Today, Thursday 7th December 2023, 12:49pm

02

04

11

19

27

41

05

Yesterday, Wednesday 6th December 2023, 5:49pm

04

10

23

24

33

38

15

Yesterday, Wednesday 6th December 2023, 12:49pm

12

16

21

26

37

45

01

Tuesday 5th December 2023, 5:49pm

04

15

19

25

40

41

23

Tuesday 5th December 2023, 12:49pm

16

20

24

37

39

42

40

Monday 4th December 2023, 5:49pm

11

23

36

40

44

46

18

Monday 4th December 2023, 12:49pm

02

12

15

17

21

32

09

Sunday 3rd December 2023, 5:49pm

02

06

38

42

45

48

01

Sunday 3rd December 2023, 12:49pm

14

19

23

29

43

45

02
49s Hot and Cold Numbers
49s hot numbers are the lottery numbers that appear the most in drawings. 49s cold numbers are the numbers that appear infrequently. Some lotto players choose them specifically because of the frequency, believing that their reappearance in 49s results is only a matter of time, while others stay clear.
Choose the range of years for checking Hot and Cold numbers:
49's Review
The 49's lottery is a draw game run by 49's Limited which is a lottery company headquartered in London, United Kingdom. This company is financed by the subscription fees which are paid to Satellite Information Services (SIS), the operators of the main television services in many of the UK bookmaker shops.
Officially, the 49's began in 1996 when the national lottery in the United Kingdom was launched. Ever since, the game has had two draws each day, which means players have the opportunity to win twice a day. Players who hold accounts with online bookmakers, as well as betting shop customers, can place fixed bets on the 49's with different odds, which depend on the number of balls chosen and the bet type placed.
Here's all you need to know about France Lotto Hot Triplets
Different bookmakers have varying odds on each number of balls. It is therefore important that you use the best odds tables to compare odds. If you want to place your bet directly, below are the top bookmakers.
Bet 365
Betfred
Boylesports
Coral
Ladbrokes
Paddy Power
William Hill
How to Play 49's
It is much easier to play 49's hot picks and win. The first thing you ought to know is that every selection is calculated using the previous draw. This means if you live in other countries apart from the UK, you may not be able to take part in the lunchtime selections.
Usually, lunchtime selections are calculated and availed at about 5 p.m. GMT the day before the actual play. On the other time, teatime selections are done and availed at about 1 p.m. GMT on the play day. Since the selections are done based on the previous draw, players cannot have teatime selections availed any earlier and any requests made for this will not be processed.
Playing 49's Hot Picks
Every selection consists of four numbers. Each of the numbers constitutes an individual bet. This means that all 4 numbers are in essence 4 single bets. What you do is just place every single number as an individual bet to be drawn at odds of 6.5:1. In the case of bet365, the odds are 7.5:1.
Just like in other draw games, the chances of winning every draw are almost nil and this is why you need to manage your finances well. Some of the systems you can use to manage your money include the Loss Recover System, Martingale System, or the Percentage of Bank System. Whichever system you use, it is important to ensure that you profit overall.
The other rule that may benefit your plays is if you have losing bets on 5 consecutive plays, you should start at bet number one again. This simply means you count everything as a total loss and start all over from the beginning. Even though this happens in the 49's, it is on rare occasions.
Playing Gatekeeper and Bookie Destroyer Numbers
When playing these numbers, you choose a group of 5 numbers. Just like in the hot picks, each number within the group of 5 numbers is an individual bet. In short, you will have 5 single-number bets for each selection. You can play the entire selection during the lunchtime draw and even repeat the same numbers at teatime.
It is advisable to always bet with a stake of about 3% of your starting bank and then spread this amount over your individual bets. Assuming you start with 100 pounds, the total stake will be 3 pounds (3% of 100) divided over 5 balls which brings it up to 60 pence.
Playing Rules
The rules for 49's are determined largely by the bookmaker you bet with. It is therefore important that you check with your bookmaker in addition to the rules discussed below.
The maximum payout to players is displayed in the shop where the bet was placed. You can bet on the 49's draw until the broadcast on SIS officially begins. Any late bets will be automatically entered in the following draw.
If you place a bet and you do not select any draw, your bet will be automatically settled for the next consecutive draw taking place after your bet has been accepted. If because for any reason a draw doesn't take place, your bet will still remain effective unless it is canceled through mutual consent.
When placing your 49's bets, it is a must that you do so on standard betting slips. You can be entered for multiple bets on a single 49's draw. As stated above, these rules are general in nature, but for specific rules, contact your bookmaker.
The cost per bet is 1 pound.
Responsible Gambling
In order to take part in the 49's, you must have attained the age of 18. 49's Limited also encourages responsible gambling by advising players to set their betting limits and ensuring that they stick with them. Responsible gambling simply means treating the 49's as a form of entertainment just like any other and spending money that one can reasonably afford.
The Odds of Winning 49's
In the 49's, you have 46 balls to choose from and depending on your playing options, you can pick 1, 2, 3, 4, 5, and 6 numbers to play. During the draw, 6 numbers plus a bonus number, also referred to as the Booster, are drawn from the pool of 49 balls. During play, you can either play 6 numbers or add a 7th number which is the Booster ball to enhance your winning chances. For transparency purposes, the draw is broadcast live on Satellite Information Services. After the draw, the results will be displayed on the official 49's website and also in shops.
The following are the odds of winning in each category.
Standard Game Odds
In the standard game, you pick 6 balls. The odds of matching all the 6 balls is 1:13,983,816. Matching 5 correct balls comes at odds of 1:1,906,884. To match 4 correct balls, the chances are 1:211,876. Matching 3 correct balls comes at odds of 1:18,424. Matching 2 correct balls is at odds of 1:1,176. Lastly, matching a single correct ball comes at odds of 1:49.
Hot Picks
Here, the odds of matching 1 correct ball are 1:12.
Gatekeeper Odds
Matching one ball is at odds of 1:10.
| | |
| --- | --- |
| Match | Odds |
| 6 Numbers | 1 in 13,983,816 |
| 5 Numbers | 1 in 1,906,884 |
| 4 Numbers | 1 in 211,876 |
| 3 Numbers | 1 in 18,424 |
| 2 Numbers | 1 in 1,176 |
| 1 Number | 1 in 49 |