Superenalotto Overview and History
Last updated on December 19, 2018 by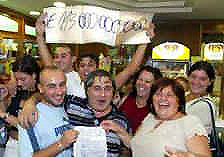 Superenalotto is probably the most popular as well as the most generous lottery in Europe. The lottery is played every Tuesday, Thursday, and Saturday at 20:00 hrs Italian time. As mentioned earlier Superenalotto is a very generous lottery site, players' can win vast amounts as prize money. Sometimes the prize money starts with a mind-boggling 1.3 million Euros and goes as high as 100 million Euros.
Individual cities like Rome, Palermo, Naples, Milan, Florence, Bari, etc., have their share in the draw. It increases the chance of winning prizes for players hailing from these cities. So do not let this opportunity go by. Play now & bring home the jackpot. Who knows? The Lucky fellow could just be you.
The Popularity of Superena: Unmatched by Any Other
Superena Lottery was launched in the year 1950. It was re-launched in 1997. In a very short span of time, it has grown into one of the biggest and popular online lottery sites in the world.
This popularity of Superena is mainly due to its simplicity and record-breaking prizes that it offered to the players. After the advent of the internet, players from all over the world can now participate in Superena lottery.
How to Play Superenalotto?
Superenalotto draws take place every Tuesday, Thursday, and Saturday. The odds of winning on Superena Lotto are also higher than other lotteries at 6/90, and when a player wins, he usually gains a large sum.
To win a player has to match 6 numbers out of 90 probable numbers. 6 numbers are drawn along with a Jolly or Bonus number. The payout generally varies according to the prize pool and is usually made out in 5 different categories.
A player can also increase his winning amount by 100 times if he wins the Superstar number. But for that, the players have to pay for separately.
Winning and Growth
As mentioned earlier the popularity of Superena comes from the mind-boggling amounts of money they offer as prizes. Numerous people have won significant amounts playing Superena Lotto.
For instance, on August 22nd, 2009 an Italian man won whopping €147,807,299.08 (US$ 211,807,859.58). Some of Superena's jackpots are the largest in the world. As the business is growing the size of Superenalotto's jackpots are also increasing.
You May Like