Winning EuroMillions, Saving the Planet: Who's That Boy?
Last updated on May 2, 2022 by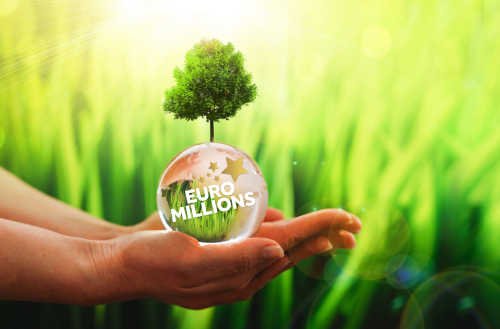 What would you do if you won the lottery? Will you travel the world? Pay all your debt? Start a business? Buy a yacht and marry a supermodel? Many people have done all those things and you wouldn't be alone in choosing them. But one person with a cause has chosen a completely different journey. Here's the story of the EuroMillions jackpot winner who decided to dedicate all of his money to save the planet.
EuroMillions Winner with a Cause
The hero of our story has been nicknamed Guy by French media, as EuroMillions winners have the right to remain anonymous.
So, Guy's story began on one faithful evening in December 2020 when he found out that he'd won the EuroMillions jackpot totaling a staggering 217 million US dollars. At that time, the sum that Guy was to come in possession of was the largest one in the history of EuroMillions jackpots.
Following the win, Guy made headlines in a number of French media due to the way in which he planned to spend the money that he got lucky with. In an interview with Le Parisien, Guy claimed that he'd created a nature foundation that most of the jackpot would go to.
Saving the Planet One Jackpot at a Time
Guy has made it very clear that his nature conservation cause was a top priority. In his view, the world is facing an absolute emergency that needs to be addressed as soon as possible. A delay could be tragic, hence his decision to make something meaningful out of good luck.
In the interview, Guy has also recounted what it was like winning the jackpot.
Originally, he experienced a ton of disbelief and doubt (wouldn't we all?). After all, being a EuroMillions lottery winner is an event that has life-changing consequences. Once Guy ascertained that the miracle had indeed happened, he quickly made up his mind about the way in which the money were to be used.
Even before winning, Guy had made up his mind about setting up an environmental foundation of his own. Eventually, he established Anyama. The foundation is named after a town in Côte d'Ivoire where he spent a couple of years once upon a time. A memory of trucks being loaded with cut trees there was the one that inspired Guy to do something about nature preservation and turn it into his life's goal.
According to his report, Guy passed on most of his lottery money to Anyama already.
Jackpot Winners with a Cause
Guy's story isn't an exception. Throughout history, there have been numerous lottery players who decided to take the selfless route. A number of millionaires, including EuroMillions winners, have contributed all or at least some portion of their jackpots to charitable and social causes.
A British couple that won 115 million UK pounds (slightly over 150 million US dollars) in 2019 gave away nearly half of their money to both charities and those in need. Frances Connolly and her husband Patrick from northeast England got lucky exactly on New Year's Eve. Once the news of the enormous luck was confirmed, Frances sat down and drafted a list of 50 people (friends and relatives) who could benefit from the money.
Apart from helping their loved ones, Frances and Patrick decided to extend their charitable gesture even further. The couple set up two charity organizations to help members of the local society at the biggest disadvantage. With their generosity, Frances and Patrick won hearts and minds across northeast England. Their home currently houses over 300 thank-you cards from people who received invaluable help.
In 2019, a woman in America won headlines by winning the biggest jackpot in the history of the world. At the time, the Mega Millions' top prize had reached 1.5 billion dollars. The winner, who decided to remain anonymous, gave several media interviews after the win. She said that such an amazing fortune carried a ton of social responsibility. That's why she decided to dedicate a significant chunk of money to good causes.
While more information hasn't been provided about the specific dedication of the money, the winner said that she'd supported charities that are close to her heart.
A good example also comes from Canada.
In 2013, Tom Crist, 64, won 40 million dollars from the lottery. The retired executive from Calgary waited six months before telling anyone that he'd won the jackpot. And while he hesitated about making the news public, Tom knew immediately where the money would go.
Jackpot amount was immediately dedicated to charities. Tom simply kept it quiet in order to keep the media from spreading the news or digging too much into his personal life.
While Tom did support a number of different causes, a large chunk of the money went to the medical center that took care of his late wife after she got cancer.
It took the Western Canada Lottery Corporation a lot of time to convince Tom to go public. Eventually, he did agree to have his photo taken and he also made the story of the amazing charitable donation public. In the interview, Tom said that he'd been lucky enough in life not to need any money. That's why he made the decision not to keep a single dollar from the lottery prize.
These heart-warming stories are definitely fewer than instances of people splurging foolishly after winning a jackpot. Still, they're worth mentioning in order to restore everyone's faith in humanity. People like Guy, Tom, Frances, and Patrick, as well as the anonymous lady from the US, have definitely done their best to give back. Hopefully, their example will inspire other lottery millionaires to do something meaningful and use their power to change lives and fortunes.
You May Like