Michael Todd Hill: The Lottery Winner Turned Murderer
Last updated on June 14, 2022 by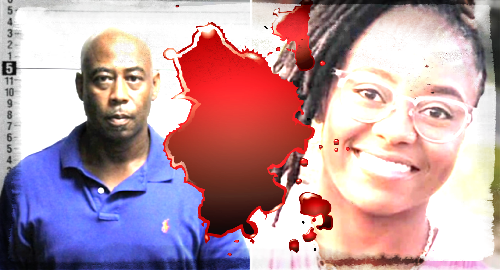 The curse of the lottery winner – is that even a real thing? If you've done some research and you've followed the stories of lottery millionaires, you know that it's a real thing. Some end up bankrupt, some end up dead, and others lose all of their loved ones. The sudden influx of millions has the power to build you up but also to break you down.
Through time, we've covered all kinds of stories but nothing comes close to the Michael Todd Hill lottery disaster.
The Lottery Winner/Murderer
You'd think that winning the lottery would be the opportunity of a lifetime, the chance to turn everything around and experience some of the best things in life.
That wasn't exactly the case for Michael Todd Hill. Unfortunately, Michael made headlines for something a lot grimmer than winning the lottery.
In 2017, a nuclear power plant worker from North Carolina scratched off a lotto ticket to find out that he'd won 10 million dollars. Five years later, he made headlines one more time. The event, however, was quite a lot different. Michael Hill got sentenced to life in prison for the murder of his girlfriend.
Here's what went down.
And the Big Winner Is…
In August 2017, Michael Hill decided to buy a scratch-off lottery ticket at the gas station.
He first got an Extreme Millions ticket but it wasn't a winning one. On a hunch, he went back to the gas station clerk and got a second ticket for Ultimate Millions.
Taking the ticket to the parking lot, Michael decided to scratch it off right then and there. He knew immediately that he'd won something but the lottery clerk was the one to tell him the reward was 10 million dollars.
Immediately, Michael Hill called his wife to tell her the incredible news. He actually told her to pack those bags and get ready for a brand new life. The couple opted for a lump sum payment that added up to a little over six million dollars.
Originally, as interviewed by the media, Michael Hill said that he'd use the money to pay off some debt and invest in the business launched by his wife. So what went wrong?
Things Get Ugly
While everything so far sounds like a fairytale, things quickly got really ugly for everyone involved in the Michael Todd Hill story.
Almost three years after the big win, Michael found himself in the middle of a relationship with the really young Keonna Graham. In fact, the couple had a few decades between them. For many people, that's not a problem but for this couple, problems were everywhere. The couple had a history of domestic violence and a number of reports to the authorities.
On July 20, 2020, Keonna Graham was declared missing after her mother contacted the police. On the very same day, a maid found Keonna shot in the head at the SureStay hotel in Shallotte, N.C.
According to the investigation, Keonna Graham was shot dead while she was asleep. Camera footage revealed that Michael Hill was the only person who'd been with her in the hotel room. Eventually, he confessed to killing his girlfriend because she'd been texting other men.
And Now It's Time for Justice
At the age of 54, Michael Todd Hill was sentenced to life in prison for the first-degree murder of his incredibly young girlfriend. Keonna Graham was 23 at the time she died.
The jury based the sentence on Hill's confession, as well as the surveillance footage that established his guilt beyond a reasonable doubt.
Hill received an additional sentence of 22 to 36 months in prison for the possession of a firearm by a felon (you see, he had a prior criminal record!).
Lottery Winners Who Got in Trouble
While Michael Hill's crime is truly shocking and disgusting, he isn't the only lottery winner to get in trouble with the authorities.
Georgian lottery winner Ronnie Music Jr. got a prison sentence only one year after winning three million dollars from a scratch-off ticket. Instead of doing something smart with the money, Ronnie decided to invest in methamphetamines to sell. While starting a business with lottery money, this isn't the exact type of venture that financial advisors would recommend. For his decision, Ronnie got a 21-year sentence.
Amanda Clayton's story is probably one of the crazies out there. In 2012, the 25-year-old Michigan lottery winner got sentenced for felony welfare fraud. Amanda was collecting food stamps, regardless of the fact that she'd won one million dollars from a game show. God knows why she needed to do so!
Michael Todd Hill isn't the only murderer among lottery millionaires.
Michigan's Willie Hurt won 3.1 million dollars from Super Lotto in 1989. Two years later, he was accused of murder. Willie shot fatally a woman in the head after a crack cocaine quarrel. The Michigan district court made Willie Hurt undergo psychiatric evaluation. After that happen, no more information was released to the public. Hence, it's unclear exactly how the case ended.
In 2011, Freddie Young from Detroit got half of a 46-million-dollar jackpot. Three months later, he was accused of murdering his daughter's landlord. The crime occurred after a dispute over unpaid rent. In 2012, Freddie Young got a 25-year prison sentence.
So you see, winning the lottery doesn't automatically make you good and altruistic. If anything, it can exacerbate the bad traits people have. Hopefully, reports of such criminal activities will remain rare in the future and new lotto winners will learn from the past. Becoming an instant millionaire isn't necessarily easy but with a bit of planning, it can definitely lead to good things!
You May Like