Lottery Winner Couples Who Had the Luck of the Draw but Were Unlucky in Love
Last updated on October 29, 2018 by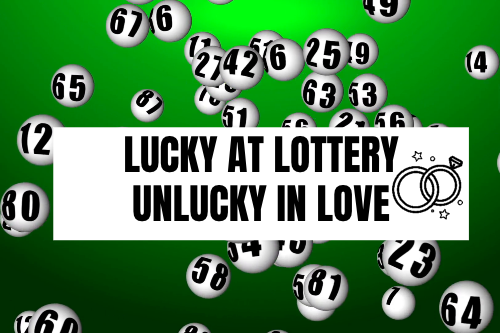 It's a dream come true, you and your partner buy a lottery ticket, in the vain hope you might win a fortune that will make your financial future secure – and as a result, bring you much joy and happiness.
You can't believe it when your numbers come up and you actually win! A huge jackpot of cash will now surely make everything much better.
Then, the worst happens. Your money woes are over, but your relationship woes have only just begun.
Read on to find out about the couples who had the luck of the draw, but were unlucky in love, tales of lottery winners who made a fortune as a couple and then split up tales of lottery winners who made a fortune as a couple and then split up.
Gareth and Catherine Bull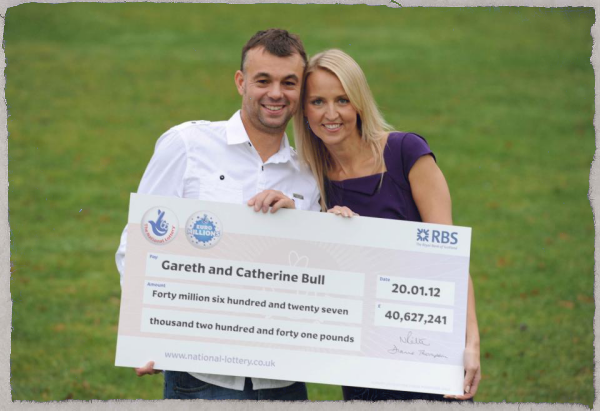 In 2012 the couple who hail from Nottinghamshire won a huge jackpot of £40.6m. Their win was splashed all over the media and it must have been a very intense time for the couple.
Last year, in 2017, it was finally reported that the couple had taken the decision to split. They were living in separate homes and photos had emerged of Catherine no longer wearing her wedding ring.
A quick check of social media site Facebook also revealed that the pair weren't even friends on there anymore.
That's sad enough, but there's more to the tale than just a simple split. A short time ago, the manager of a bar came forward to say that Gareth, who was a former bricklayer, had made a play for her, using the chat up line "Google me" when she wanted to know more about him.
It is claimed that Donna Desporte, a mum of four has come forward to say Gareth used his money to win her over on a drunken night out whilst on holiday in Tenerife. She did not believe him and said she thought he was a 'fruitcake'. However, it was the start of a fling which lasted nine months.
He treated her to a £1,500 night at the BAFTAS for her birthday and to ringside seats at Anthony Joshua boxing matches. But she also claimed that he'd made it clear the romance was to be kept secret from his wife, Catherine, despite the fact they were already separated.
It still isn't known to this day whether the couple's divorce ever did come through.
Lynn Anne Poirier and Howard Browning
Lynn Anne Poirier and her partner Howard Browning were living together and struck a deal. If either of them won the lottery they'd split any winnings straight down the line 50/50.
The couple who hailed from Sanford, Florida, played religiously and sometimes even made road trips to other states to purchase tickets.
It was on June 2, 2007, they stopped at a convenience store in Florida and bought tickets for the Florida 
Lottery's big Firecracker Millionaire ­Raffle.
Mr. Browning said that as they always did, the tickets were placed on the mantelpiece at home. The draw was made on July 4th, but that day, Ms. Poirier did not return home from work.
Browning went to check the lottery tickets after some time and discovered that Poirier's ticket was missing. It had won. She'd collected the money and didn't return home for an entire month.
When she did eventually come home, Browning demanded his half of the winnings, but Poirier point bank refused to share.
Six months later, Browning decided to sue Poirier for breach of oral contract.
As with all these things, there are two sides to every story. Poirier for her part said she'd never agreed to split any winnings with her partner. That she'd bought the ticket with her own money and they'd broken up some months before the win. She claimed she'd been living with her mother.
Browning, dismayed, had stood by their unwritten contract. For his part, he said that he was the one who had paid for the lottery tickets and he had an ATM receipt to prove this. He claimed that they had stopped at the convenience store the same evening after having dinner together at Red Lobster.
However, Poirier hit back by saying she was protected by Florida's Statute of Frauds. This law states that if any agreement isn't capable of being stuck to within one year of being made but be put into writing to make it enforceable. It was fourteen years since the couple had made the verbal deal. Therefore, Poirier's attorneys argued that the contract wasn't valid as it hadn't ever been written down.  It was an acrimonious end to a case that probably should never have gone to court. It wasn't even as if it was a huge jackpot!
The verdict came down in favor of Poirier, in 2012. However, Browning appealed to the Supreme Court in Florida…and won! It was ruled that indeed, Poirier was correct that even though the agreement didn't come to fruition within a year, they still COULD have won, and that word makes all the difference.
The court there held the view that the verbal agreement was all that was needed as there was every chance the couple could have won the lottery at any time.
In 2016, there as a new trial. Poirier lost, and she had to pay Browning $291,000. Browning's attorney, Sean Sheppard, called it 
"a hollow victory" and indeed it was because a month later, Poirier said she had spent all the money and filed for bankruptcy. The case is still rumbling on as Browning is now contesting that claim and taking her to court again. All this for money!
Adrian and Gillian Bayford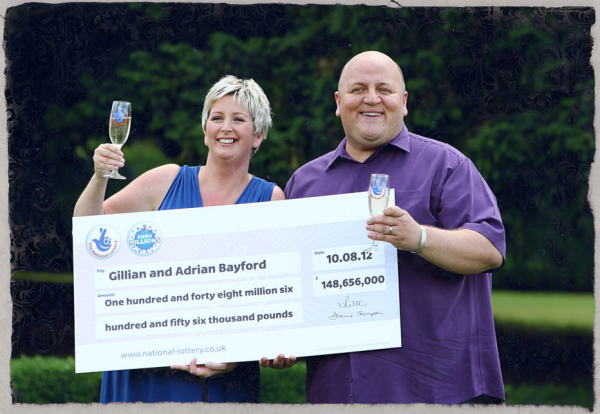 You'd maybe think that winning £148m would not only consolidate your future as a couple bt mean that the experience would bring you closer together. Not the case for Adrian and Gillian Bayford, whose enormous win in 2012 only brought misery to their relationship.
In 2014 they broke up, citing the pressure of their win as part of the reason. Adrian moved out of the family home, to a half-million-pound house that had its own leisure complex and a six-car garage.
However, rumors that it was an affair that put paid to their relationship were rubbished.
Adrian commented "We have kids and we still get along and talk to each other. We're all happy now and life goes on." and Gillian supported this, insisting there was no affair on either side.
But it was in March 2014, that Adrian announced he was engaged to Samantha Burbidge after a six-week relationship. However, she walked out on him less than three years later. He then began a relationship with Lisa Kemp, but she also dumped him earlier in 2018.
Les and Samantha Scadding
Les and his wife Samantha bought one of two winning tickets that meant they scooped part of a £90 million jackpot.
It came at a great time for Les, as he was struggling to earn money and had also battled testicular cancer. However good the money was, it signaled the end of the couple's relationship. Samantha, who was twenty years Les' junior at thirty-eight, and he split up not long after the big money win was announced. It was a sad end for the couple, who hailed from Caerleon in South Wales.
The Denise Rossi Case
Twenty-two years ago in 1996, Denise Rossi won $1.3 million in the California Lottery. However, she failed to impart this news to her husband – whom she'd been married to for twenty-five years.
Instead of telling him about the win, she simply went to him and stated she wanted a quickie divorce. Bewildered, and unsure as to why this was happening, he agreed and the marriage was dissolved. However, soon after the divorce was granted Rossi's ex-husband found out about her deception and took her to court.
A judge ruled in her husband's favor, stating that she had broken asset disclosure laws. He was awarded every single penny of her winnings. Some would say this serves her right! But
Jason and Victoria Jones
Using the last pound coin in her purse, Victoria Jones put the money on a lottery ticket. She and her husband Jason could not believe their luck when they won £2.3 million from it in 2004.
However, just twelve years later they said the money had ruined their lives and that they wish they'd never won.
With the winnings, they bought a luxury home – a brand new sports car and began setting up a portfolio of property. But it didn't take long for the lottery curse to settle on them too and they sadly broke up not long afterward.
Lara and Robert Griffith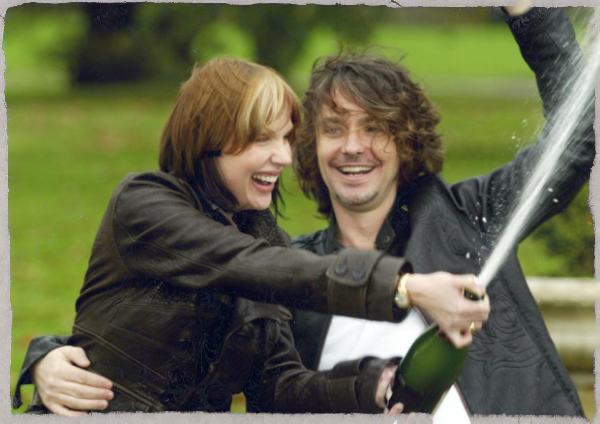 Back in 2005, Lara and Robert Griffith won £1.8 million on the Lottery. Together, they made a purchase of a home worth £670,000 ($790,000), an expensive 4×4 car and a convertible Porsche.
Robert decided he was going to put some money on paying to get a record made with his band, a long-held dream and Lara spent some of the winnings on designer handbags.
Together they also set up a beauty salon.
Just six years later Roger disappeared with the Porsche and Lara, having to turn detective, discovered suspicious emails on his computer. Whilst Robert denied being involved with someone else, the marriage ended.
All the couple's winnings have now gone and Lara has gone from owning the business they used to run, to being a work-a-day employee there.
These stories really are proof that as The Beatles once sang – Money Can't Buy Me Love.
You May Like