Covid-19 Vax Lottery Winners: What Happened to Them?
Last updated on May 16, 2022 by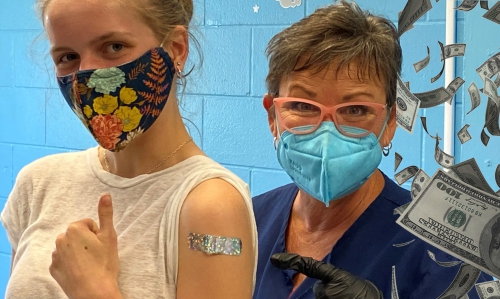 A number of countries made headlines some time ago by announcing Covid-19 vaccination lotteries. The attempt to stimulate people to get the shot obviously worked and millions of people decided to try their luck. So, what happened with these games? Are there actual winners? Has the vaccination lotto changed their lives? We're here to follow up and find out what the outcome of these initiatives has been.
Were the Lotteries Successful?
Now, before looking at the actual stories of winners, let's answer one important question – have the Covid-19 vaccination lotteries been successful?
The short answer is yes and several examples from across the world show so.
A study on the topic got published in the Journal of Health Economics in January 2022. The conclusion reached by the research team is that conditional cash lotteries do increase Covid-19 vaccination rates.
With Covid-19 lotteries, the increase in vaccination rates in the state of Ohio was 1.5 percent (which may seem small but is quite significant when it comes to infections). The cost per vaccinated person for lottery organization was 68 dollars, helping to a notable reduction in the number of Covid-19 across the state.
Ok, so we've dealt with the dry statistics, let's take a look at some actual and hopefully juicy winner stories.
The Covid-19 Vaccine Winner Who Gave It All Away
One man from Colorado made headlines not just for winning the state's Covid-19 lottery but also for being incredibly generous after the life-changing event.
Pete Vegas was on vacation with his five kids when he got a strange and unexpected text message. It stated that he'd won one million dollars from the state's Covid-19 lottery. After the initial disbelief and shock, Pete and his wife experience a strange emotion – guilt.
The couple decided that they simply couldn't keep the money for themselves.
So, the lovely duo decided to do something good with the million.
Vegas, a person who's very dedicated to fighting climate change, said that the money would be used to stimulate regenerative agriculture. "I can't save the world but I can do my part," Vegas said in an interview with USA Today.
Regenerative agriculture refers to farming practices aimed at rebuilding soil organic matter for the purpose of bringing back soil biodiversity and ecosystem balance. All of that is accomplished through the reduced use of fertilizers and pesticides, as well as minimal tilling.
As per the USA Today, at least 24 people across the US have won one million dollars or more from a Covid-19 vaccination lottery. At least two people have won significantly larger sums.
Winning at Odds of One in 1.85 Million
We have another story from Calgary.
Amie Gee from Alberta became the second winner of the state's lotto and she snatched a prize of one million Canadian dollars in cash. What's impressive is the fact that Amie was joined by 1.85 million other people eager to change their destiny after getting vaccinated.
Amie said that receiving the news was crazy and difficult to believe. She also claimed that the money would be used to spread a little joy to others, whatever that means. Our big Calgary winner hasn't revealed additional details about what she intends to do.
Calgary's Covid-19 lottery is a really exciting one.
Not only does it name one winner to claim a cash prize of one million dollars, but there are also additional rewards. In the drawing won by Amie, the lotto handed out 42 additional travel prizes donated by several large companies.
The Life-Changing Michigan Vaccine Lottery
Here, we need to talk about the entire state lottery because of the really cool way in which it has been organized.
Apart from the standard prizes, the lotto also handed out a grand prize of two million dollars.
That spectacular amount made Christine Duval from Bloomfield Township a millionaire. Duval settled in Michigan 13 years ago, moving from Montreal with her hubby and three kids. The family got their shots in April 2021 and that decision paid off in more ways than one.
Christine said that she'd use some of the money to get her kids into college, renovate her home, and to also fund important social causes. The initiative she's decided to support is the improvement of mental health services in the local community.
Michigan's Covid-19 vaccination lottery has given away more than five million dollars since its launch. More than 2.4 million people registered for a chance to win. Additionally, there have been 106,0000 participants aged 12 to 17. These young people have been hoping to snatch one of the numerous 50,000-dollar scholarships.
Australia's Good Example
While Covid-19 lotteries in the US and Canada have generated most of the buzz, such lottos have also been carried out in other parts of the world. Our latest story comes from Australia.
In November 2021, Joanne Zhu (aged just 25!) was announced the million-dollar lottery winner. She was one of almost three million Australians who got their shot and entered the sweepstake.
It's interesting to point out that the lottery wasn't nationally or state-organized. Rather, the prize fund was put together by a group of philanthropists interested in increasing vaccination rates across the country.
Joanne, from Sydney, found it difficult to believe she was the only person in Australia to win a million dollars in cash for her decision to become vaccinated.
When asked about what she'd do with the money, Joanne said that she'd dedicate some of the money to reunite with her family. Her idea was to fly her loved ones from China (first class!) and experience the most fabulous Chinese New Year ever.
So, there you have it! Covid-19 vaccine lottery winners are real people and they've got real cash. If a local lotto is available as an initiative, don't hesitate to join. Who knows, this could be your best shot (no pun intended!) at becoming a millionaire!
You May Like