Wega di Number Korsou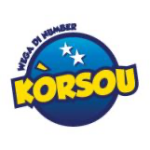 Site URL:

lottoaruba.com

Days Played:

Daily
Wega di Number Korsou Review
Wega Number Korsou has a complicated name, but luckily, the lottery itself is pretty simple to master. It's one of the flagship offerings in the portfolio of E Loteria di Aruba. This organization was founded in 1982 to organize games of luck and generate funding for sports, cultural and social causes. So in this sense, the modus operandi is quite similar to what the rest of the world is doing. The Aruban lottery has a well-developed collection of games under its belt. Some of the other offerings apart from Wega di Number Korsou include Lotto 5, Big 4, Lucky 3, Multi-X, Lotto di Dia, and others. You can rest assured that all of them are legitimate and safe to play. Each of the lotteries offers something distinctive to players, whether they're seeking good odds or a massive jackpot.
Going back to Wega di Number Curacao, there are a few essential things to keep in mind. These will help you master the lottery and eventually win a prize from it.
What is OLG Pick 3 and how does it work?
How to Play Wega di Number Korsou
Here's what you need to do to play Wega Number Curacao. Choose a four-digit numerical combination in the range from 0000 to 9999. That's right, Weda di Number Korsou utilizes one of the world's most popular and beloved lottery formats.
You can repeat some of the digits or have all of the numbers in your entry unique – the selection is entirely up to you.
If you are familiar with 4D games, you know that you can choose your bet type and the amount you'll wager on it. Wega di Number is no different. When submitting your ticket, you'll have to decide what kind of bet you want – pick 4, last 3, back 2, or back and front. More information about each bet variety is available on the Aruba lottery website. In essence, you're deciding if you'll be guessing all of the numbers that are drawn or just some of them. A few of the bets give you good odds, while in the case of pick 4, you'll enjoy higher monetization.
The minimum amount you can bet is 0.5 Arubian florin. The maximum bet cannot exceed 50 florins.
Just like other 4D games, Wega di Number Korsou has drawings each day of the week. They occur at 9 p.m., and ticket sales for the respective day are discontinued at 8:45 p.m. local time. Sunday drawings occur at 2 p.m.
WNK Korsou tickets are available through a local network of retailers. There are no restrictions to the nationality of people who can buy lottery tickets in Aruba, as long as they are of legal age.
At the time being, no online ticket-buying option is available. Still, the Aruba lottery website features such a section that's empty right now. The chances are that shortly, the online ticket buyer will be made available.
Wega di Number Korsou Prizes and Payouts
The amount you can win from Wega di Number depends on your bet and the sum you've wagered.
Getting all four daily digits correct (including the order in which they've been drawn) is going to give you the biggest payout. If you match all four numbers and bet one florin, the payout will be 4,000 florins during the week and 4,500 florins during the Sunday drawing.
If you choose the match's last three bets, you will win 400 florins per single florin bet. The match back 2 bet results in a prize of 70 florins, and the match back and front bet will give you 20 florins if you match the first two digits and 50 florins if you match the last two digits.
Apart from the top prize-winning digits, a second and a third-prize four-digit combination will also be drawn. If you choose match 4 and your digits are the same as the second prize digits, you will win 1,000 florins. The third prize is 500 florin.
It's easy to see that Wega di Number offers a vast selection of rewards. This is one of the best aspects that make the game popular. The fact that the odds of winning the top prize are one in 10,000 also makes the game a favorite for many.
Winners of Wega di Number should follow a relatively simple procedure to make their prize claim.
Once the results for the day are presented, prizes have to be claimed within 90 days. Prizes of under 3,500 florins can be claimed directly at any Aruban lottery retail venue. The payout is going to be immediate. For larger prizes, winners will have to provide information about a local bank account. A valid form of identification will also be needed for the payment to be processed. Prize claims can only be submitted at the lottery's main office for more considerable sums.
Wega di Number Korsou Results
Wega di Number Korsou gives you several opportunities to check the daily results.
Each daily drawing is televised and broadcast live by Tele Korsou. The lottery's social networks and website also publish the information as soon as it becomes available.
If you want to check the results the next day, you can buy local newspapers – the drawing results will be published there. Visiting an authorized lottery retail venue will also give you access to the information. As a bonus, you can make an immediate prize claim in the event of winning something.
Wega di Number Korsou Number Generator