Monday Lotto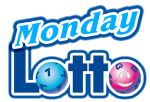 🗓️
Latest Results:
28-11-2022 7:30pm AEST
Monday Lotto Winning Numbers
Monday Lotto is a 6 + 2 number lottery game. To win AU$1 Million Monday Lotto jackpot, you have to match 6 main numbers.
Monday Lotto Past Results and Winning Numbers
The Monday Lotto result archive contains the results from 01-05-2006 7:25pm AEST up to the last ones. You only need to select the right date from the list.
DRAW DATE
:
WINNING NUMBERS:
Monday 28th November 2022, 7:30pm

07

09

20

27

37

38

34

36

Monday 31st October 2022, 7:30pm

04

06

26

29

38

42

14

22

Monday 17th October 2022, 7:30pm

05

12

13

14

24

45

06

31

Monday 10th October 2022, 7:30pm

16

17

18

29

32

34

07

26

Monday 5th September 2022, 7:30pm

09

15

25

26

28

35

24

36

Monday 25th July 2022, 7:30pm

14

18

22

26

31

36

11

41

Monday 18th July 2022, 7:30pm

01

06

07

11

37

39

10

21

Monday 11th July 2022, 7:30pm

08

22

23

26

39

40

28

37

Monday 4th July 2022, 7:30pm

15

16

18

25

27

41

04

21

Monday 27th June 2022, 7:30pm

04

21

28

36

38

42

30

40
Monday Lotto Prizes
The Monday Lotto features 6 prize divisions. To win any prize in Monday Lotto, you have to match 3 numbers. Chances to hit the Monday Lotto jackpot are 1: 8,145,060. To see all the Monday Lotto odds, go to the REVIEW tab.
| Divisions | Match | Payout per Winner |
| --- | --- | --- |
| 1 Prize | 6 Numbers | AU$1,000,000.00 |
| 2 Prize | 5 Numbers + Supplementary | AU$6,563.20 |
| 3 Prize | 5 Numbers | AU$492.20 |
| 4 Prize | 4 Numbers | AU$24.40 |
| 5 Prize | 3 Numbers + Supplementary | AU$12.70 |
| 6 Prize | 1 Numbers + 2 Supplementary | AU$10.25 |
Monday Lotto Hot and Cold Numbers
Monday Lotto hot numbers are the lottery numbers that appear the most in drawings. Monday Lotto cold numbers are the numbers that appear infrequently. Some lotto players choose them specifically because of the frequency, believing that their reappearance in Monday Lotto results is only a matter of time, while others stay clear.
Choose the range of years for checking Hot and Cold numbers:
Monday Lotto Jackpot History
The jackpot history tool will enable you to see the changes in the biggest Monday Lotto jackpots over time. Use the data to carry out analysis, comparisons and predictions for the next Monday Lotto jackpot.
Monday Lotto Review
Monday Lotto also referred to as X Lotto in South Australia and Gold Lotto in Queensland, is a nationwide lotto that was introduced in 1979 in New South Wales. By 2013, the game had expanded to cover all Australian states. It is being offered by Oz Lotteries which is a prominent and exclusive distributor of lottery products through the internet on behalf of leading lottery exporters such as TMS New South Wales and TMS Global Services Pty Ltd. Oz lotteries is strictly under government supervision in its operations.
In Monday Lotto, the numbers are drawn from a machine which contains a pool of 45 balls that are numbered from 1 to 45. You can play a standard game, a syndicated game, a system game or a super combo game. The odds of winning a division prize in Monday Lotto is approximately 1:8,145,060.
How to Play Monday Lotto?
Before venturing into playing Monday Lotto, you must note that unlike other lottos, this game doesn't require you to be an Australian resident for you to participate. All the games in Monday Lotto are held in Australia by Oz Lotteries who purchase the games and goes ahead to make claims on behalf of its esteemed members. Each game you purchase through Oz lotteries is registered automatically in your name which means any prize you win is guaranteed.
Playing Monday Lotto through Oz Lotteries is very simple because all you need is to click on play lotto near the top of the page and thereafter choose the game you want to participate in and carefully follow the instructions. Once the numbers you have picked are drawn, Oz Lotteries will email to notify you that you have won a prize.
A single Monday Lotto requires that you pick 6 numbers from the pool of 1 to 45. Every Monday, 8 balls are randomly drawn from the 45. The first six of these balls are your winning numbers while your last two are known as the supplementary number. The supplementary numbers are the ones used to determine the prizes in the second, fifth and sixth divisions. Entries for Monday Lotto usually close at 7 p.m. Mondays AEST (Australian Eastern Standard Time) which is equivalent to 1000hrs GMT. This is to pave way for the drawing which is done at 8.30 p.m. AEST.
The Games in Monday Lotto
Monday Lotto has 4 games you can play, which are standard, syndicate, system and super combo.
Standard
Monday Lotto standard game refers to every standard line of numbers that you select for each lotto game. A standard game of 6 numbers gives you the opportunity to win a single prize. In picking these numbers, you can either use the auto-fill feature, or Quick Pick or alternatively select your own preferred set of numbers.
Syndicate Game
A Monday Lotto syndicate entry gives you an opportunity to share both system entries as well as the resulting prizes with other lotto players. By sharing the cost between the members of your group, you can cover more numbers through syndicates. Playing more games gives you the chance of winning more prizes. Where the syndicate ticket wins a prize, the sum total of the winnings is equally divided among the participating members of the syndicate.
System
A Monday Lotto system game gives you a chance to play more numbers compared to a standard lotto entry. Through this game, you can get an entry that covers every combination of numbers you have selected. By playing a wider range of combinations, a system entry can enhance your chances of winning.
Super Combo
Typically, a super combo entry allows you to enter more number combinations compared to a standard game entry. However, as opposed to a system entry, a super combo does not cover all the possible number combinations of the chosen set of numbers.
The Odds of Winning Monday Lotto
Following the draw, the details of your winnings if any will be emailed to you. Monday Lotto gives you up to six divisions of all prize levels you can win.
In order to win division one prize, you have to match 6 of the drawn numbers. The odds for winning the division one prize are 1:8,145,060 while the chance of winning any prize in a single game is 1:144.
To win the division two prizes, you have to match any five winning numbers and a supplementary number. For division three's prize, all you need is just matching 5 winning numbers. For division four, you should match any four winning numbers while division five requires that you match three winning numbers and a supplementary number. Division six which is the last prize division requires that you match one or two winning numbers and the two supplementary numbers.
| | | |
| --- | --- | --- |
| Divisions | Matches | Odds to win |
| 1 Prize | 6 | 1:8,145,060 |
| 2 Prize | 5+1(2) | 1:678,755 |
| 3 Prize | 5 | 1:36,689 |
| 4 Prize | 4 | 1:733 |
| 5 Prize | 3+1(2) | 1:297 |
| 6 Prize | 1(2)+2 | 1:144 |
Monday Lotto Prize Breakdown
The official draw results for Monday Lotto are usually provided within 12 hours to Oz Lotteries. Any prizes won are displayed on the Oz Lotteries account on the day after the relevant drawing. The availability of funds for payment, withdrawal, or any other use is available in the following pattern:
The first division prize is paid within 24 days following the draw date
For division two, prizes are paid within 8 days following the drawing
All other divisions will have their prizes available for withdrawal the day after the drawing
There is no tax that is levied on Monday Lotto winnings in Australia. That being said, it is the responsibility of the client to abide and follow the relevant tax laws in their respective jurisdictions. Prizes are deposited in the respective members' account where they can request a withdrawal at any time. In order for you to withdraw any prize, you have to complete the customer verification procedures. Oz Lotteries pays through bank transfers and check withdrawals. The transfers are done to your bank account and you are reliable for any applicable charges. Usually, bank transfers take anything from 24 to 48 hours depending on the recipient bank. Check payments are sent by mail.
| | | |
| --- | --- | --- |
| Divisions | Matches | Prize |
| 1 Prize | 6 | $1 Million |
| 2 Prize | 5+1(2) | 4.5% |
| 3 Prize | 5 | 7% |
| 4 Prize | 4 | 19.5% |
| 5 Prize | 3+1(2) | 27% |
| 6 Prize | 1(2)+2 | 42% |