Arkansas Lottery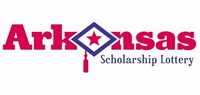 Site URL:

myarkansaslottery.com

Days Played:

Different
The Arkansas Lottery Review
The Arkansas Scholarship Lottery is the organization that has sole ownership of all games held within state borders, and it is commonly referred to as Arkansas Lottery. As US lotteries go, this one is quite fresh as it was founded in 2009, but what it lacks in tradition, AR Lottery compensates through versatility. It is proudly hosting a couple of popular local games while jumping at the first opportunity to join a multistate compact such as the Mega Millions and Powerball.
Arkansas Lottery National Draw Games
On October 31, 2009, the first Arkansas Powerball tickets went on sale, and three months later, the first jackpot winner stepped forward to claim his prize. Arkansas lottery joined those who already offer this multijurisdictional draw game, and the high percentage of lottery players are buying tickets every week. Even though the price of the ticket doubled just two years after Powerball Arkansas was introduced, there was no drop in the number of players.
Arkansas Mega Millions is one of the 44 lottery games of this type held throughout the United States, but when Lotto AR joined the multistate compact, only 33 jurisdictions were selling tickets. The first ticket was sold on February 2, 2010, and unfortunately, nobody has managed to win a jackpot since then, even though plenty of players won significant amounts in second-tier categories.
Arkansas Decades of Dollars is a member of a somewhat exclusive club of only four states that includes Virginia, Kentucky, and Georgia. Arkansas lottery was the last to join the game where six numbers are extracted out of a pool containing 47 of them with a guaranteed jackpot of $250,000 paid each year. One doesn't need to be a rocket scientist to realize that the jackpot stands at a massive $7.5 million, while the cash option will decrease to just $4 million.
My Arkansas Lottery Exclusive Draw Games
Arkansas Cash 3 is virtually the same game as the one who goes by the name of Pick 3 and is played in numerous other states. Players still need to predict all the three digits of a number ranging from 1 to 999, and they can win by betting on the precise number or other variants having the digits mixed up in all possible combinations.
The same goes for Arkansas Cash 4, which is slightly more challenging to win because the number consists of four digits, but the good news is that the prizes are also boosted. A ticket costs just one dollar, and there are a total of 13 drawings scheduled for each week with the top payout standing at $5000.
Lottery players who are seeking a completely original title will be thrilled to hear that Arkansas Lottery is offering a game called Natural State Jackpot. The first tickets were sold in August 2012, and it bears many similarities with the titles above, being a slightly more complicated game than Arkansas Cash 3 and Cash 4. Still, it also features bigger payouts with the jackpot exceeding $150,000.
Arkansas Lottery Number Generator