Natural State Jackpot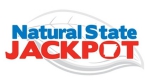 Site URL:

www.myarkansaslottery.com

Days Played:

Daily
Natural State Jackpot Review
The Natural State Jackpot is an Arkansas exclusive drawing game offered by the Arkansas Scholarship Lottery. Drawings for this game are held every day from Monday to Saturday as from 8.p.m. CST. The starting jackpot is $50,000 ad it increases thereafter by $5,000 in case no one wins until it reaches a maximum of $150,000. From this point, it increases by a bigger margin of $10,000 each draw until someone wins it.
Just like in other lottery games, players pick numbers from a pool of 1 to 39. If you match the numbers chosen during the draw, you win a prize.
Playing Natural State Jackpot
Playing this game is extremely simple because all you need is to pick 5 numbers from a pool of 39 numbers. To do this, you have to visit an authorized retail outlet and get the playslip. Usually, the playslip has 5 sections or play areas from A to E. Each play area has 39 numbers from which you are to pick only 5. The cost per play is $1 and if you want to play the entire 5 entries, then you pay $5.
Under each play area, there is a Quick Pick check box and a void check box. The Quick Pick check box is to allow you to have your 5 numbers in the specific play area automatically selected by the computer terminal. This is usually the case where you want to leverage your chances by having partly manual picked and partly Quick Picked.
The void box is to help you nullify your selections in a specific play area. This usually happens when you mark the numbers wrongly. Instead of erasing which is not allowed, you simply void your selection.
The last feature on the Natural State Jackpot playslip is the multi draw. This feature enables you to enter into more than one drawing with the same set of numbers. This game allows you to enter from 2 to 20 multi draws in advance though a single playslip. Remember that draws are consecutive and as such cannot be skipped.
Once you fill up your playslip, the next thing is to hand over to the retailer plus the accompanying fee of $1 per play. The retailer will then generate a ticket for you which is the evidence that you have been entered in a draw.
The ticket has a number of features which include:
Your number selection and whether it is through Quick Pick or manual. If the selection was through Quick Pick, it will indicate QP at the end of each 5-number selection.
The number of draws entered and the date will be indicated on the ticket.
A unique serial number which identifies your ticket.
It is advisable that you sign the reverse side of your ticket immediately you complete the purchase. The reason why it is important to confirm your numbers on the playslip before handing it over to then retailer, is so that you can be certain on what will appear on your ticket. Once printed, tickets cannot be cancelled. The sale of tickets is usually suspended 1 minute into the draw. Any tickets purchased thereafter will automatically be for the next draw.
For you to take part in Natural State Jackpot, you are required to be 18 years or older. No minors will be allowed to play. Tickets for this drawing game must only be purchased through a licensed lottery retailer. No tickets can be purchased online or via mail.
The Odds of Winning Natural State Jackpot
Depending on the numbers you match, you can win prizes in different categories. If you match all the 5 numbers, you win the jackpot. The odds for this are 1:575,757.
The second prize category is for players who match 4 out of the 5 numbers. The prize is $300 and the odds are 1:3,387.
The third prize goes to the player who matches 3 out of the 5 numbers. The prize is $7 and the odds for winning are 1:103.
The last prize category has a prize of $1 and odds of 1:10. To win in this category, you have to match 2 of the 5 numbers.
The overall odds that a player will win any prize are 1:9. The jackpot is usually divided equally among the winners in a case where more than one winner exists.
| | |
| --- | --- |
| Match | Odds |
| 5 Numbers | 1 in 575,757 |
| 4 Numbers | 1 in 3,387 |
| 3 Numbers | 1 in 103 |
| 2 Numbers | 1 in 10 |
Natural State Jackpot Prize Breakdown
It is very simple to claim your prize once you have won. Immediately the draw is concluded, you should confirm whether your ticket has won a prize in any of the categories. You can confirm through your local retailer or check on the official Arkansas Lottery website. There is also an option of calling through the official phone lines to verify if you have won.
The first step is to sign your ticket at the back. This is important because tickets are generally considered by law as bearer instruments. This means losing a ticket before signing it can disenfranchise you as the owner and whoever picks it and signs becomes the new owner and can claim the prize against it.
Natural State Jackpot being a drawing game, it gives you up to 180 days from the draw date to claim your prize. Ensure you do so in time so that you do not lose on your legitimate prize.
Natural State Jackpot gives you three ways through which you can claim your prize.
Claiming through Your Retailer
If the prize you have won is $500 or less, you can collect your winnings from the nearest Arkansas Scholarship Lottery retailer. However, at times they may not be having the float and as such may refer you to other retailers or give you a timing when their float will be available.
Redeeming through Mail
This process requires that you first print and fill out the claim form and make a copy of your photo identification card which could be a US passport, a driver's license, US armed forces ID, immigration services ID, or a passport-issued by a foreign government.
Make a copy of your winning ticket for reference purposes before mailing the original signed ticket, their ID copy, and your claim form to the below address:
Arkansas Scholarship Lottery,
Claim Center,
P.O. Box 3838,
Little Rock, AR 72203.
Claiming at the Lottery Claim Center
If your winnings are $1 million and above, you must lodge your claim at the Arkansas Scholarship Claim Center. It is located on the first floor-Union Plaza Building 124 West Capital Avenue, Little Rock, AR 72201. Prizes can only be claimed within the state of Arkansas.
| | |
| --- | --- |
| Match | Estimated Prize |
| 5 Numbers | Jackpot |
| 4 Numbers | $300 |
| 3 Numbers | $7 |
| 2 Numbers | $1 |
Natural State Jackpot Number Generator