All or Nothing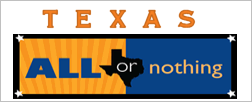 Site URL:

texaslottery.com

Days Played:
Texas Lottery All or Nothing Review
They say everything's bigger in Texas but does that claim apply to lotteries, as well? To find the answer, we'll check out one of the popular local games with a pretty dramatic name – All or Nothing.
Texas Lottery All or Nothing was birthed in 2012. The most fantastic aspect of this lottery is that it gives you 24 drawings every week! If you're a dedicated lotto enthusiast, you already know that such games don't have the biggest jackpots. But there are other characteristics that make lotteries like All or Nothing worth trying.
To give you a better idea about what to expect, we're going to look at the Texas Lottery All or Nothing rules, the prize tiers, and the payouts. Let's what this opportunity is all about.
How to Win All or Nothing Texas Lottery
If you're wondering how to play All or Nothing Texas Lottery, here are the essentials.
As per the slogan of All or Nothing, it is "the only lottery you can win by not matching any numbers." Yep, that's correct! This weird little gem of a game has you choosing 12 numbers out of 24 possibilities. To win the top prize, you have to do one of two things – either match all 12 numbers selected for the respective drawing or not match any at all.
There are additional prize tiers but more about the rewards in the coming section of the guide.
A single All or Nothing ticket is going to cost you two dollars. You can choose which drawing you're going to participate in – the 10 a.m., 12:27 p.m., 6 p.m., or 10:12 p.m. one. These drawings take place from Monday to Saturday, and Sundays are the only day off.
It's up to you to decide if you're going to play a set of your lucky 12 numbers or if you'll employ the quick pick option at the time you buy your ticket. Advance play for up to 24 consecutive drawings is also possible.
To play All or Nothing, you will have to visit one of the Texas Lottery retail venues. Such are available throughout the state for added convenience. Unfortunately, Texas is one of the states where you wouldn't find online ticket buying possibilities. The only thing you can do through the Texas Lottery website is checking your numbers.
There are no restrictions on the nationality of people who can play All or Nothing or other lotteries in Texas. As long as you're residing in the state legally, you have the right to participate in local games of luck and win prizes like US citizens.
Texas Lottery All or Nothing Payout Info
Now that you know the Texas Lottery All or Nothing rules, let's move on to a more exciting aspect of playing the game – the rewards.
All or Nothing Players who match the 12 winning numbers or who don't match any numbers at all will win a fixed prize of 250,000 dollars. The top reward is the same for every single drawing, and the sum is guaranteed. Unfortunately, games like this one don't have a jackpot roll-over. Even if the top prize isn't won, the next drawing will still have a 250,000-dollar reward.
The odds of claiming the top All or Nothing prize are one in 2,704,156. In other words, not having any of the winning numbers on your ticket is a little bit trickier than you would have believed. Still, the odds are much better than the chances of winning big national games like Mega Millions and Powerball.
Apart from the top prize, there are eight additional reward tiers in All or Nothing. If you match 11 numbers, you will win a guaranteed sum of 500 dollars. The odds of claiming the second prize tier are one in 18,779.
If you match 10 numbers, you'll win 50 dollars, and the lowest prize tier is reserved for those who have two of the winning numbers. In that case, the prize will be 10 dollars, and the odds are one in 56. According to the official game presentation, the overall odds are about one in five, which is pretty good as far as chances go.
The Texas Lottery All or Nothing payout is available within 180 days of the respective drawing. Those who win up to 599 dollars can visit any retail venue and benefit from immediate payouts. A prize claim can also be submitted by mail for added convenience.
Sums between 500 dollars and 2.5 million dollars are paid out in local claim centers or the lottery's headquarters in Austin, Texas. For more considerable sums, there could be a lengthier period for payment processing and release.
As far as taxes go, a few things need to be kept in mind. Whenever a prize exceeds 5,000 dollars, it will be subjected to federal tax withholdings. The tax rate is 24 percent of the sum. For people who aren't US residents, the tax that would be applied is 30 percent.
Checking the All or Nothing Texas Lottery Results
Discovering some trends about All or Nothing Texas Lottery number frequency can help you fine-tune your strategy and improve your odds of winning. Luckily, you can access result information in more than one way.
The Texas Lottery website has a "check your numbers" feature, allowing you to review your tickets and find out if you've won anything. The same is possible through the Texas Lottery official mobile app.
You can also visit retail venues to find the winning numbers or call the Texas Lottery hotline for the purpose.
All or Nothing Number Generator