Who Won the $533 Million Mega Millions Jackpot?
Last updated on April 17, 2018 by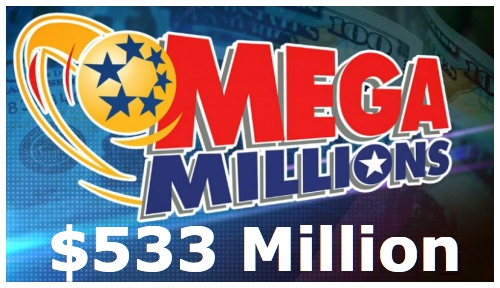 It was yet another bumper night for one lucky winner playing the US Mega Millions game late last month, when a whopping jackpot of well over $500 million was won by one lucky ticket. But who won the $533 Million Mega Millions Jackpot and what is the story so far on this amazing win?
What We Know So Far
We know that the sole winning ticket for the Mega Millions lottery was sold in New Jersey. The state's lottery organization came forward with this news on Saturday. They come up on one ticket which was believed to have been sold at a Lukoil Gas Station based out in Riverdale, New Jersey, according to the NJ Lottery Twitter Feed.
Since the draw was made, the winner has been revealed as forty-seven-year-old Richard Wahl, of Vernon, NJ. He came forward and took part in a news conference at lottery headquarters after winning.
Currently working as a production manager at a food services company in the northern part of the state. Wahl has now said he'll retire – but has decided to take one huge cash lump sum payment, which will work out at roughly $324.6 million after taxes.
He described the moment he found out he'd won: "It was truly amazing. Some of my family members were sleeping so I didn't go and scream out. I walked upstairs. I saw my wife … and said, 'Baby, we get to go on vacation.' She said, 'What are you talking about? Don't be an idiot. Actually the weird thing is my mom actually called me before I wanted to tell her and told me 'I heard somebody in New Jersey won the lottery, was it you?'" Wahl said. "And I wasn't ready to share with her yet, so I told her, 'Absolutely not, mother.'"
He described his family as 'humble' and has also clearly stated he wants to use some of the money to help others who are less fortunate. "For us the plan is to do a lot of good things with it. It's not only life changing money for me, but I want it to be life changing money for family, friends, and people in need."
He said he's not regular lottery player, but decided to play after talking to a co-worker about how they'd retire if they won. Wahl's lucky win is the fourth biggest in Mega Millions history.
In the time since its inception, this is only the fourth time the jackpot has gone past the half billion dollar mark.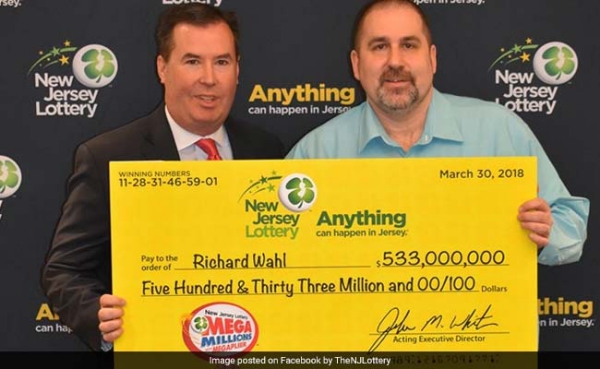 The Winning Mega Millions Numbers
The winning numbers drawn for the massive prize were: 11, 28, 31, 46, and 59 with a "mega Ball" of 1.
The win comes after a twenty three weeks in a row dry streak in which the jackpot wasn't won at all. The grand prize has continually rolled over since it was last won on January 5th 2018. That time a total prize of $451 million was won by a 20-year-old male from Florida the lottery said.
This draw was the tenth largest pay out that was ever offered in the USA lottery history. The all-time highest record belongs to the Powerball draw which stands at a massive $1.5 billion dollars, two years ago in 2016. The Mega Millions record is $656 million won in 2012.
It's the fourth-largest Mega Millions jackpot ever and comes six years to the day of the biggest jackpot in game history, a monster $656 million pot split three ways.
The Gas Station Owner Might Know Who Won
The owner of the New Jersey gas station that sold the winning $533 million Mega Millions ticket Friday night says he will split his winnings with his 10 employees. Usually, when a huge win is made, the store that sold the ticket also gets a prize and this case is no different. Ameer Krass who owns the store says any winnings that come to him will be split equally between himself and his employees! "Each are going to get a bonus," he said, adding he will also donate some to a charity to build a local church.
He also says he thinks he know who won the ticket, as he is aware of anyone who makes a huge win in his store. However, New Jersey Lottery acting executive director John White stressed that the winner has not yet come forward. He said the agency does not speculate before the winning ticket is validated.
Krass says he has seen surveillance video of the purchase that matches the date and time of the winning ticket. He also said he considers his station lucky, as it has been the site of several other winning tickets netting hundreds of thousands of dollars
The odds of picking the correct numbers on five white balls and one yellow ball in the Mega Millions game are one in 259 million. For Powerball, it's one in roughly 292 million.
Mega Millions tickets are sold in 43 states plus the District of Columbia and the U.S. Virgin Islands.
Big Mega Millions Winners
These wins are getting more familiar and lottery players are witnessing fewer smaller pay-outs and more big money prizes being won. This is, in part a deliberate ploy by the Multi State Lottery Association to get more money handed out in one off prizes, to fewer players.
The last draw on March 27 was the 23rd straight Mega Millions drawing without a jackpot-winning ticket. But on that same night there were two tickets sold in Illinois and New Jersey that both matched the five white balls on Tuesday night. Those lucky people will each take away $1 million.
The Winner of the Huge Mega Millions Prize
According to Financial Adviser Kurt Panouses, who helped a Florida couple that won a portion of the largest jackpot ever, the best thing anyone winning such a large amount of money can do is to "stay totally anonymous".
He continued: "The initial concern of the ticket is probably the most important part of the planning aspect. What the individual should do is protect the ticket, keep it safe, put it in a safe place, but do not sign the back of the ticket. Whoever signs the back of the ticket is the individual that has to claim the ticket and the proceeds"
He also suggests making a copy of the ticket and getting a tax professional and an attorney to help manage the funds and give sound investment advice so the money is managed well and can work for the winner.
"The tax rate is the highest rate it's been at. In 2018 it's going to be 2.6 percent lower than in 2017. Again, if you're talking about $300 million, that could be seven to eight million dollars of finances that someone could actually have in their pocket by claiming it in 2018," he said of the pay out under the new tax law.
How to Win Big?
If you'd like to increase your chances of winning such a big prize then experts suggest that players use the full range of numbers available and not limit their chances by using easily memorisable sequences that include birthdays and house numbers etc. By being a little more random in your choices, you can actually increase your chances of winning.
However, as with anything of this ilk it really can just be down to a matter of chance. Some people are unwilling to change their formula as they feel that one day they'll hit lucky – and they might be right.
Whoever has won the huge $533 million jackpot will certainly be able to live a life of luxury now.