Top 10 Jackpot Winners Who Squandered Their Jackpot Winnings
Last updated on May 10, 2020 by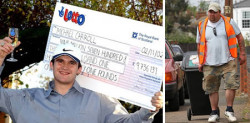 Managing your lottery winnings is an important thing. Unfortunately, some lottery winners did not know that. Here is a list of main characters in the rags to riches, then back to rags Blockbuster film.
Callie Rogers: the teenager who spent all her winnings on clothes, parties, and silicone:
Callie Rogers was an extremely lucky teenager when she won 1.9 million pounds at the tender age of 16, which was equivalent to $3 million at that time. But her lack of maturity meant that she spent all her money on buying shopping, friends, breast implants & in buying a vacation home.
Now, after six years at the age of 22, Rogers has no money from her winnings left with her & she is now working as a maid to repay all the dues she incurred because of her lavish lifestyle. Rogers is now a mother of two. She attempted suicide twice earlier since she went into a deep depression because of this.
2. The story of a woman who did too much of a good thing:
Even too much of charity is not a good thing. Janite Lee knows this all too well. Janite Lee is a 42 years old South Korean immigrant who won $18 million in a Missouri Lottery drawback in 1993. But in her quest to do good for the society, she immediately started donating huge amounts to various charities, including educational institutions, community programs, and political parties.
Her $277,000 donations to the Democratic Party earned her lunches with names like Bill Clinton, Al Gore, and even the South Korean President. Apart from that, she donated $1 million to Washington University and $30,000 to a South Korean church pastor. She also had a pretty bad gambling habit. Combined good and evil made her lose $347,000 in just one year. In 2001 Janite filed for Chapter 7 bankruptcy.
3. Jack Whittaker Jr, the man who went from rich to rags in just four years:
We all hear rags to riches stories from time to time. We hear how people who had nothing but hope, made it big on the world stage. But for Jack Whittaker Jr. the story was completely opposite. Jack Whittaker Jr. was the President of a successful contracting firm Diversified Enterprises Construction. Over and above that he also won $315 million in a Powerball multi-state lottery draw which was the single biggest amount won in a lottery draw at that time. That was the peak of good times in Whittaker's life.
After he won his prize he led a very lavish and reckless life. He was arrested by the police twice for drunken driving and for threatening a bar manager. He was sued by a woman after she alleged he had groped her in a dog race track. He had to face burglary twice. In the first instance thieves stole $545,000 and in the second instance, they took $200,000 from his car.
He was sued by Caesars Atlantic City for a $1.5 million check bounce. He separated from his wife after she divorced him. As if things were already bad enough for Whittaker, people started getting killed in his family. His granddaughter's boyfriend was found dead in his home because of a drug overdose. After a while, his granddaughter was also found dead because of the same reason.
His daughter also died after some time under mysterious circumstances. Whittaker now wishes that he had his family back and is willing to give up on all the money he had won.
4. Car business goes haywire, lottery winner loses all:
Ken Proxmire had all the right ideas after he won $1 million in a Michigan Lottery draw. But even great ideas can backfire at times and that is what exactly happened to Ken Proxmire. He invested all his winnings into a car business after he moved to California.
But his business didn't really work and he lost everything he had. Within just five years of starting that business, Ken had to file for bankruptcy. He is now back to being a machinist, which he was before he won the lottery.
5. Even after being lucky twice, a woman lives in a trailer:
Life rarely gives another chance. In the case of Evelyn Adams, life was quite generous. She won the lottery not once, but twice in two consecutive years when she won $5.4 million in total in the year 1985 and 1986.
But her addiction to gambling took her fortunes down. She regularly lost money in gambling and now she is broke & she is forced to live in a trailer located in New Jersey.
6. Man killed by greedy in-laws after he won millions in the lottery:
Be careful of greedy in-laws, especially after you read this. Jeffrey Dampier lost his life because he couldn't satisfy the thirst for money of his in-laws. Jeffrey won $20 million in a lottery draw in the year 1986. Just like every other winner, he, too, started showering expensive gifts on his friends and family members.
But for his sister-in-law Victoria Jackson, it was not enough. She wanted more. Upon failing to get what she wants, Victoria conspired with her boyfriend Nathaniel Jackson (not related) and killed Jeffrey by shooting him in the back of his head on the night of July 26th, 2005. He was killed instantly. The duo was later arrested & was sentenced to life imprisonment for killing Jeffrey.
7. Lottery winner needed a loan to pay her bills:
Suzanne Mullins won $4.2 million in 1993 in a lottery draw. She opted for yearly payouts instead of a lump sum amount. She split the annual payout between her husband and her daughter. But even then she had to take a loan to meet her daily expenses. After five years of winning the lottery, Mullins took a loan of $200,000 against her future payouts.
She didn't repay the loan. The loan company sued her and they got a settlement of $154,000. The company could never recover the money from Mullins since she had no assets.
8. Man commits suicide after he loses all his money and his wife:
Billy Bob Harrell Jr. committed suicide after he won $31 million in a Texas Lottery jackpot back in 1997. He was a preacher working as a stockboy at a home depot. Initially, life was smooth for Billy.
But like every lottery winner, he couldn't say no to people asking for money. This giving habit of his was causing him financial strain. He had also divorced his wife. One day when he could not take this strain, he took a shotgun and shot himself on the chest.
9. Garbage man after spending all his lottery winnings goes back to his old job:
Michael Carroll won 9.7 million pounds in a UK Lotto draw in 2002. He used to work as a garbage man before winning the amount. Soon after winning this amount, he started making the mistakes most lottery winners make. He initially gave expensive gifts to his family and friends. But later on, he got into the habit of parties, drugs, and prostitutes.
There was a time when he used to spend on four different prostitutes in just one day. He used to spend 2000 pounds every day on smoking cocaine. He turned to prostitutes after his wife left him because of his drug habits. He lost 1 million pounds on dogs and horses and had invested another 1 million on the Rangers, his favorite soccer team. After that, he sold his luxury car collection for 400,000 pounds and spent the entire amount.
Now he is unemployed and looking to make it back to his old life as a garbage man. He now collects $42 every week in Jobseeker's allowance.
10. Vivian Nicholson: The woman who said she would spend and did just that:
Vivian Nicholson won 152,300 pounds while playing Castleford Football Pools in 1961 & after this, she got a new hobby – "spend spend spend". Vivian had exhausted all her winnings in just five years. In the time in between, she had been widowed, treated for alcoholism, married five times, and spent time in a mental asylum. Now she is almost 75 and lives on a weekly pension of a mere 87 pounds.
You May Like