The story behind the largest UK Lottery jackpot ever won
Last updated on November 21, 2017 by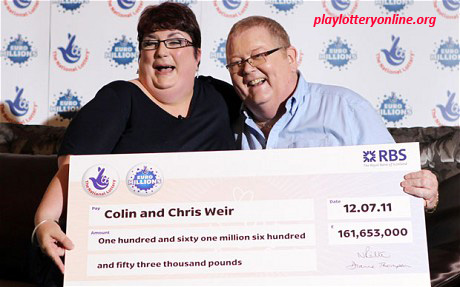 News travels fast these days and the success story of Colin and Christine Weir, who won the biggest EuroMillions lottery jackpot in history is well known over the Internet. In 2011, the lucky couple won £161 million and they used the money to improve their lives and the lives of others. With such a bankroll behind them, they can afford to fulfill their dreams, and luckily many others' who were less fortunate.
Having a lot of fun
Money might not bring happiness, but it can certainly improve the lives of those who are already grateful for what they have. The couple bought a £850,000 mansion in Largs, Ayrshire and invested several hundred thousands to improve their new home. Among the improvements, Colin and Christine Weir plan to add a full-size swimming pool, shower facilities and a spa pool. Such a massive project would put any budget under a lot of stress, but for the EuroMillions winners it is only a drop into an ocean.
When asked what they plan on doing with the largest UK lottery jackpot, Christine and Colin said that they intend to have a lot of fun and that's exactly what they did. After traveling to Spain to recharge their batteries, they submitted the plans to the local authorities as their new home is a heritage building. At their age, it is not surprising that they want to take it one step at a time and focus on comfort rather than an adventurous lifestyle.
Giving something back
Colin and Chris Weir are fully aware of how lucky they are to have won this enormous amount, and at the same time they pay attention to the needs of those who found themselves at the opposite end of luck. During the first few months following the lucky draw, the couple was overwhelmed with letters written by people they didn't know, asking for financial help. While it is impossible to respond to all of them in a positive manner, they made sure that those who needed their help will not be turned away.
Kieran Maxwell from Heighington was one of the people who received immediate help from Colin and Chris as they've purchased a new prosthetic limb for him. The young boy carried the Olympic torch and to most likely walk again with ease despite winning a close battle with a rare and aggressive form of cancer. The couple has been just as generous with the foundations they supported over the course of time, and over £750,000 were donated to a local football club. They are also sponsoring a Scottish racing driver named Gregor Ramsay and an impressive amount was donated to the Scottish National Party.
You May Like