The richest Euromillions lottery winners
Last updated on February 26, 2014 by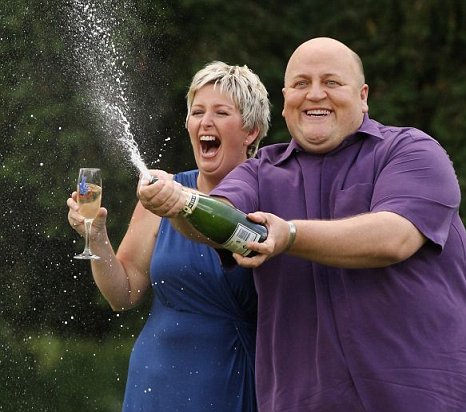 The lives of the richest Euromillions lottery winners
Few events can change someone's life in a such dramatic fashion as winning the main prize in the lottery, so it is worth taking a closer look at the lives of former Euromillions lottery winners. In an overwhelming majority of cases the changes were for the better, and some of the most interesting stories come from the recent Euromillions lottery winners. Some chose to decline their identity, so their story remains shrouded in mystery, but the others can be regarded as worthy examples.
A godsend for friends and family
This is how most of those who are close to Colin and Chris Weir would describe the people who won the largest Euromillions prize ever. The lucky couple took home £161 million and they have spent a part of that money to purchase cars to those close to them and help their families financially. They even went a step further and acquired mansions for their closest friends, after retiring from their jobs as a psychiatric nurse and TV cameraman.
The recent winner of a massive £148,656,000 Euromillions lottery jackpot, Adrian Bayford didn't have the time to spend a great deal of his fortune, and the only thing he acquired was a Ford Kuga 4×4 vehicle. He didn't quit his job either and still works in the instrument store, although time is on his side and he can also change his life completely. Nigel Page was not very lucky in love as he got separated from his former wife 10 years ago, but after winning £56 million in 2010 he married his girlfriend and paid his wife £2 million.
Far from the spotlights
For Mr. and Mrs. Scadding winning £45,570,835 was a blessing as the husband was unemployed and were even in depth on their bank accounts. The prize enabled them to get back on track and enjoy their retirement, so it is only fair to say that the jackpot came in the best possible moment. On that same lottery draw, a syndicate of seven office workers won an equal amount which was distributed among them. In 2011 Dave Dawes and his wife won £113,019,926, with Dave is retiring from his position as shift supervisor while his wife continued charity work for the British Heart Foundation.
Another store supervisor named Cassey Carrington won £45,160,170 and chose to marry her painter fiancée soon after. Gareth and Catherine Bull took advantage of winning over 14 millions to take their sons to Disneyland Florida, but Kathleen said that she will probably return to her job as a health insurance worker. Out of the top 10 Euromillions lottery winners, three of them chose not to reveal their identity, which is generally a good idea given the fact that these people stay in the media attention for a long time.
You May Like