The benefits of using mobile lottery applications
Last updated on February 26, 2014 by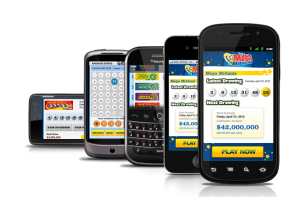 Mobile lottery applications – must have tool for serious lottery players
Mobile devices are gradually replacing desktop and laptop computers, and a growing number of apps are developed exclusively for these gadgets. Mobile lottery applications make no exception and some of the latest releases are addressing those issues that lottery players were particularly concerned with. There are several benefits for using these applications on a daily basis and with some excellent ones being offered by the developers for free, there are no reasons to hold back.
Stay up to date with all lottery results
Long gone are the days when people spent long hours in front of the computer each week watching the lottery draws live, to make sure they are the first to see the winning numbers. Checking them against those on the lottery slip by reading the next day newspapers is not an alternative that many players fancy either. Mobile lottery applications address the need of checking lottery results immediately after the draw takes place, while being as convenient as they get.
One of the features that mobile lottery application owners live a lot is to check recent numbers against those extracted a long time ago. Whether they are interested in playing the Powerball, EuroMillions, Mega Millions or any other popular Lotto game, the users will have the results at their fingertips. Past results have no impact on future draws, but those who beg to differ will appreciate the fact that these apps present them with the results breakdown for every lottery. Those who are even remotely interested in hot and cold numbers will be thrilled with the manner in which the software simplifies the mission.
Mobile lottery application learning tools
While some users will limit themselves to comparing the archive results and then manually select the numbers they intend to play, others use the apps for much more. With some of the software having their own random number generator incorporated, they serve the same purpose as the Lucky Dip. Those who haven't developed a lottery number loyalty, will greatly decrease the time spent filling up tickets especially if they choose to play online lotteries. It is just as easy to find out if you won, because the mobile lottery application also compares your numbers against the winning ones.
Last but not least, these applications serve an educational role as they keep players up to date with the latest global lottery news. One can find out in a matter of seconds which are the biggest jackpots out there, what lotteries have the best odds and which are the prize breakdowns. Furthermore, the apps provide users with a continuous flow of free lottery jackpot and results alerts, to mitigate the risk of missing out on rare opportunities to win.
Check out the Lottery Software: to use or not to use? now.
You May Like