New Jersey workers win a third of Powerball lottery jackpot
Last updated on January 23, 2014 by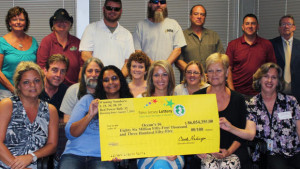 The Powerball lottery jackpot worth $448 million was split between three winners, two of them being from New Jersey. Lottery officials confirm the fact that one of the New Jersey winners is in fact a syndicate of 16 county workers employed in the Ocean County Vehicle Maintenance. Each of them will receive an amount of $8 million, which translates into slightly above $4 million after taxes. The department director told Reuters that the 16 workers will reveal their identity in the next couple of days.
Powerball officials wait for New Jersey winners
The 16 county workers as well as the other two winners from New Jersey and Minnesota are yet to claim their prizes and lottery officials are uncertain when this would happen. The winners didn't quit their job and came to work on time the next day and when interviewed department director Jim Pine told the media that they have no intention to quit. This means that it may take a while until the winners might collect the Powerball lottery jackpot, but the case is far from being closed at least as far as the media is concerned.
Another winner is known to reside in New Jersey, but despite their efforts reporters couldn't find out anything about his identity. They can narrow down their search by determining whether the 16 county workers bought the ticket at the Acme Markets or the Super Stop & Shop supermarket. These two locations have been confirmed by Powerball officials to be the ones setting the winning tickets, and both of them have been awarded a bonus payment of $10,000.
45 years old Minnesota engineer joins winners
Unlike his New Jersey counterparts, the Minnesota winner came forward last Thursday to claim his share of the Powerball lottery jackpot. His identity was therefore confirmed and it appears that the engineer is divorced and has two kids one 16 years old and the other 14. He found out about his good fortune while at work and asked his colleagues to double check the numbers to make sure that he got them right. He chose the lump payment and this means that he will collect $86 million or slightly below $60 million after taxes.
He was accompanied by his boss and his wife when collecting the money and told the media that he doesn't plan on working in the company for much longer. After finishing outstanding projects, he plans on retiring early but he contemplates the possibility of starting his own venture at some point in the future. What is certain is that he has no intention to work for a paycheck anymore and he won't settle for the used Acura that he previously had his sights locked on.
Check out the Practical tips for winning the Powerball lottery as well.
You May Like