Merle Butler – The $216 Million Mega Millions Jackpot Winner
Last updated on April 2, 2014 by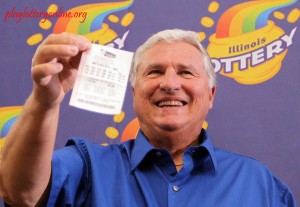 Merle Butler is the recent Mega Millions millionaire. He was one of the three players who managed to match the elusive Mega Millions winning numbers. The fact that the lottery jackpot was $656 million or $0.656 Billion makes him one of the luckiest lottery players in the world.  Merle Butler, an Illinois resident, is the only one who had to go public to claim his prize.
To win the Mega jackpot Butler purchased three Mega Millions tickets and as luck would have it one of the ticket turned out to be the winning ticket. Merle, 65 got to know about the news while watching the evening news.
"I turned to my wife and I said 'we won' and she kind of looked at me funny and I said no — 'we won' and she started giggling and she giggled for about four hours I think,"
Merle says that soon after finding out he was the mega winner, he had what was perhaps 'the longest night of his night'. This reaction is perfectly normal or in fact, a little bit odd as it is kind of hard to sleep when you know you won $218 million!
The couple chose to go for a one time cash payout option of $110,517,449 rather than the annuity payments spread over 26 years. The retired computer analyst was yet to decide on what to do with the winnings, but a vacation with his wife will be the first thing to do once they finalize on their financial plans. They, however, among their long term plans is to use a large part of the winning in investments.
Merle was part of the three winners who won the Mega Millions lottery jackpot. The other two tickets holders were a Maryland trio going by the name "The Three Amigos" and another winner from Kansas. Unlike Merle, the two decided on remaining anonymous.
Merle had the chance of testing his lottery luck and he did exactly that. Now it's your turn, play USA Mega Millions lottery online as you never know if you will be the next lottery millionaire.