Lucky Cab Driver and Dad of Five Celebrates 24.5 Million Win on the National Lottery
Last updated on January 23, 2018 by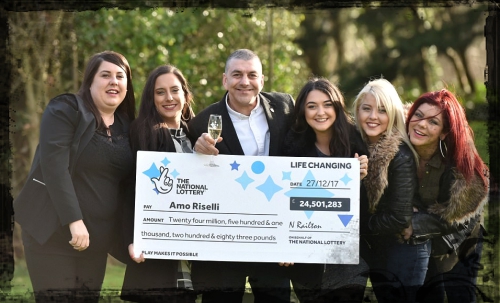 Winning the lottery is, for many, like all your birthdays and Christmases come at once and it's something only a few of us can dream of. This year one lucky cab driver and dad of five celebrates winning 24.5 million on the National Lottery after a bumpy few years of bad luck and emotional turmoil. His story is uplifting and should motivate anyone who is down on their luck to think about buying a lottery ticket!
Amo Riselli's Amazing Win
Amo Riselli, nervously made the call to the lottery operator, dialling the number and then nervously introducing himself before a short pause. He then leaped to his feet and screamed for joy "Oh my GOD!" before turning to hug his daughters who were with him as he made the lucky phone call. Mr Riselli had already been driving around in his cab with the winning ticket in his glove box for some two days before he decided to check it and then make the call. It was only after a talk with a relative and checking the numbers against those drawn that he realized he'd won the £24,501,283 Lotto prize.
A Bittersweet Win for the Family
Mr Risell's win is, however, tinged with sadness. Just four years ago he returned home from working a shift to discover that his beloved partner, Donna had collapsed and died over the family's Christmas tree. Speaking after the win, he said: "Christmas has been tough for me after she died. But I know she was with me this Christmas, I just know she was looking over me and was there for the win." he bravely added.
Amo's daughter, Bethany Sciberras herself had posted a very moving tribute to her late mum on the anniversary of her death, last month, saying: "3 years ago I lost the most amazing woman, missing you lost love you mum."
Friends spoke very movingly about how Amo had found Donna collapsed over the Christmas tree in their home in Gloucester December some four years ago at the end of 2013, but it was too late to do anything to save her. Mr Riselli had suffered a bout of ill health himself some weeks before, having had a heart attack. Loved ones believe this was due to a great deal of overwork, as he struggled to keep up with 70 hours a week shift to keep his and his family's head above water.
Family neighbor Barbara, 72, a long-time friend of the Riselli clan said that she was very pleased the father of five and grandfather of nine had finally got some luck on his side! She said: "He's a hard-working family man who loves his kids and his grandchildren, they're all gorgeous. He's been on his own now for a while. Donna had a heart attack in the middle of the night. Amo was working so wasn't there. It was very sad" adding, "He has been a wonderful friend to us."
Continued to Work Even after the Win
Mr Riselli decided to continue to work and drive customers around throughout the Christmas season even though he could have chosen to give up straight away. However, he's now decided to retire and has finally hung his taxi keys up for the last time! "I'm not going to play the lottery any more, as I've already conquered that 'big win' – it is someone else's turn now," he said  "I may now be a multi-millionaire but I am still the same normal person I always was, just with a bit more loose change in my pocket."
Family Is Overjoyed
The rest of the family is also overcome by the win, with Mr Riselli's 80-year-old mother, Maria Riselli revealing that she'd actually stored the winning ticket in a glass jar for safe keeping over the festive season! Good job she did!
Originally, Amo believed that he had won a much more modest amount of money, believing he'd pocketed nearer £240,000 instead. He initially went over to his sister – who owns and runs a hair salon to tell her the good news – but that was all before he actually realized he'd won 100 times that! "I try to get my tickets checked in the same shop and I have always said: 'One day this machine is going to start smoking red hot because I will have hit the big one.' I can't believe that it's actually happened to me for real." he added.
He said when he found out how much he'd actually won, he began shaking like a leaf and immediately called his brother, Marco to share the exciting news. Marco commented that he didn't understand how that could be as he'd already checked his own ticket and didn't remember that winning amount. He then asked what numbers I'd got and when I told him he blurted out: 'You've won the whole jackpot of £24 million!'"
Italian Family Are Thrilled with the Win Too
The big news of the win has even spread as far as Italy, where Mr Riselli's family is all from, and some still live. Friends and relatives still out there have rushed to give him their love and congratulations. Once he has treated his family and friends, Mr Riselli is planning on buying a new house to live in. He's already decided what he'd like, and it'll be a four bedroom place with a swimming pool somewhere in Gloucestershire, which is where the family live.
There will also be a big family get together along with his colleagues to thank them for their love and support over the last few years. A luxury holiday to Las Vegas is planned as well, but more than anything, the happy winner just wants to spend time with his family. "It's an amazing feeling and I'm absolutely over the moon," he said.
We wish Amo and his family all the luck in the world after what has been a tumultuous few years. Time to sit back and enjoy the win now.