Lotto winners: terrible tales related to winning the lottery
Last updated on February 25, 2014 by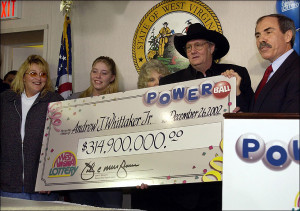 Bad things happened to lotto winners
Most of us associate winning the lottery with stories of people living happily ever after. It is logical though that a lot of money should bring a proportional amount of happiness since the winner can now acquire anything he wants. This is why many lottery players look forward to find out if the Saturday lotto numbers they had selected match the winning number combination. However, there is a dark side to all the apparent excitement that usually accompanies lottery winnings. Several people suffered terrible experiences some of which they would have never experienced had they not won the lottery. This article is going to tell of a man whose life took a turn for the worse after being declared a lotto winner.
On 25th December 2002, one wealthy businessman from West Virginia won the lottery and became even wealthier. This man, by the name of Jack Whittaker scooped a whopping $314.9 million and this was one of the biggest wins during his time. It happened after he participated in a lottery and amazingly won by a single ticket. Probably his situation was not overly exciting since he was already well off but still that win was something big.
Jack Whittaker's string of troubles began when he discovered his Saturday lotto numbers all matched the winning combination. First of all his car was broken into twice and in these two events cash that was in the car was stolen, $540,000 during the first time and $ 200,000 during the second time. What followed was a plot by two employees in a club to drug his drinks then steal from him. Bad things also started happening to his family and soon enough his granddaughter went missing and after some time was found dead in a male friend's house.
Much more unfortunate is when his granddaughter's boyfriend was also found dead in Whittaker's house apparently due to drug overdose. The winner- turned- troubled- man was sued by Caesar's Atlantic City Casino. This happened after he bounced a $1.5 million check that was meant to cover for the losses he had encountered during gambling. He was also sued by a woman who claimed that Whittaker had failed to pay her money he owed her because he insisted that thieves had stolen the money from him.
All these events left this man wishing he had instead torn that ticket containing the Saturday lotto numbers. Lesson learnt though is that not all lotto winners end up leading happy lives afterwards.
Check out Some safety rules for lottery winners now.
You May Like