Lottery Winners and Their Scandalous Divorces. Reasons Too Good To Be True!
Last updated on June 10, 2014 by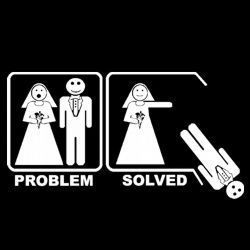 Usually when you win millions of dollars you want to be able to spend that (I mean some of it) with the person you love most, the person, for whom, you left the world of strip clubs and bachelor parties! It could be anyone and please don't get cheeky, this article is about wives and partners – you can't divorce your parents, siblings or children! Whether you are married or not, most people have one person they would love to see smile. That's the joy of winning the lottery, right? Nope. As much as you think it is, about 2% of all lottery winners say goodbye to the love of their lives simply because the mere fact of becoming a millionaire overshadows the many months (or days) of love and companionship. This is going to be one roller coaster ride. Sit tight, here we go!
Lottery Winners Adrian and Gillian Bayford – £148,656,000
From "I Can't Stop Loving You," to "I'm Stressed and I Know It!" Adrian and Gillian Bayford made me giggle because the reason behind their divorce was… wait for it… stress! Seriously? After banking the second biggest lottery in the history of United Kingdom lottery, this couple couldn't handle the stress of becoming millionaires so after a year they decided to pack their bags and get divorced. When they won the lottery, they purchased a £6 million Georgian mansion together. Gillian decided to purchase a fleet of cars and ended up falling for her guy who sold her the cars! As soon as the divorce matters came to light, 43-year old Adrian moved out of the mansion into a £500,000 four-bedroom house in Suffolk while 41-year old Gillian, who fell in love with an Audi dealer after winning the lotto, chose to stay in the mansion with her two children. Well… I'm speechless.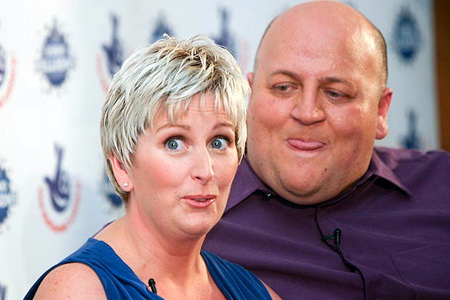 Lottery Winners Dave and Angela Dawes – £101,203,600
At the time they won the fifth biggest lottery in the history of United Kingdom lottery, they were seen hand in hand in front of a gigantic helicopter, posing for the paparazzi. They married a few months after they hit the jackpot. It has been reported that this couple divorced just days after lottery winners Adrian and Gillian Bayford announced their divorce. Similar to the above case, these lottery winners, who were then living in a one-bedroom house, apparently went on to purchase a mansion worth £9 million! As soon as their divorce was announced 49-year old Dave moved out of the mansion. What happened? Well, they couldn't agree as to which of their family and friends would get a piece of their newfound richness. Heights of philanthropy leads to marriage disaster would be an appropriate title for this piece!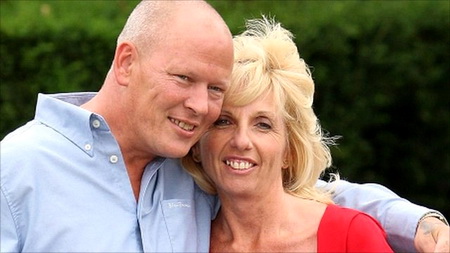 Lottery Winners Les Scadding and Samantha Peachey – £45.5 Million
This one definitely blew my mind. Here's the story of a 63-year old Les married to a 42-year old Samantha. As soon as they won the lottery they were seen kissing and cuddling, basking in the glory of their newfound popularity. Although Samantha vowed that the cash would only better their lives, it didn't turn out that way. Samantha spent the fortune of refurbishes, maintenance and other luxury stuff that wasn't even required while Les remained at their home in Gwent. Soon they started staying apart for longer periods, until Les found out that his wife was actually spending the money to look younger! She lost weight, changed her hairstyle and transformed herself to the point that it led to their divorce. With a passion for diamonds, Samantha kept spending money on jewelry and plush hotels while her husband remained home alone. Samantha, who previously didn't want to have children (and who knew her husband was way past being a new dad), suddenly started stressing Les about having children. Smell something fishy? Money can only buy things that you can touch, what you feel can never be bought.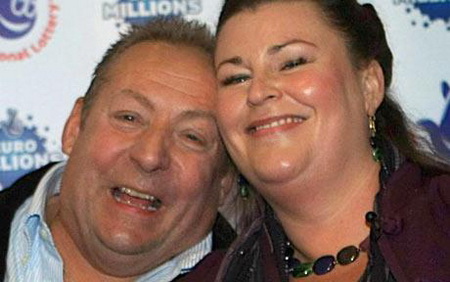 Lottery Winner Kenneth Dukes – $31 Million
This dude here reminds me of a joke! What's better than winning a lottery? Winning it a day after your divorce comes through! The only difference is that this lottery winner divorced his wife only a few days before picking up his fortune. Ex-wife Sherri Lynn Dukes, whose whereabouts are currently unknown, was unaware of his husband's intention, but according to the law, she can claim his estate if she steps forward. According to Kenneth the reason behind the divorce was adultery, abandonment, and drug and alcohol addiction. Whether it's true or not, only Sherri can tell…