Lottery Pros Recommends: Top 5 Free Lottery Apps for iPhone
Last updated on May 5, 2019 by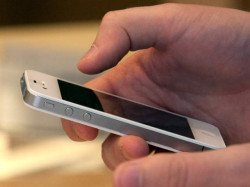 Playing the lottery has become easier than ever with lottery apps popping up all over the place that helps take your gambling addiction to a whole new level. Don't worry guys you couldn't possibly be worse than me.
When you're talking about getting something for free your initial reaction is probably going to be that what you're getting is going to be pretty darn worthless. There aren't too many times where you actually get something for 'free' even if there is no initial transaction. That's no different with these free lottery apps. Their purpose is to make you buy more lottery tickets and lose more money. But hey, if (I mean when) you hit it big it'd all be well worth it right?
The Lotter
If you weren't already an avid lottery player then this app is surely going to turn you into one. It lists all of the top paying lotteries in the world and even has a sweet little countdown next to each of them to make sure you have some urgency in your lottery buying habits.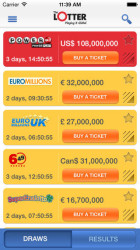 The first time you open this app you're going to be awfully excited to think about the possibility of becoming a millionaire in multiple countries. South Africa, Brazil, Australia? Hell, even Austria has its biggest paying lottery here. Looks like I know where half of my next paycheck is going. This thing is literally like crack for lottery addicts.
So go on fellow lottery addicts, now you can hit it big anywhere in the world!! Just be sure to remember the guy that told you about this gem of an app…
Lottery RemindMe
This app is for those of us searching for the big win, those of us that don't have time to mess around with those meager five million dollar jackpots. It's designed to remind you anytime a lottery reaches a payout over $100,000,000, although if that's still too small you can set it for anything between $100 Million to $500 Million.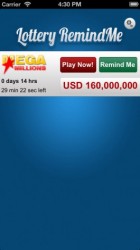 Lottery RemindMe works best with notifications turned on so it can alert you when any of the world's lotteries have reached the big bucks. I love this app because it's not just for the lottery addicts, but also for the once in a while guys that jump in when they see a jackpot reaching record heights. It's also not going to annoy you with multiple notifications a day to encourage you to play every lottery imaginable.
As far as free lottery apps, I'd suggest this one over most just for its value to any type of lottery player. The sheer fact that they avoid annoying you with overused advertising and notifications makes it more than worth your time.
LottoWizard Lite
LottoWizard is another app that lists just about every major lottery in the world. The only major problem with this one is that you have to buy the pro version of it for an absurd $4.99 if you really want it to serve a legitimate function for you. Like I said, getting something 'free' rarely comes without a catch.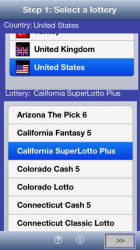 The best part of this app is that you have the ability to pick your numbers straight from the app. If you don't want to fork up the $5 to get the pro version it can still serve a valuable purpose by helping you see all your different options and then using other sources to actually purchase the tickets. It'll also allow you to see what numbers you have to choose from for each country or state's lottery, meaning you'll be able to see if which lotteries make you pick the most or fewest numbers.
AllLotto
AllLotto is best served to check past and current numbers for a specific country's major lotteries. It has a separate app for each country, which is obviously the biggest major downfall with this one. It is, however, certainly useful to check your numbers for the countries that you do play major lotteries in.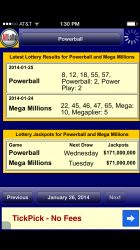 The thing that really separates this app from most is how far back you can check numbers for. So if you're a believer in the roulette theory about patterns in gambling then this app is definitely for you.
World Lottery Apps
If you're looking for an app that is super specific to a certain mega jackpot game than picking one of these apps is your best bet. It gives you all different kinds of information directly related to your favorite jackpot and even lets you archive your past numbers.
Obviously, the only real downfall with the world lottery apps is that they only cover a single jackpot game per app. But, if you're not opposed to downloading multiple apps, they are definitely the best app for devoted jackpot players.
It's tough to find quality free apps these days, but we magically managed to find at least a few free lottery apps for you with this list. Hopefully, this will help my fellow lottery addicts reach new heights with their addiction!
You May Like