Lottery Dictionary
Last updated on April 8, 2014 by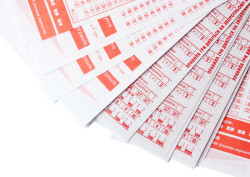 Lotto, Lottery, Lotteries – terms and explanations
Agent – A vendor store for buying of raffle tickets.
Annuity – Compare this with an advance. Occasionally lotteries will hold high valued jackpots that they do not actually have cash for. In an Annuity jackpot winners will collect their winnings in small portions. The period for collecting the winnings stretches for 20-25 years.
Bonus Ball – In the UK raffles a seventh ball is drawn. By matching the numbers contained in the seventh bowl, you win the second highest price.
Bonus Gopher 5 – This is same as the Gopher 5 lotto (as shown below). In addition to the fifth ball 6th is also drawn. For you to win the jackpot you need to match the first five numbers in the ticket. The catch is that, if your first four numbers on the ticket match with the first four numbers drawn and your fifth number matches with the bonus ball you are $5000 richer. The fun does not cease there. In case your first three numbers match with the numbers drawn and any of your numbers matches with the bonus ball number, $100 is yours. The fun continues, if any two of your numbers coincide with the first five numbers drawn and any other number of your other three matches drawn with the "bonus ball" you win $10.
Bonus Match 5 – Proudly introduced by the Maryland lottery is the "Bonus Match 5". The game commences by randomly picking numbers ranging from 1-39 in the evening. The picking of a bonus ball follows this from the remaining 34 numbers. The bonus ball plays the cool part of increasing your chances of winning. You then select the five numbers on the payslip you want to play. If lady luck has fallen for you and you match 5, 4, 3 numbers, you win the Bonus Match 5. If much better luck is on your side and you had matched the bonus ball, you only have to match 4,3,2 numbers to win the Bonus Match 5
Box Bet or Boxed – You play by betting on a three or four digit number. You will win the case
That three or four numbers are drawn in any order. In a situation like this, 295, 952, 529 would win if the selected number is 592.
Boxing – A type of game play whereby players are allowed to use extra digits than they normally play in a 3 or 4 digit numbers game play.
Breakopen –A breakopen also known as Pulltabs is a special type of lottery ticket where players tear open the flaps of a ticket to know if it is the winning ticket. You can buy pull tabs typically in state raffles and charities.
Cash Lotto – In a cash lotto game a lump cash payment is awarded to the winner. In contrast with jackpot games, cash lotto games have a relatively smaller to prize and also the more likely odds of winning the top prize. Moreover, it requires players to choose fewer ticket numbers from a limited field. Typical examples of cash lottos are Florida's 'Fantasy 5' and Indiana's 'Lucky 5'.
Cash Option – If a player chooses the cash option, it means that rather than receive "Annuities" over a period of years the players walks home with the entire lump sum of cash.
Cash Payoff – This is a lottery that will make most players smile as the prize is paid all at once rather than a period of time.
Combo – A game play that involves betting on a four-digit number that covers all likely possible combinations of sequence.
Commission – This is the amount of cash of cash paid to the agent for the seller of a lottery ticket. In North America the Agent earning range between 5 to 6 percent on the price of a lottery ticket.
Daily Game – It can be used to refer to a lottery game in which a winner is known within a day. However, it usually refers to a numbers game such as the 'Daily 3' or 'Daily 4' lottery games played in many states.
Double or Doubles – This refers to a 3 or 4 digit number containing two numbers of the same digit example177.Doubles or doubles are more desired compared to combos as prizes to be won is usually doubled.
Double-Double – Refers to a four digit number containing two doubles. Example 2552
Draw – The culmination of a raffle aka the results.
Exact Order – Also known as straight, these are number drawn in the same order as played.
Exotic Numbers – This is an uncommon set of numbers
Fixed Payouts – This refers to a game play where fixed prizes are awarded for every dollar played.
Four-digit or 4-Digit Game – A type of game play in which numbers ranging from 0-9 are used. You can repeat the numbers that you want to play.
Gopher 5 – This is a cash lotto exclusive to Minnesota. Players pick numbers between 1-42.You are a winner if you match three, four or five numbers. You match five numbers and you hit the jackpot. The cold fact is that the jackpot grows with until the day that someone wins it. The winner gets paid with one big cake.
Handle – The total amount of cash wagered at a video lottery terminal. Compare with 'Net Machine Income'
Harvest Gold: A game involving the use of a scratch voucher. It is a great game as it is possible to win twofold on a harvest gold voucher.. The ticket has two features. The first feature involves the player scratching the ticket and revealing six price symbols.. The player has to match at least three of the symbols to win the prize amount. In feature 2, the player scratches the ticket to reveal the prize symbols and a Prize Box. BY matching three of the symbols, the player wins the prize in the box
Hopper – A rotating machine in which ball labeled one to forty nine are placed and mixed.
Hot Lotto – A very popular Minnesota's jackpot game. A hot lotto is great as the jackpot grows until someone wins it. Players pick five numbers from 1 to 39. Players then select the HOT ball through selecting one more number from 1 to 19.
Hot or Overdrawn – This is a digit thrown more times than norm. Players often act smart by playing this numbers; they reach normality by not being drawn.
Instant Game – Also known as 'Scratch-off Game' or 'Scratcher'. It uses a lottery ticket that requires the player to remove a latex coating to determine if the ticket is a winner.
Jackpot – This is the ultimate prize in a lotto. Jackpots are usually 'Pari-mutuels' (see below). THIs means if they have not been won, they roll over and increase the size of the next jackpot.
Keno – A type of lotto game whereby several numbers (typically 20) are drawn from a large field of numbers (typically 80). Players are awarded prizes based on how many of their numbers match those in the drawn selected from a set of numbers from the main field (usually a minimum of 3 numbers up to a maximum of 10 numbers).
Lotto, Lottery – A game play involving lottery players selecting a small group of numbers normally six from a large group of numbers usually 49. Prizes are awarded prizes based on how many match the randomly drawn result. For a certain period of time, six numbers are randomly drawn by the lottery people. If you are lucky to match six of the numbers you hit the jackpot. Players matching three, four or five numbers also win smaller prices. Variations of lotto game play include 'Power Ball' or 'Powerball' and 'Lottery Extra' (UK) and 'The Big Game'
Lucky Dip – A random computerized choice of numbers (same as Quick Pick)
Lump Sum Payoff: This is also known as the Cash Option. This is a hefty jackpot in which winners receive the full amount of the jackpot rather than being paid at pre determined periods..
Mega Number – A separate drawn number used in Super Lotto Plus of the California Lottery. Lottery players choose 5 numbers from 1 to 47 and a MEGA number from 1 to 27. There are 9 ways to match and win. In fact, you can win even if you just match the MEGA number. In order to be a winner of the Jackpot, you must match all five numbers plus the MEGA number. For each Super LOTTO Plus draw, a pool of two draw machines is used. The first machine is designated as the Super LOTTO Plus draw machine, with the remaining machine designated as the Mega draw machine.
Natural Selection – A random choice of numbers made by the raffle player as opposite to a 'Lucky Dip' or 'Quick Pick' selection.
Net Machine Income – Cash that is played at a video raffle (see 'Handle' above) however it is minus the prizes won at that terminal.
No-match Numbers – A four or three digit number lacking double digits.
Numbers Game – Winners are determined by a random draw of numbers. However, it is often used more specifically for a game where a player selects three or four digits (0 to 9) and matches them with a similar set drawn at randomly by the lottery people. The player is allowed to select several different kind of wagers with payoffs anecdotal accordingly. An example is where players making a 'Straight' bet could win $500 on a $1 bet if their three digits match the three digits selected by the lottery people, in the same order.
Off-line Game – This is a game that does not require a network connection to purchase. Examples of off-line games include Instant and passive games.
Online Game – A game that requires a network connection to purchase. Terminals are used to record wagers. Lotto, keno and numbers games are examples of online games.
Overdrawn – See 'Hot' above.
Overdue – A number that has delayed from being drawn. Overdue numbers are preferential since they can be able to only reach ordinariness by being drawn.
Pairs – This is a digit containing three numbers whose any lone pair of the first two digits, last two digits, and in some isolated instances the foremost and very last digit appear on the drawn number.
Parimutuel (Pari-mutuel) – This is a method of lottery payment involving splitting the lottery prize among the winners.
Passive Game – Pre printed numbers are used in a raffle to determine the winner. The lottery will afterwards randomly draw numbers that match up to to the players' tickets to determine the winner.
Powerball – Powerball allows the player nine approaches to triumph In the Powerball Lottery game play, 5 balls are randomly selected without a replacement from a container which contains forty nine white balls, the ball have numbers from 1 to 49, and then a sixth ball, the Powerball, is selected from a 2nd container that contains 42 red colored balls. The balls have the numbers 1 to 42. To play, a person chooses five white numbers and a Powerball number. Payoffs are made depending on how many white numbers match the player's choices and whether or not the Powerball is matched, according to the Powerball payoffs schedule. The probability of a player becoming the jackpot winner is approximated to be 1 in 120 million.
Power Play – A variation in the Powerball Lottery game. Players are given a chance to multiply their prizes (except the jackpot) to up to 5 times with the Power Play option. For an extra $1 per play, you are eligible for Power Play.
Pulltabs (Pull Tabs) – (Compare this with 'Breakopen'). A game play that is same with the lottery game. Tickets sell for 25 cents or 50 cents or even more. Prizes range from free tickets to $500. Each voucher contains punctured windows which unwrap to reveal symbols like those located on  some lottery games or slot machines.
Punch Board – Another lottery game variation.  Lottery players punch a slot on a board for a chance to win a merchandise prize. Punch boards  that offer cash prizes are as well common.
Quad – A four-digit number consisting of the same digit. Example; 1111.
Quick Pick – A random computerized selection of numbers. (Also, Lucky Dip)
Repeat – A number containing at least one of the digits drawn the previous draw or the previous day.
Rollover – An event occurring when a lottery jackpot is not won. The jackpot 'rolls over' to the next drawing, resulting in a bigger amount for that drawing.
Scratch-off Game – See 'Instant Game' above.
Spiel – An auxiliary feature to a lotto game. An additional fee an extra set of numbers (typically four to six numbers) is printed on the bottom of a ticket. Winning is through matching one or more of these numbers to those selected in a random drawing. Spiel games are found common in Canada but are not yet common in the USA. Atlantic Canada's 'TAG', Quebec's 'Extra', and Ohio's 'Kicker' are examples of spiel games include
Sports Lottery – This are lottery games where outcomes are determined by the results of sports events. Sports lotteries are very common in various parts of the world, where they are commonly known as 'Football Pools' (UK) or 'Totocalcio' or 'Toto' (Italy). North America is yet to achieve this level of popularity.
Straight or Straight Bet – A bet of 3 or 4 numbers that must be drawn in the exact order. The player attempts to match both the numbers drawn and the order in which they are selected. For example, if the numbers 1, 2, 3 are selected in a three-digit game, a ticket bearing 1, 2, 3 will win but a ticket bearing 2, 1, 3 will not. (compare his to 'Box Bet')
Super Lotto Plus or SuperLotto Plus – SuperLotto Plus gives the player the magical chance to become the winner millions of dollars. The jackpot usually ranges from $50 to $7 million or more. The jackpot rolls over and grows whenever there is no winner. All you have to do is pick five numbers from 1 to 47 and one MEGA number from 1 to 27 and match them to the numbers drawn by the Lottery every Wednesday and Saturday (California Lottery).
Terminal – A automatic computerized machine for selling lottery tickets and online games. They also validate winning tickets of lottery, online and instant games. Terminals are connected to a lottery's central computers by phone line.
Three-digit or 3-Digit Game – A game in which three digits between 0 and 9 are selected. There is repetition of numbers.
Toto – Short for "Totocalcio".This is an Italian football pools. A form of sports lottery. (See 'Sports Lottery' above.)
To Wheel – To play using the 'Wheeling System' (see below).
Tree System – A game play of organizing numbers to play for a straight win so that potential combinations are not missed. The tree system is similar to the 'Wheeling System'.
Triple (Triples) – This is a number containing threedigits number consisting of the same number. Example; 111.
Under drawn or Under Drawn – A digit that is drawn less often than the norm for a period of time. These numbers are preferential since they can only attain ordinariness by being drawn.
Video Lottery Terminal – Video Lottery Terminal or (VLT) are types of lotteries using electronic games played on a video screen. They are simulation of trendy casino games like poker, blackjack or spinning-reel slot machines. The difference with slot machines is that they do not dispense money. Instead, a winning player is provided a ticket that is later redeemed by the retailer for prizes.
Virgin – An idiomatic term that refers to a number or numbers combination that has never been drawn.
Wheeling System – A system of organizing and playing a set of numbers to improve the chances of winning multiple prizes.
Withholding – This is the not so cool part of winning a lottery. The anticipated tax amount is deducted from your winnings.
You May Like