Life lessons from Colin and Chris Weir
Last updated on February 26, 2014 by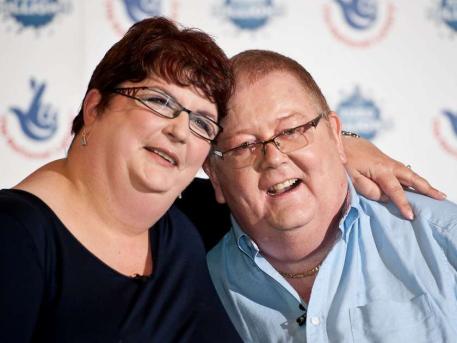 Colin and Chris Weir – a happy couple of EuroMillions winners
With each passing day, lottery games churns out new lotto winners. Different winners spend their winnings in different ways depending on their preferences and enjoy their newly found fortune. It is interesting to learn about how lottery winners partake of their victory. This article is going to elaborate on the story of EuroMillions winners who spent their money in the most unique of ways.
Colin and Chris Weir became the esteemed winners of £161 million in one of the EuroMillions lottery draw. The two believe that the greatest part about winning the lottery is donating to their local junior football club a sizeable £800,000 and in so doing, give something back to the community.
On one occasion, Colin Weir now turned multi-millionaire preferred to comfortably have a bite of his meat pie and watch football rather than dine and wine his money away.  The down to earth lucky man decided to stay true to his roots and a fact that accentuates that is the way Colin has to be pulled away from his home so as to go on foreign holidays which are usually expensive. This is according to his wife Christine.
People who win in any cash lottery tend to be quite careful in how they publicly display their newly acquired riches. That is exactly how Colin Weir and his wife decided to deal with it and they even revealed that they got to read every letter people sent to them but made a promise never to disclose the contents.
To say this winning couple is generous would be right on point. True they may have spent a fortune on holidays, brand new cars and houses but the locals attest to the fact that the couple has spent as much money on their luxuries as they have done in the community. They understand that they can be able to help only a certain number of people and not everyone. However, they have set up a charitable trust for the future's sake.
Recently, after his donation to his local football club Largs Thistle, he got the opportunity to officially open the club's new artificial pitch which was built with the aid of the £800,000 donation from the Weirs. The club's chairwoman gladly expressed that what the couple had done for the people of Largs was simply amazing.
You May Like