Life After a Lottery Jackpot Windfall
posted in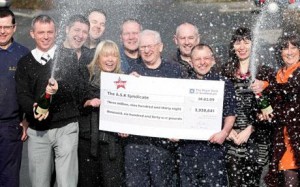 We all dream big of one day winning the lotto. We see them on TV receiving the dummy cheque, smiling from ear to ear and thanking God in their hearts that they ever got this far. So, what happens after one has won the lotto? What do you do afterwards and how do you go about yourself after winning the lotto?
This article is about the life of lotto winners and expounds on how to go about after winning the lotto.
After being informed that you have won the lotto and confirmed that it is not a hoax, the first thing you do is to breathe and relax. Do not go out shouting about having the winning ticket. This is like saying out loud that you have just bought a state of the art television and you are planning to go on vacation and oh, the key is under the door mat. You might end up being robbed or worse getting killed.
Once you get to get a lot of money all so suddenly, you will be surprised and start living a day dream. Before you know it, you will be as broke as a church mouse or even waist deep in debt. This is how it happens. You get excited as soon as you scream bingo. Next day, you collect the prize. Next couple of months; you spend prodigally on everything good under the sun. Before the year ends, all that money is wasted and you are left broke wondering where all the money went. This is a classic example of rags to riches and back to rags story.
If you are one among the lotto winners, then know how you go about yourself. Focus on remaining simple and don't touch the prize money until you think straight. Some lotteries have counselors and financial advisors who take you on a one to one course on how to go about with the money. If the lottery you played doesn't have this privilege, then get your own without touching the prize money.
If you are wise, you will invest in assets or develop a business with the prize money. Assets bring in more money for the rest of your life. This is what financial advisors call making your money work for you. Also, you can better your life and the life of your future generation by educating yourself and also getting the best education for your kids. This is the biggest gift you can give them, not a life of one time luxury.
Lotto winners can either make it or break it in life. It all depends on the mindset.
Check out What are the best ways to invest lottery winnings as well.