Jingle to the Bank with El Gordo Christmas Lottery
Last updated on January 14, 2014 by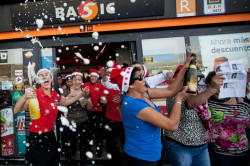 Just days before Christmas, most of the population of Spain was glued to their televisions as the latest El Gordo Christmas draw took place. We're taking a prize pool in the neighborhood of 2.5 billion Euros. In US dollar terms that's about $3.4 billion. This lottery is fascinating as it's a mix up of picking numbers and prizes, so no one knows when the big jackpot is going to happen.
The Fat One's (English for El Gordo) top jackpot prize paid out €4,000,000 (USD 5,460,000). The second prize tickets for El Gordo's Christmas draw were all sold in one location, Granadilla de Abona sharing the wealth with friends and neighbors. A local, Jesus Lorente, won a second prize ticket he bought at a local gas station. He chose to attend the draw festivities at Teatro Real In Madrid. His prize was not going to a new sports car, but directly to clear his debts. But he was there in Madrid to hear his numbers ring in. You have to remember, school boys sing in the numbers and prizes.
Two Spanish towns were the big winners sharing the € 640 million according to Reuters. Mondragon, a Basque town home of the appliance company Fagor won big with € 180 million. 2,000 people had been recently laid off. Leganes, a town of laborers, took € 360 million.
One of the key aspects of El Gordo's Christmas draw is the ability to buy decimos or a tenth of a ticket. That means communities and whole towns can benefit from winning numbers sharing the wealth around.
El Gordo is actually played weekly, but Spain offers two special draws a year, in July and in December. The Christmas draw is so popular, tickets are usually sold out early.
El Gordo's Christmas Odds
Understanding what makes this lottery so popular means considering the odds. The chance of winning El Gordo is 1 in 100,000 versus winning the jackpot of saying EuroMillions at 1 in 116,531,800. The chance of winning something is around 10%, while the chance of winning more than just your investment is around 5.3%. This isn't a rollover lottery; all money in the prize pool is awarded the day of the draw.
Many who simply win what they paid for their tickets usually rolls it into the January 6th draw Sorteo de El Nino. Though El Nino means 'small one', this is Spain's second most popular annual draw. 2014's prize pool was €840 million.
Several years ago, people used to talk about the exotic cars and island holidays they'd take with their winnings. Now people all seem to focus on the fact this is their chance to settle some of their financial challenges. Many went into Christmas with a sigh of relief that they could pay off their mortgage and bank debts.
There was one change in this year's El Gordo rules and regulations and that includes all of Spain's lotteries. They are no longer tax free. Any winnings over €2,500 (USD 3,400) are taxed at 20%.
Though December seems a long way away, El Gordo's Christmas draw and January's El Nino is already on my calendar as an event not to be missed. What a wonderful way to celebrate Christmas and then ring in the new year.
You May Like