Congratulations and Celebrations! National Lottery Turns 20! Let's Experience the Journey Together!
Last updated on November 24, 2014 by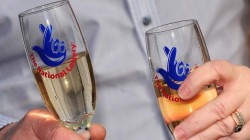 This week marks the 20th anniversary of the first National Lottery draw, which created a million lottery lovers – all weaving their dreams to leading rich lives! According to Wikipedia, "The National Lottery is the state-franchised national lottery in the United Kingdom and the Isle of Man. It is operated by Camelot Group, to whom the license was granted in 1994, 2001 and again in 2007. The lottery is regulated by the National Lottery Commission, and was established by the then prime minister John Major in 1994."
Yep, and since 1994, the National Lottery has paid out a staggering amount of £53 billion in prize money, adorning the world of lottery with over 3,700 new millionaires! To honor National Lottery this article will focus on the top 20 lucky millionaires who struck gold with their National Lottery tickets! The first National Lottery draw took place on a Saturday, specifically the 19th of November 1994!
It was Noel Edmonds, who hosted the first draw and about 22 million people watched the draw that welcomed seven jackpot winners each taking home a solid £839,254. It was the second draw on the following Saturday that gave birth to its first millionaire! Getting back to our 20 millionaires, these 20 winning tickets together paid an astonishing amount of £1,384,159,778 or £1,384 million!! Yep!! We're talking that many millions!
Top 20 National Lottery Winners
1. Colin and Chris Weir for a staggering £161,653,000
2. Adrian and Gillian Bayford for a whopping £148,656,000
3. Anonymous for a solid £113,019,926
4. Neil Trotter for a cool £107,932,603
5. Dave and Angela Dawes for a striking £101,203,600
6. Anonymous for a cool £84,451,320
7. Anonymous for an outstanding £81,381,673
8. Anonymous for a solid £73,205,659
9. Nigel Page for a cool £56,008,113
10. Anonymous for a whopping £46,432,285
11. Les and Sam Scadding / Lotto Syndicate for £45,570,835
12. Cassey Carrington for a nice £45,160,170
13. Gareth and Catherine Bull Mansfield for a solid £40,627,241
14. Anonymous for an outstanding £39,754,555
15. 12 Corby Stars for a nice £38,034,639
16. Anonymous for a solid £37,827,314
17. Angela Kelly for a cool £35,425,411
18. Anonymous for £28,847,237 in July 2013
19. Anonymous for £26,863,588 in November 2013
20. Anonymous for £26,533,767.50 in August 2007
20 Amazing Facts About The National Lottery You Probably Didn't Know!
1. After winning the National Lottery, an average lottery player purchases 4.5 new cars for themselves, their family or friends while 10% buy more than 10 cars!
2. The most unusual purchases from the National Lottery include wife's hip replacement, a narrow boat, tarantulas, a firework company, and their neighbor's house (before turning it into a pub!)
3. Four consecutive numbers were drawn on three different occasions!
4. For the first 26 draws of the National Lottery, a person from Deal, Kent called Wayne Elliot won a prize every week!
5. A family from Tipton, West Midlands defeated odds three times and have won separate jackpots all amount to a whopping £3.25 million.
6. On the 8th of June 2012, the largest unclaimed lottery prize emerged from the EuroMillions draw. The ticket was worth £63,837,543.60 and was bought by a player in the Stevenage and Hitchin area. It remains unclaimed!
7. As of date, there are four Lotto draw machines named Arthur, Guinevere, Lancelot and Merlin and there are also eight live sets of Lotto balls, made from close cellular foam and manufactured by Smart Play, Ney Jersey. Each set costs a solid £2,500!
8. In 2013, the largest jackpot prize came to light when Gloria MacKenzie of Zephyrhills, Florida won a staggering amount of $590.5 million (£376.4 million) in America's Powerball!
9. The results show was cancelled three times on different occasions – on the death of Princess Diana, on the death of Queen Mother Elizabeth and on the first anniversary of 9/11.
10. The Queen won £10 on the first Lottery!
11. Since 1994, the Lotto ball number 38, which is green, has been drawn 314 times!
12. The King's Speech and Billy Elliot, some movies funded by Lottery funds have won a total of 31 Baftas and 15 Oscars!
13. In September of 2009, the same six numbers were drawn in two consecutive rounds of the National Lottery! The odds of this happening are one in four million!
14. Launched in February of 2004, the odds of winning a EuroMillions prize are one in 13!
15. Birmingham has most National Lottery millionaires, closely followed by Glasgow, Newcastle-upon and Belfast!
16. 99% of winners still continue to play the National Lottery because 70% are convinced that they will win again!
17. 70% of lottery winners move to a new home, but not always far away from their old place. Of these 70%, 65% stay in the same town or within 5 miles from their old house, whereas 13% move up to 10 miles away!
18. Considering the National Lottery draws held so far, the most likely winning numbers are 38, 23, 31, 25, 43, 33 and 44. Hurry up now!
19. Approximately 32 million people, i.e. 70% of the UK play the lottery on a regular basis, but on January 6th, 1996 around 86% of the adult population bought lottery tickets!
20. Finally, in the history of the National Lottery, the least drawn number is 13, which is blue. It has been drawn only 229 times!
Amazing, isn't it?! With this we take pride in wishing the National Lottery many, many more happy years to come! Cheers everyone!
You May Like