Christmas Lottery – Where to Get the Money for Holiday Gifts?
Last updated on December 12, 2019 by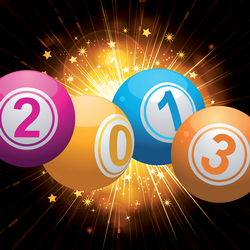 Whether you plan on spending this Christmas in the comfort of your home, with family and close friends or intend to go skiing or snowboarding, you shouldn't forget completely about the Christmas lottery. This is the best time of the year to put your luck to the test, as major lotteries worldwide boost their prizes and offer a nice variety of bonuses to those purchasing tickets. Some even decreases the cost of their tickets or allow players to buy two betting slips for the same amount, but the freebies expire by the end of the year.
€1 Million to be won in the Irish Christmas lottery
Once a year, the Irish Lottery Christmas Millionaire Raffle invites players to compete for a guaranteed prize of €1 million, and numerous lower tier payouts. This is the biggest raffle organized by the Irish lottery, with more than 2000 players winning every year, on Tuesday 31st December 2013. Unlike a traditional Christmas lottery, where players choose their numbers and wait for them to be extracted, the raffle has the numbers already printed on the ticket.
This Christmas lottery bears many similarities to the weekly Millionaire Raffle that accompanies the EuroMillions games and has a distinct advantage. It is impossible for players to fail to match the winning numbers, because a winner is selected every time when a raffle ticket is extracted. Soon after the draw takes place, the Irish Lottery Christmas Millionaire Raffle results are published on the official website.
Save on tickets with Christmas lottery discounts
TheLotter clients will have a hard time resisting the temptation of buying discounted tickets for popular European lotteries such as the EuroMillions. Tickets cost 15% less for this Christmas lottery, but even bigger saving are available with the 25% off La Primitiva Multi-Draw Packages. Those who missed out on the opportunity or didn't win a prize at all in El Gordo, have one more chance to strike it lucky this week. The Spanish La Primitiva jackpot has surpassed the €41 million threshold and the number of ticket buyers is on the rise, so it is likely to be presented with a new millionaire by the end of 2013.
On the other side of the Atlantic, Brazil's Mega da Virada has its final draw this year scheduled for December 31st and boasts a jackpot of no less than $85 million. TheLotter customers will enjoy a 10% discount when buying tickets for this Christmas lottery scheduled for December 31st. Both the Spanish La Primitiva and Brazil's Mega da Virada promotion will expire at Thursday 26th December at 23:59 GM.
You May Like