British Couple Take Home the EuroMillions Jackpot Worth $1.5 Million a Second time In Their Lives!
Last updated on October 31, 2017 by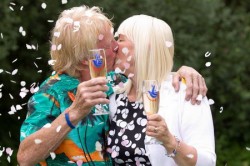 Meet 2nd time millionaire David Long and Kathleen MacKenzie, a British couple from Scunthorpe who won $1.5 million just 20 months after they won their first $1.5 million – both EuroMillions jackpot! Can you believe that this couple beat the odds of more than 283 billion to one to bring home their second EuroMillions jackpot?!?!
What do they play to do now? Well, when they first won, they bought a bungalow in Lincolnshire for David's 81-year old mother Joan, now they win again, they're buying a mansion, as long as it has a bar and a games room. I'm not sure what they're going to buy if they win again, but chances are they'll buy space on the moon. Who's up?! Take a look!
The couple plans to go on a Mediterranean cruise after their latest win and also plan to donate some amount to their local hospice. David was shocked to learn that he won the EuroMillions again, just 20 months after he won his first jackpot, but the only thing he said was, "I just knew it would be my turn again someday," now would you look at that?! The couple, who got married in 2013 after a 12-year engagement were happy to learn that they had won yet again, who wouldn't?! Now, as I've read, they will be buying a seven-bedroom mansion with a swimming pool and up to 20 acres of land. Uhmm…
David was quoted saying,
"We don't have a champagne lifestyle. We still live in a mobile home. We've been there for 13 years in our static caravan. 'That's changed now, though, we are planning on moving somewhere else. We've had a bit of luck. It doesn't have to be a big mansion, it just has to have a games room and a bar for me." Sure… 7-bedroom is pretty small if you ask me. As for Kathleen, she said, "We've seen a couple of places we would go and have a look at. We wouldn't move far away, though. Our main priority is to stay near family and friends."
What's the Secret?
Last year he almost lost his ticket as they had thrown the ticket in the bin. Then suddenly David had the urge to get it back only to discover that he had won $1.5 million from it. What's his secret? Nothing, he plays only when there are many prizes up for the grab and he only plays his usual numbers! Would you look at that now? The Lady Luck is very mysterious, and I'm not sure what he ate for breakfast the day he purchased his winning ticket, but whatever he ate, it definitely pleased the charming Lady Luck. Now we've got to wait and watch how they'll use the seven bedrooms!
You May Like