Barbara Wragg – The Lotto Angel
Last updated on June 12, 2018 by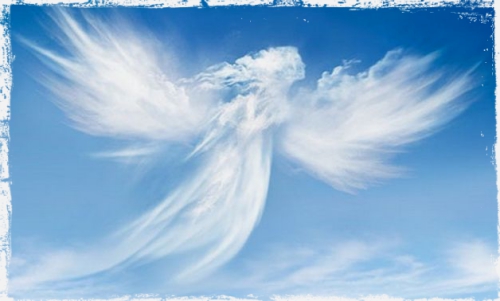 We all have dreams about the things we'd do if we won a huge amount of money on the lottery. For some, it's all about making sure their family and friends want for nothing. For others, it's about helping to make the dreams of as many strangers as possible come true. This latter notion dominates our next story as we tell you the incredible tale of Barbara Wragg, The Lotto Angel.
Winning Was Beyond Her Wildest Dreams
Ray and Barbara Wragg loved their little Saturday night routine at their home in Sheffield, South Yorkshire. They picked five lines and the numbers were always chosen randomly from the registration plates of cars parked in their street.
They'd often talk about how they would spend the money if they won big. Barbara just wanted a posh house with a bay window – a very simple wish!
On the night they won, the couple was sitting on the sofa with their Granddaughter Danielle, Ray was quizzing her about what she would like if they won the lottery. Whilst they were talking Barbara started shouting "Ray, we've got three numbers… Ray, we've got four numbers…" and so on, until it was revealed that the couple had matched six numbers and were the sole winners of that night's £7.6 million jackpot.
Of course, they made the local press – and that's usually it. The next you hear of people who win tremendous sums, they've either spent it all, or much worse happenings have befallen them. Ray and Barbara were much, much different.
All Their Money Went to Others
After they won, Barbara said that £7.6 million was far too much money for one couple. So they decided to spend it on other people instead.
In total, they gave away £5.5 million to good causes.
This story is being highlighted as sadly, Barbara died last week at the age of seventy-seven. Even while she was in very poor health, Ray, her loving widow, remembers Barbara was still trying to help others out!
"There was a story in the local paper of a young boy who'd saved up to buy himself a new bike and had ridden to the local park, where it was stolen. Barbara turned to me and said: 'I know what we should do" They tracked down his parents' address, drove round there and presented the awestruck family with a new mountain bike. "The smile on that boy's face — well, you can't put a price on a thing like that. There's nothing that pleased Barbara more than bringing joy to others. She was so kind and caring. She was naturally like that, even before the lottery win. Only a few weeks ago, Barbara woke in the morning and said: 'Ray, we're not dreaming this, are we?"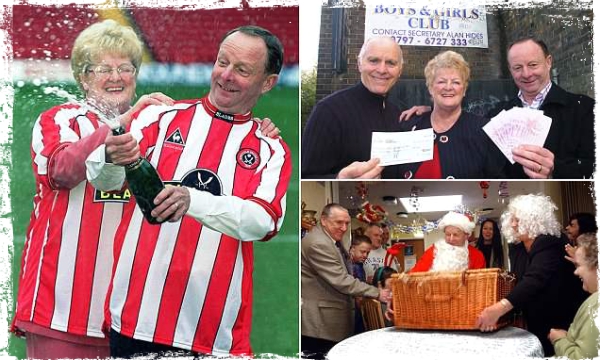 They Did Treat Themselves
The couple did spend some money on themselves after their win. They bought a new Range Rover, plus Barbara got the house she'd always dreamed of with big bay windows. They also helped their children and families too, by paying off their mortgages. But after that, the money went to good causes.
They first donated money to the teenage cancer unit at Sheffield's Weston Park Hospital. The unit there was close to the couple's heart, after their daughter, Amanda was treated there for Ewing's Sarcoma (a rare bone cancer) when she was just 17.
"We called and said we wanted to give whatever they needed to get things moving," said Ray. The unit and Sheffield Children's Hospital got £20,000 in total.
Smaller Donations Made the Biggest Difference
They also made lots of smaller donations, which ended up making a big difference to the lives of people they'd never met.
For six years, they paid for two hundred and fifty inner-city children from Park Hill school in the city, to attend a Christmas pantomime.
In the same way, they also gave out £480 a year for twelve years to send twelve pupils and their teachers to Whirlow Hall Farm, allowing them to experience the delights of the countryside.
They also bought thirty television sets, so that each child in a local hospice could watch television in bed, in peace and comfort.
Gifts to Hospitals and Veterans
Then, whilst on a visit to the Royal Hallamshire Hospital breast clinic in 2010, Barbara noticed a pot for donations. During her consultation she mentioned to the specialist she would like to write a cheque and told him she wanted to donate £5,000. The consultant laughed and said: "I do wish you wouldn't tell me something like that when I'm examining your breast!"
They gave a gift of £12,500 to sixty veterans of the 1944 Battle of Monte Cassino in Italy and said that this was the one that gave them the most pleasure. Barbara had read in the paper that it would be their last chance to go back to visit the scene of their victory and they couldn't afford to go. The next thing Ray knew, she was on the phone, telling them she'd pay.
Here are a few more stories from people whose lives the couple touched.
Emma Davidson
Aged 42 and a mother of two, she is also a PE teacher who lives in Chesterfield, Derbyshire.
Emma says: "My brother, James, then 29 and working as a quantity surveyor in Bahrain, had a serious off-road biking accident and needed urgently to be flown home. He'd been catapulted 35 ft into the air and left with swelling on the brain, a fractured pelvis, crushed arm and collapsed a lung. He was resuscitated several times on the operating table, before being placed in an artificial coma. The extortionate hospital bills (the drugs alone were £300 a day) meant we had to get him home. He needed two doctors and five nurses with him on the flight, costing £12,000"
It seems that within 24 hours of the story breaking Barbara had rung up and donated £5,000 to get the ball rolling. Emma says the family was overwhelmed. "It is thanks to her James got back to the UK" added Emma. The family went to see Ray and Barbara to thank them personally and James is now on the road to recovery at home.
Charlotte Westall
Also aged 42 is a full-time carer from Sheffield. She's married to Paul and has two sons Andy, 24, and Dale, 21.
"When I met Barbara in 2001 my relationship was falling apart and living on a council estate with two young sons was tough. I was penniless, had zero self-esteem and felt anxious about passing that on to my children. One day, I was helping to paint a mural for my children's school,  Park Hill in Sheffield, when Barbara came up to chat with me. When I told her about my situation, the first thing she said was: 'You must get help!"
Barbara and Ray had started to pay for local children to go to the pantomime once a year.
"That year, my sons were invited — and so was I," says Charlotte "It was a lovely gesture, especially as it wasn't something I'd ever have been able to afford". After that came a trip to the football, something she'd never been able to afford for her boys. She continues "What they gave me was the confidence to sort out my life. Going to the theatre, watching a football match, seeing delight in my boys' faces — it inspired me to give them a better life. I left my relationship, got married and found the confidence to become a published author. I put it all down to the push I got from Barbara"
Alisha Tierney-March
Is 32 and a stay-at-home mother four children aged between two and ten. She is married to Julius, 47, who runs a carpentry business.
"When I was 14, my parents received a letter from my school, saying there was going to be a fully paid trip to Spain. There were 30 places and names would be drawn from a hat. The letter explained it was down to the generosity of local lottery winner Barbara Wragg. She was paying for the entire trip and all we'd need was £50 spending money. My holidays had always been in a caravan in the UK. I'd never been abroad. I was learning Spanish and planned to take it at GCSE, so a week near Cantabria was perfect. Our beach-side hotel was like walking into a palace. I felt like royalty"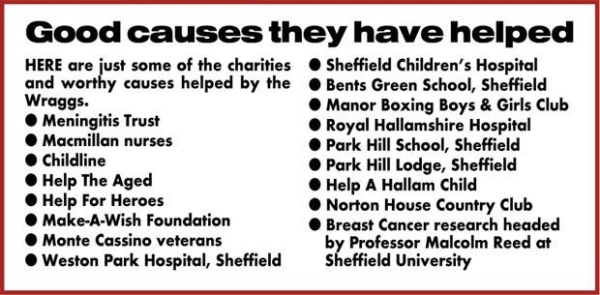 More than 70% of Their Winnings Were Donated
When Barbara was asked what she got from helping so many, she herself once commented: "It's probably a bit selfish, because we did get pleasure from it. It's like when you give somebody a Christmas present and you watch them open it and they think it's absolutely wonderful. When we've given people money we've had that every time"
The last few years of Barbara's life were plagued with ill-health. She had pains in her hip and back and went through a mastectomy after breast cancer and complications with gallstones. That was what finally ended her life last Monday when she contracted sepsis following an infection.
The last word is left to Ray, her widow. "We are all so proud of her. I was in Tesco when a worker came up to say: 'What a wonderful woman your wife was, what she's done for this city will never be forgotten. You can't get a better legacy than that"