7 Lottery Winners Who Gave Their Winnings Away For a Good Cause…
Last updated on July 5, 2017 by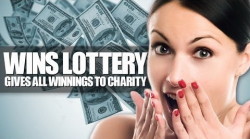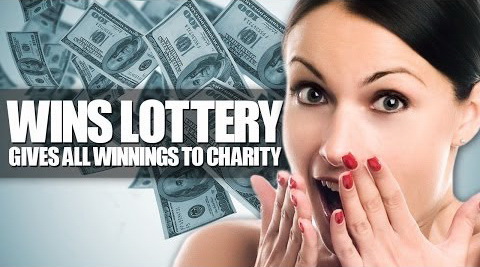 Who Says Good People Don't Exist Anymore? Read Also What People Think!
So there are times that you think what you'll buy if you ever won a lottery. I personally have a long list of things I would purchase if I became a lottery winner! The point is, for most people, a bounty is worth expensive fleet of cars, rows of gigantic mansions, multiple luxury trips, exotic goodies and other sometimes senseless investments. But there are philanthropic lottery winners, those who see beyond monetary happiness; those who… oh well, you get the idea!
Tom Crist, Canada
Last May Tom Crist, a 64 year old man from Canada won £24.5 million, according to Canadian lottery rules, Tom had to be ready for a press conference to reveal that he was the lottery winner. Up until that time, Tom, who lost his wife of 33 years due to cancer, hadn't told anyone about his win, even his four children didn't know. At the press conference, Tom, who was seen wearing a ball cap and sunglasses, declared that he and his children would donate every penny to cancer charities, starting with the one where his wife received treatment, to honor his late wife Jen.

Well, we're not going to comment on that, but what we do know is that Tom Crist has the heart to give away everything to charity! Moving on…
Chris and Colin Weir, United Kingdom
This is about a 64 year old Colin Weir and his 55 year old wife Chris, who have been married for 30 years, live in Glasgow. In 2011, the Weirs won £161 million; they decided to donate some and fulfil some grounds close to their hearts before establishing the Weir Charitable Trust, committed to improving the quality of life that includes health, sport and recreation in Scotland.

Okay, yes, maybe that's true, but all in all, I think it was very generous of Colin and Chris to help people live better lives.
Allen and Violet Large, Nova Scotia
This Canadian couple, both in their 70s, decided to give away £7 million that they won on the Canadian lottery to their friends, charities, school, churches, fire halls and hospitals simply because they found the entire experience a "big headache"! However, Violet, who suffered from cancer, unfortunately died a few months after donating the money at a hospital in Lower Truro. From all the comments, I just had to highlight this one!

But then another comment caught my eye,

Oh well, there's absolutely no way to know whether they would have kept it all if they were young… all in all, it was a good thing they did and may Violet's soul rent in peace. Let's move on shall we?
Bob Erb, Canada
Now here's another generous man! In 2012, bob Erb won £13.5 million on the Canadian lottery and has already donated approximately £4.3 million. In April last year, he donated $1 million for the promotion to legalize marijuana along with a fat tip of $10,000 in a restaurant when he found out that the owner's daughter was suffering from cancer. Now that's something! But something caught my eye!

But for this guy,

Now we're not sure whether it's the weed that plucked out the donation or is it because Bob is a people's person, all we know is that the money was spent well!
Amanda Nield, United Kingdom
Would you care for your parent if you could leave your regular job? Last year Amanda and her husband Graham won around £6m on the lottery, but instead of spending it the way most would, they decided to let Amanda give up work so she could look after her 72-year old father Jim, suffering from Alzheimer's. That's a very generous gesture by the couple towards their elderly father.
Sheelah Ryan, United States
In 1988, in the US Powerball draw, Sheelah won approximately £33 million. In 1994, at the age of 69, Sheelah passed away of cancer, but before that she established The Ryan Foundation, an institution that helped children, abused women, senior citizens and stray animals. Hats off to Sheelah and may her soul rest in peace.

Angela Maier, Germany
Here's a 63-year old woman who won £330,000 on the German National Lottery and what she did next will drop your jaw. After drinking five bottles of champagne and reading a letter sent by the care home where her husband died asking her to pay all his medical expenses, she promptly took the ticket and flushed it down the toilet!