5 Christmas Gifts Your Lottery Player Pal Will Love
Last updated on January 14, 2019 by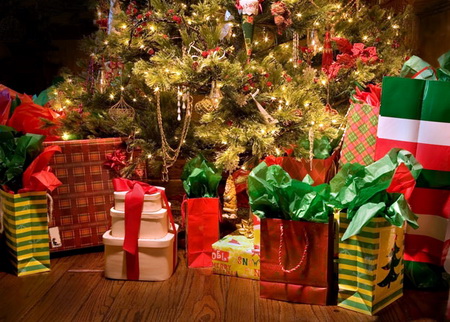 It's Christmas and I haven't bought a single gift for my friends, or for my relatives. In my dictionary, this spells "trouble". However, during my window shopping I realized that I haven't stumbled upon a list of items, gifts that can be called lottery Christmas gifts, or in other words, what gifts can you give to a lottery player and make them feel good about it. I have to be honest with you; I took me a long time to make this list. I don't know why, but it was a long and demanding process.
Regardless, I did and I personally like it. I hope you find it useful if you want to surprise some of your lottery pals with a unique lottery gift this time around.
A Bulk Buy of Lottery Tickets – Lottery Scratch off Basket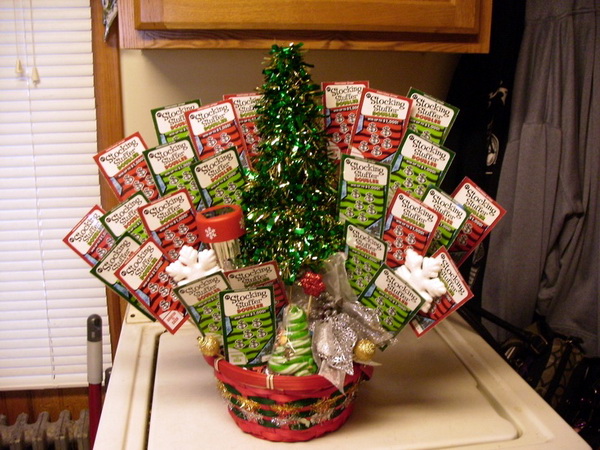 It's simple, custom and your lottery pal will love it. Everybody enjoys free stuff, especially when that free stuff can be useful. Free food, free drinks, free rides and free lottery tickets, these are the things which I can accept even when they're free. Other free stuff might be over the bar, but these are perfect. So what should you do? Go out and buy a plethora of lottery tickets, scratch off cards, i.e. any lottery game you can think of. Design it, make it look good. Put them in a basket so they will look more festive. Oh, a word of advice, the more colorful the tickets are, the more festive the lottery basket will look like. I got one of these a few years ago. I remember I took like a dozen pictures with the basket. They're very dear to me. Not the tickets, the pictures. Imagine winning the jackpot from a ticket found in this basket.
Mini Lotto Draw Machines – Pocket Size or Table Size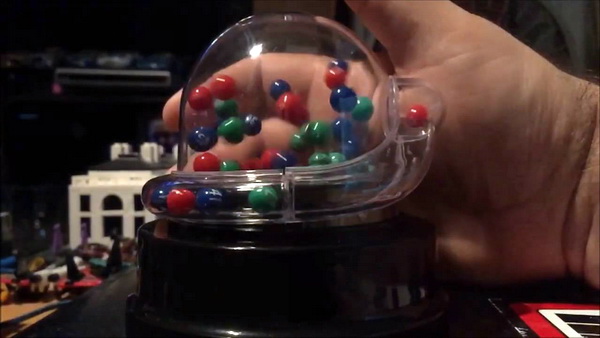 I was a young boy when I saw a gadget such as this for the very first time. Like this memory is engraved in my head, I remember so many details about it. So what is it? The lotto draw machine, just much, much smaller. So small it can fit your pocket or small enough to fit on a shelf. It's cute, targeted, and every single lottery player will love to have one of these. Most likely you haven't seen one yet because nobody thinks there's anything like this.
You can get one online and most importantly, it won't cost a fortune. You can get one for a couple of bucks. There are lottery tickets that cost more than one of these. Despite the mini lotto draw machine being able to fit my pocket, I keep it at home. I really don't want to lose. At one point time I lost it, but only for a couple of days.
A Scratch Off Christmas Tree – Any Lottery Player's Dream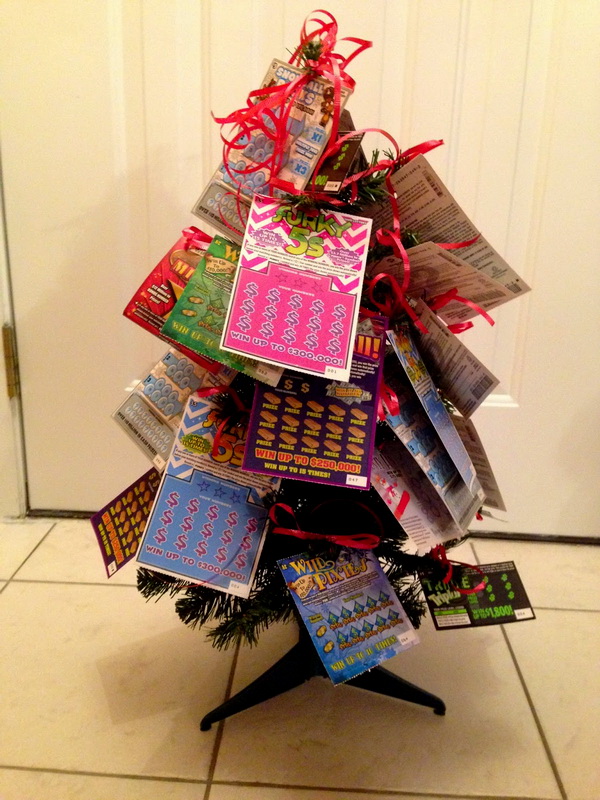 I've seen a lot of lottery Christmas baskets, but if you want to take the gift to the next level and show off your creativity, you better shape it into a Christmas tree. What you should do? Just stack the scratch off cards, lottery tickets to look like a common Christmas tree. I prefer this type of gift because the person who's on the receiving end will show it to its friends and family. It will be untouched for as long as that's possible. Some people leave it there until the last day they're eligible to claim the prizes if there are any. Others just jump straight into revealing their prizes and checking the lottery results. Either way, it's one great Christmas gift that only a real lottery player will enjoy.
A Book on How to Play and Win the Lottery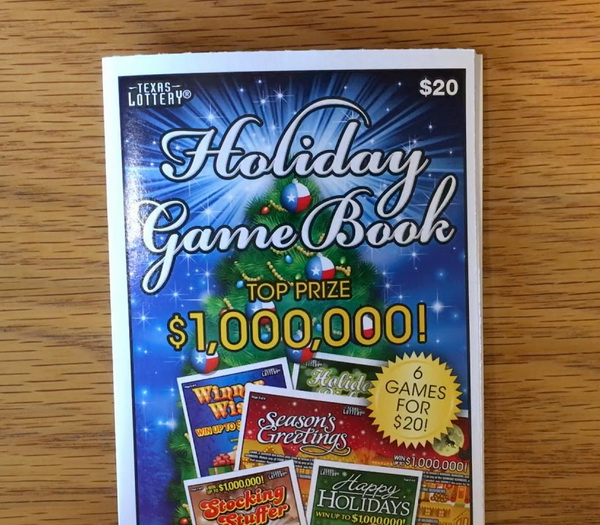 If you want to show your appreciation to a person who's into reading and who likes books in general, a book on how to play and win the lottery is a great Christmas gift. We live in a time when we gaze deep into our smartphones and tablets. We've forgotten how good it feels to read a good book next to our fireplace, with some wine or a hot cup of coffee. There are a number of great books on lottery, which your lottery pal will find amazing. Even if your friend is an experienced lottery player, there will be some rather useful information in these books. No two players are the same; ergo there will be something new.
These books don't cost more than the most expensive lottery ticket you can find in your local retail shop. This information will give your friend the edge to become a much better lottery player. The best case scenario is, if he/she wins the lottery, you will take the credit.
DIY Lottery Themed Gifts – More Personalized Approach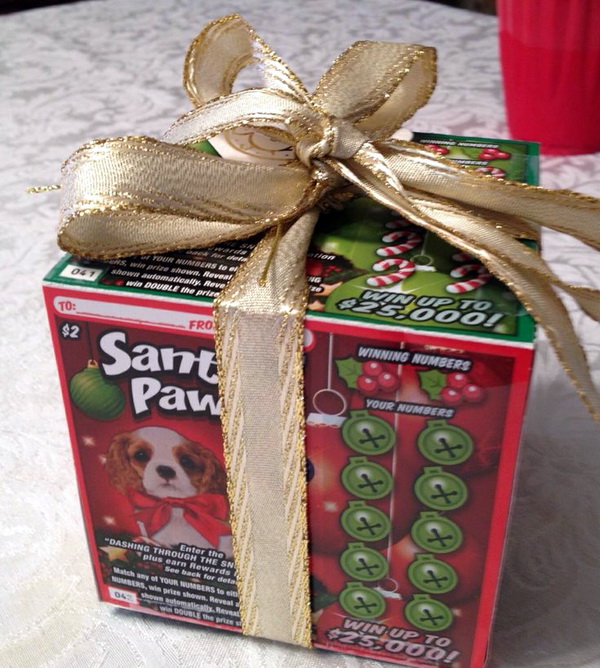 Well, there's always those people who love and will accept a personalized gift only. It will require some time research, some shopping and a lot of attention to detail. It can be anything! For example, if your lottery pal is into cars, make him/her a Powerball car. Just cut off some logos from a Powerball ticket and glue them on a regular car you can buy for a couple of dollars.
I hate this kind of presents because they can take a lot of time to complete. However, the end result is usually priceless. People have forgotten what a custom gift can do.
Remember, as long as the gift is even remotely related to the lottery and has a bit of personalized flavor, meaning it's tailor made for the receiver, the results can be stunning. Then again, these kinds of gifts can go both ways. Don't raise your expectations too high. The bottom line is every single lottery player will love that you've thought of them in a special way.
You May Like