4 Lucky Lottery Winners Who Struck It Rich After Years Of Trying
Last updated on October 17, 2018 by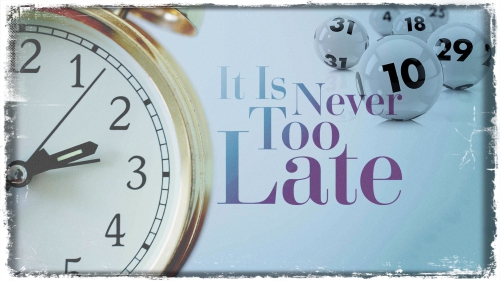 We all like to dream that we'll win the lottery someday, and we put on our lottery tickets with the same numbers in the hope that one day it'll come true. If you've ever wondered about how long it can actually take some people to win a huge jackpot then look no further as we present to you some stories of people who's patience paid off. Read on to find out more about the four lucky lottery winners who struck it rich after years of trying.
New Zealand Man Hits Jackpot After Twenty Years
Our first story is of an anonymous winner from New Zealand who took a gamble on changing his numbers after a twenty-year streak of playing the same ones…and won.
This simple act meant that he walked away with a $2.5 million cheque, which shows that thinking outside the box can sometimes pay off.
He revealed that the change of numbers and win came about after he'd watched a YouTube video that stated you have a much better chance of winning the lottery by playing 'all odd numbers on one line'. He decided to take a gamble and selected the numbers 3, 5, 7, 9, 11, 13 along with the Powerball 7.
Speaking afterward he said, "My wife and kids teased me at the time, but it looks like he might've been right after all". The man and his wife were at home on Wednesday evening when the jackpot was drawn but didn't watch it live. He was in fact, taking a nap, whilst his wife was watching netball. It was only when he woke that the man's wife reminded him to phone the lottery office and read out the winning numbers.
Taking up the story, his wife says "I started writing the numbers down on a bit of newspaper and I immediately recognized them" she realized they were looking at a winning ticket and they started screaming and crying. When they claimed their prize forty-eight hours later, they celebrated their win with family, who brought over a bottle of bubbly.
They said they hadn't decided what to do with their winnings yet, but would like a holiday and to also help his children and grandchildren out.
The couple is still coming to terms with their win and the man said: "One minute I'm sitting on the couch with the cat, the next minute my wife's telling me I'm a multi-millionaire".
A spokesperson for Lotto NZ spoke to the Daily Mail in Australia and commented that while the man had chosen his lucky numbers after watching a YouTube video, that overall it would not increase his chances of winning.
She commented that "Lotto players choose all kinds of different lucky numbers: birth dates, house numbers and car number plates are all popular" adding that whether you choose your own numbers or use an auto pick, every ticket has the same chance of winning.
Jenn Burston – Exeter Mum Finally Strikes it Lucky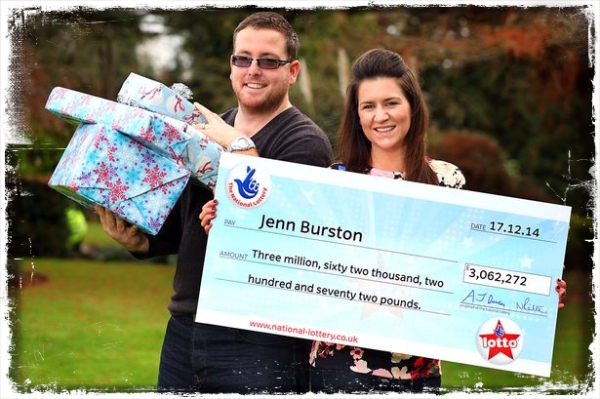 Jenn Burston had all her wishes come true last Christmas when she played her regular National Lottery Lucky Dip but struck it big in two ways.
The mum of two from Exeter in Devon had been playing the Lucky Dip 'for years' as part of her weekly routine. Playing her ticket and winning from it was one thing, but then discovering she had won the massive Lotto Quadruple Rollover draw put the icing on the cake.
She became one of five ticket holders in that special draw that matched five numbers plus the bonus ball. Each winner banked £3,062,272.
Naturally, she said they were all a bit gobsmacked – Jenn takes up the story: "I always play EuroMillions online and saw the big Lotto rollover so decided to have a go. On Wednesday night, I was on my way to bed and thought I'd look at my account to see if I'd won anything. I logged in on my phone and it said I was a winner – my numbers were circled! I thought hang on a minute, I think I've won £3,000 and took my phone to go and show my husband. All my husband Ian kept saying was, 'are you sure it's your ticket?' so I tried to show him on the phone, but we were so excited we couldn't really see it. We decided to get the iPad and log on with a bigger screen. Once we realised it was £3 million neither of us knew what to do next."
As you'd imagine the night that followed was sleepless, even after the email from The National Lottery to say she was a winner. Jenn says she carried on checking her ticket and numbers until the morning.
In the coming months, the family plan to buy a bigger family house in the same area. They'd already booked their holiday to Turkey but are now thinking they'll definitely try and squeeze in another one!
Jenn also said  "I keep asking myself, just how do you spend that sort of money? I'm sure with £3 million in the bank, the knack will come for us!"
Anonymous New South Wales Shopper Wins HUGE After Twenty Years
One anonymous lottery winner scooped $1 million in a lottery payout on September 2018, in what was not only a lucky win for the player, but for the newsagent in Illawarra, New South Wales who sold the ticket, as they had struck it lucky not once, but twice in the same week with customers who had won lottery draws from tickets purchased at their store.
On Thursday, September 27th, another so far anonymous player has scooped $200,000 too!
The New South Wales Lottery found the first winner straight away, from the draw made on Monday night. So far she has remained anonymous, but the owner of the store, Paul Schmidt checked the ticket and told her of the result. He said: "It was pretty cool that I got to give them the news. They obviously aren't on Facebook and don't read the Mercury. I wasn't nervous, but I was buzzing. It was a good feeling."
The lady then came forward to claim her prize and said that she'd been playing her lines for years regularly, as part of her weekly shopping trips and had never won. In fact, she'd no idea she'd been walking around $1 million richer for almost a week! She said "I put my Lotto on every Friday when I do my weekly shopping trip, and I went in this morning to put on next week's and check my tickets. That's when they told me I had won. I think I've had these numbers for about over 20 years. I've been putting them on every week since then. I think they were birthday numbers or something like that, but I put them on so long ago I'm not sure. I've had a couple of $500 wins here and there – but nothing like this."
She said she had no idea how she'd spend her windfall. "I think I'll have to take a bit of time to think about it. I really don't know. I'm about to go on holiday but that's already booked and paid for, so maybe we'll just use that time to think about it and consider what's next. I don't think my family will believe me when I tell them."
Kevin Blake – Lucky Friday 13th Winner
Kevin Blake was the man who never ever changed his lottery numbers in years of playing. He'd go to the same 7-Eleven and place his Mega Millions ticket every week, without a second thought.
However, one particular week – a Friday, that also happened to be 13th, something changed. Kevin said: "I've played the same numbers for years. It didn't even occur to me that it was Friday the 13th. For just about every Mega Millions drawing, for as long as I can remember, I've gone to the same 7-Eleven and bought $5 in Mega Millions tickets. I always play some family birthdays, and then I get a couple of Easy Picks."
For years, Kevin played the same numbers and didn't change. It was second nature. He'd even sometimes put the tickets on and forget about them entirely. This particular time, he'd placed the tickets in his pocket and it was his wife, Stephanie, who ultimately made the discovery that he'd won!
She said: "I was watching the news Saturday night after Kevin had gone to bed, and they ran a story about a Mega Millions jackpot winner being sold in Waterford. I thought, 'How neat that someone from our town won!'"
Kevin had gone to bed and she woke him up to tell him. However, the more they read about the story the more they realized it was them that had won a staggering $21 million!
Speaking after picking up their cheque and when asked what they would do with their money they said plan to continue working "We're just going to figure out life. We're still working. Life isn't changing. Our retirement looks a little bit better and sooner," Kevin joked.
An admirable attitude to take after such a large win.
You May Like